Noticias
When should you sell your startup? It's better to wonder if it was too soon than to regret having done it too late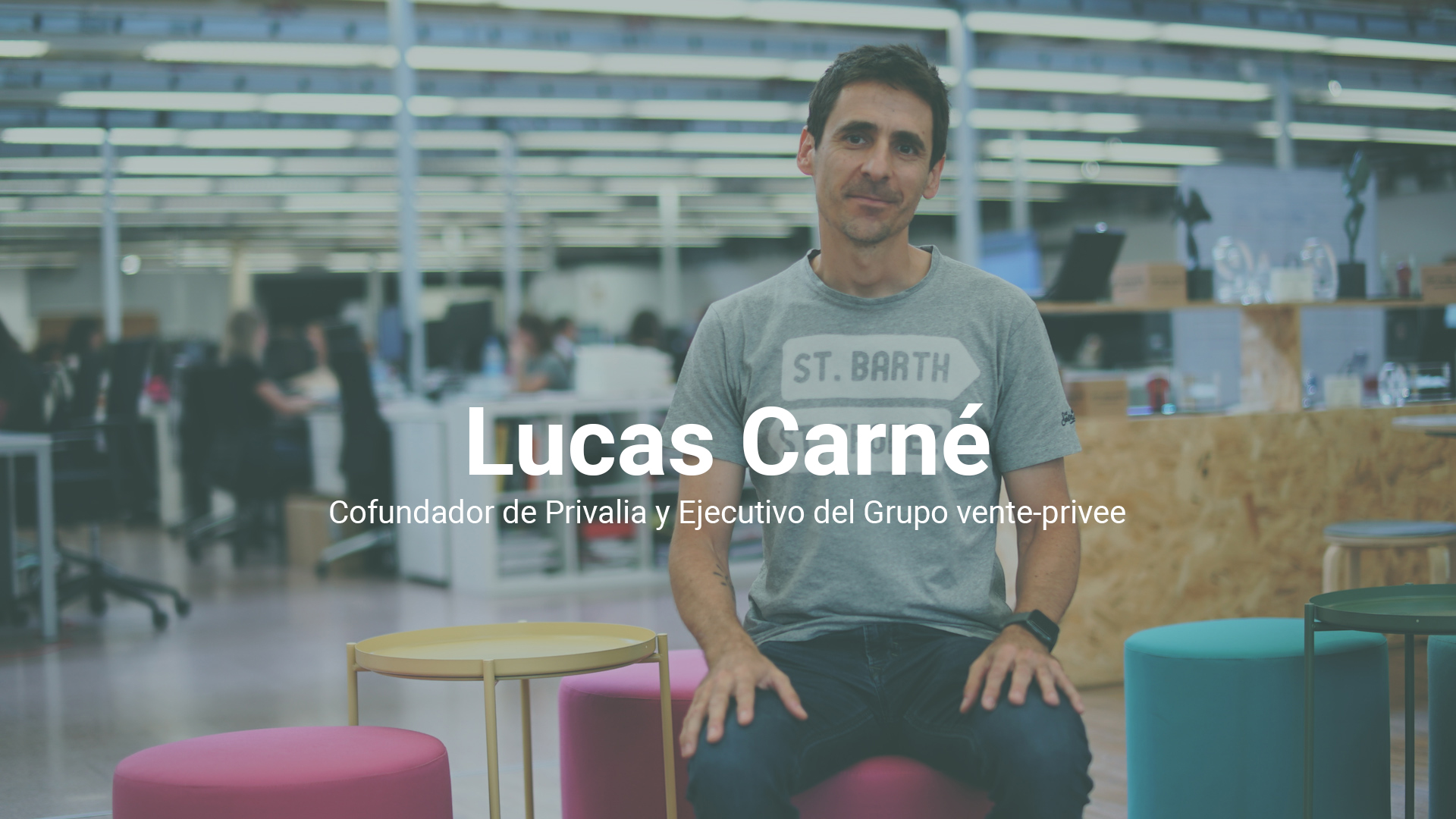 In 2006, Lucas Carné and José Manuel Villanueva founded Privalia, an online fashion outlet that soon expanded to Italy, Mexico and Brazil. A decade later, the French vente-privee Group bought the company where Carné continues as an executive. It is one of the biggest exits for an internet company in Spain. The group currently operates throughout Europe and part of Latin America and has some 6,000 employees, 1,500 of whom are from Privalia.
As an executive, Carné's professional challenges for the future are to help the vente-privee Group, which is currently a group of companies, to really become a single company. "This means a global team, a global value proposition and in the end really create a culture and a platform that in the context of an evolved e-commerce space we believe is essential to compete and to ensure long-term sustainability," he explains.
Lucas Carné is also a member of Barcelona Tech City's board of directors. From his experience and vision as an entrepreneur we extract some key points.
SHARING VALUES AND CULTURE IS KEY TO A COMPANY'S SUCCESS
Choosing partners and colleagues who share the company's values and operating principles is one of the main tips an entrepreneur should follow. Lucas Carné points out that the conflict between partners is one of the main reasons that startups fail, so "starting with someone who you know can share and live by the same values as you, reduces a very large risk factor." Beyond the founders, these values must be extended to the entire organization to create a framework for action – the rules of the game that the company is going to live by – which, in addition to being likeable, must offer a competitive advantage.
The same goes for choosing the investor, regardless of their experience, sector knowledge, prestige and, of course, the terms of the agreement, they should also share those values.  "It's going to be a long journey where there will be good times and bad times and so you need to have travel companions that you want to trust and understand," explains the co-founder of Privalia.
SURROUND YOURSELF WITH A TEAM OF "A" PEOPLE
In addition to sharing values and culture with company members, Carné finds it important to have "a team proactive people who have initiative, who have the right experience and abilities and who achieve their goals to take the company to the next level." "A People", according to this entrepreneur, who are curious to learn and embrace the culture of the company itself.
FOCUS ON WHAT IS KEY TO THE BUSINESS
"Focussing on the things that are really key to your business, things related to your brand promise and that you can't get wrong, is fundamental to success," says the co-founder of Privalia, bearing in mind that the profile of the entrepreneur – people who are creative, have a lot of ideas and are keen to do things, yet who are sometimes also quite unfocussed or become bored with implementation and the day-to-day – often clashes with this idea.  But it is important to note that if the company's talent is focused on what really makes an impact, it is very likely that the project will end up succeeding. "The management of saying 'no' and making sacrifices when prioritizing aspects that are fundamental to your business is the third most important element, in addition to culture and people," he explains.
FINANCIAL STRATEGY MUST GO HAND IN HAND WITH BUSINESS STRATEGY
When a company is set up it needs financing. "You need a financial strategy that goes hand in hand with business strategy," says Carné. It is an "intensive" process that requires a lot of time and energy.  In Privalia's case it was vital to have two co-founders. "While for many years I was almost 100% focussed on financing, my partner was 100% focussed on continuing to manage the business," explains the entrepreneur.
What role do financing rounds play? "Many entrepreneurs are obsessed with breaking valuation records or being in the news. But a financing round is one more step in the company's growth trajectory. You have to assess the round in a global context and take into account not only the immediate impact, but also how it may impact you in future rounds and in different scenarios of the company's evolution – both positive and negative. When things are going well, entrepreneurs think they will keep going well, but that's not what really happens. Not even in success stories," he advises.
THERE IS MONEY TO INVEST, BUT IT VERY MUCH TARGETS SPECIFIC SECTORS OR MODELS
Spain's investment ecosystem has changed a lot in recent years. There are more and more startups capable of achieving great rounds without having barely gone to market. This is a very different situation to the one Lucas Carné found in 2005 when, together with his partner José Manuel Villanueva, he founded Privalia. "There is money to invest, but it usually looks for the specific sectors or business models that are believed to be the next revolution. And these model sectors change over time. We caught the initial wave of e-commerce between 2009 and 2011, first with outlets and then with coupons. Then the money went to social networks, then to SAS and the cloud, then to gaming, fintech, classifieds, and so on."
And now the focus is on startups that apply machine learning to the solution of problems and new needs in the traditional sectors. "Every year something new appears and it is in this sector where investors focus, where money and big valuations are concentrated. This is an element that must be taken into account: one day your company or your sector will go out of fashion, and in that moment it is better that you are already monetizing and generating resources to continue financing growth," recommends Lucas Carné.
MORE STARTUPS MEAN MORE COMPETITION TO ATTRACT INVESTORS
The number of startups has grown in recent years, so finding investors has become increasingly competitive. "The money is not only looking for specific sectors but also for the right business model and team within that sector," explains the co-founder of Privalia. "Entrepreneurs have to go out and get the money, and they have to do it well," he says, "words or a PowerPoint presentation are not enough. To get financing you have to do your homework, you have to prepare it very well, pick up your suitcase and go to the US or Germany, knock on doors and be prepared to receive many slammed doors and many people saying 'no'."
THE IDEAL TIME TO SELL: WHEN YOUR VALUE CREATION HAS REACHED ITS PEAK
If the decision to get rid of a project is generally not an easy one, it's even more difficult to determine when is the right time to do so. "One question an entrepreneur always has to consider is how long he or she believes the value creation of the business as an independent company is going to remain strong," Carné explains.
Other aspects, such as finance or valuations, must also be taken into account. "When a sector is targeted by investors and very large future growth is expected, valuations tend to be very high. However, as these sectors mature and become more competitive, margins fall and risks increase and the appetite for money decreases because other sectors have already moved on. "Then the valuations fall", he argues. "Ideally, you should sell at the moment when your value creation has been at its highest and when your sector's valuations are at their peak," he advises. "When things are going well you always think it's too early to sell the business. The problem is if you wait and are forced to do it later when you are experiencing difficulties or great challenges to continue growing, because then it may be too late. It's better to be left wondering if it was too soon than to regret trying it too late."
TAKE ADVANTAGE OF EXPERIENCE TO CONSOLIDATE THE BARCELONA ECOSYSTEM
The startup base in Barcelona is becoming more and more extensive with much more developed talent in all fields, more experience and more funds, as well as an ecosystem of providers of all kinds of services. Barcelona's ecosystem needs time to continue consolidating itself. "There are people who now know what it's like to make an exit, and those people can offer guidance to other companies that have to go through it," says Carné.
On the other hand, consolidation goes through other regulatory elements, like taxation, either to motivate investments or to create incentive plans. "Many of the large clusters that have appeared beyond Silicon Valley have a suitable fiscal framework for investors and entrepreneurs or public aid for companies that are going to develop projects in different fields or in sectors that may be strategic and where there is a commitment to development," he says.
PHYSICAL PRESENCE, KEY TO THE SHOPPING EXPERIENCE
Privalia's challenges include the speed of delivery times and greater integration with the physical stores of the brands we sell. "More than 80% of overall consumption still takes place on the street. People today, except in the case of essential products, shop for pleasure," he explains. "As consumers we want to have a satisfying experience, and the ability to provide that experience in the physical world is still unique," says Lucas Carné. For this reason, Privalia's path is to integrate with the brands they market in their e-commerce, and develop services such as "Click & Collect" or "Ship from Store".
EXPLOITING REAL-TIME DATA ON A PLATFORM, THE KEY
In a company like Privalia, technology plays a key role. Innovative technology is already being used, such as machine learning, to better define the price of products, to forecast sales per product and per size to better adjust purchases, or to personalize the customer experience. "Having a technological platform that allows us to exploit data in real time and integrate the results of the use of machine learning models into online store processes," he says. As such, it is essential to have job roles such as data scientist, architects, engineers, etc. Roles able to create and optimize algorithms, and take advantage of the large amount of historical data you have to train those algorithms and get the best results. For this reason, the vente-privee Group has a global team of data scientist distributed in the different offices and led by Lucas Carné himself.