Noticias
What lessons have we learned from MWC 2018?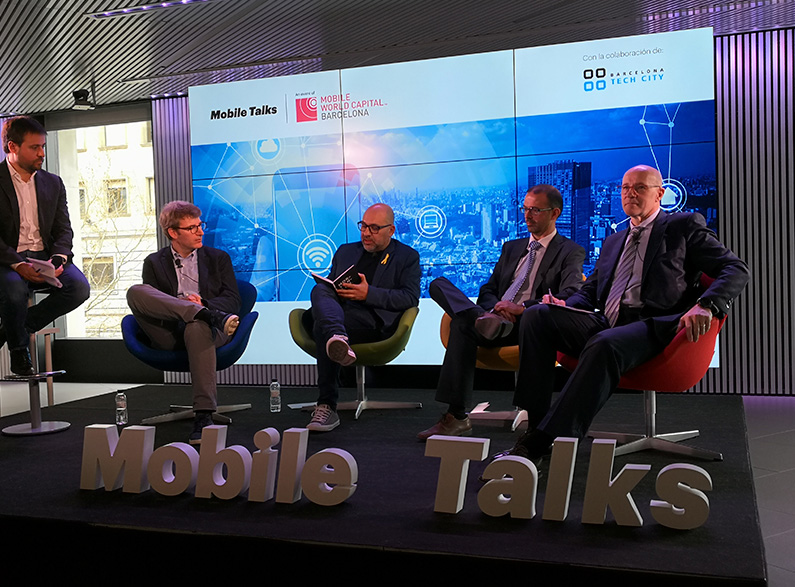 The Mobile World Congress has been held in Barcelona every year for more than a decade and lasts four days. A year ago, Mobile World Capital and Barcelona Tech City established a meeting, within the framework of Mobile Talks, to analyse the technological innovations presented at the Mobile World Congress and 4YFN. On this occasion, the speakers also reflected on the future of both events and where their evolution could be headed.
'The session is about knowledge and learning; we have to keep learning at all times, and to consolidate Barcelona as a world capital, and therefore knowledge must be one of the basic foundations', explained Miquel Martí, Managing Director of Barcelona Tech City, to begin the session.
In this second edition of the MWC analysis, the panel of experts included Carlos Grau, CEO of Mobile World Capital; Juan Cambeiro, Head of Technological Innovation at Telefónica; Josep M. Ganyet; CEO at Mortensen; and Ferran Jover, CEO and co-founder of Carnovo. With Sergio Cortés, founder of Cink and serial entrepreneur, as moderator, the speakers reflected on 5G, Artificial Intelligence and how to bring technologies closer to society following their visit to this year's MWC.
We can draw 10 main ideas from this debate:
Bringing the transformative potential of technology closer
One of the star topics of this MWC was the general population's understanding of the potential of technology. In the opinion of Carlos Grau, CEO of Mobile World Capital, the public has not yet fully realised that we have the world congress, the leadership of the world capital for mobile technologies, probably the technology that is changing our lives the most. 'I think the social side was one of the stars of the congress. The main idea I've taken away is the social impact, breaking down barriers to improve the
quality of people's lives and Barcelona as the epicentre for testing and rolling out the services arising from the new capabilities that 5G will bring', he concluded.
International contacts on your doorstep
New smartphones, the latest technology, voice assistants or connected cars fill every corner of the MWC. But that is only part of what the event can offer Barcelona, its citizens and therefore the entire business ecosystem. 'What about the thousands of trips the people make to come visit us, and those we have all made thanks to the MWC? What is impossible to quantify is the quality of the contacts or the quantity of contacts all over the world that you couldn't even make in a whole year. The fact that the leaders and the best brands come to Barcelona has an incalculable value and this does affect the ecosystem, the MWCapital and Barcelona Tech City and one thing is a consequence or cause of the other', said Josep M. Ganyet, CEO of Mortensen.
Mobile transversality
Another keyword that most occurred in this debate was transversality: technology can no longer be understood on its own but through its applications in different fields. It is no longer just a mobile phone congress but has evolved to include other technologies and products such as Artificial Intelligence or connected cars, which have an increasing presence at the event. 'Industries such as the automotive industry and others connected with it are very committed to the MWC, to exhibiting and being a part of it', said Ferran Jover, CEO and co-founder of Carnovo. 'It is no longer a congress about applications and devices, it is a congress about transversal technology. We have seen mobiles with wheels, that is, connected and autonomous cars, mobiles with wings (drones), mobiles with arms; we have seen a lot of connected robots, and we have seen other types of services in which IoT is involved and mobility plays an important role', said Carlos Grau.
International relations at your fingertips
Thousands of companies, both startups and corporations, visit the MWC every year. This year's MWC attracted 107,000 attendees. In addition, the number of executives who come to Barcelona to make decisions has grown: up to 7,700 CEOs and senior managers from companies worldwide, compared to 6,100 last year. It is a congress that has a contract in Barcelona until 2023 and that grows year after year. '15 years ago this congress brought together some 15,000 people in Nice or Cannes, it was a very European congress and now it is a very global congress with 14% American attendees and more than 10% Asian attendees. Compared to Shanghai or Los Angeles, it is really the most global congress, where executives from all over the world come together', said Carlos Grau during the presentation of Mobile Talks.
Being present not only means making yourself known but also knowing what other companies are working on, making contacts or even getting funding. 'Being able to access a network of international investors, which is not so easy for a startup, is an added value for startups', said Jover. 'The most beneficial thing that MWC offers today is finding out about all the industrial fabric that is coming, for example, in terms of 5G networks', said Juan Cambeiro, Head of Technological Innovation at Telefónica. 'There are many companies that don't think of any applications until they actually have the technology. The greatest asset is the ideas that startups and customers bring to us about what can be done'.
4YFN, the showcase for startups
And if the MWC is an excellent stage for business, the opportunities for startups increase at 4YFN. This reference event for newly-created companies concluded its fifth edition with a total of 20,400 participants. An event that represents 'the technology and business models that will be deployed in the coming years', said Carlos Grau. 'I think it is very important for Barcelona's ecosystem to be able to present all these projects to the world', explained Jover, who was recycled from the corporate to the entrepreneurial world with Carnovo. 'There is a lot of talent in Barcelona at a local level. Presenting Barcelona as a hub opens many doors, not only to investors but also to people who come here to launch projects because they know that there is talent, that we are more competitive. This is beginning to be noticed by VCs in London or America, not just local investors, who realise that there are also good projects in Barcelona, that there is talent and competitiveness'. There is no doubt that 4YFN plays a fundamental part in making it visible.
5G Networks, the star of the event
5G featured in all the presentations as the reference technology at this MWC. '5G is a giant leap forward in mobile technology', said Carlos Grau. And not only its technology as such, but also its applications and how it will affect other technologies such as IoT. For Grau, 5G is going to provide us with 'new scenarios to enable change with economic and technological effects and a social arena for issues such as improving telecare for the elderly'. But beyond 5G, one of this year's messages was the possibilities that this fifth generation of telephony will bring. 'The contribution to 5G is everything we can build on top. The high capabilities of 5G are being built right now in 4G networks. The fact is that 85% of 5G's capabilities will be progressively deployed on current networks', explained Telefónica's technological innovation manager.
Will mobile phones disappear in the future?
Part of the debate revolved around the mobile phone as a device. Will the trend be towards its disappearance or will we use it more and more? For the Director of MWCapital, 'what follows is that mobiles will replace everything, credit cards, house keys, all the controls… it will become the device for interacting with everything around us in an IoT environment'. An opinion not shared by Josep M. Ganyet: '5G will get us connected, we'll see the disappearance of the mobile phone, it'll be a thing of the past'. Far from nostalgia, his futuristic opinion and prediction went further: 'I think it's good that the mobile phone and the computer will be gone. In an environment where there is no computer everything is computer. I don't want to take my mobile phone and pay with it or put it on the door to get in, I want my house to recognise me and know that it's me and open up. I hope gadgets become invisible, I think 5G is going to be the mortal blow.
Barcelona, 5G testing ground
Barcelona is the fifth largest city in Europe in number, size and rounds of entrepreneurial investment and as a hub it is among the TOP15 of the largest startup centres in Europe. 'The only one in Europe that has that capacity, with many young people driving solutions and services; we have the academic community participating in 22 of the 37 research projects, and the commitment of large corporations to make Barcelona their laboratory, including Seat, Zurich, Clínico, Acciona and Telefónica with its 5G laboratory in Barcelona', explained Grau. 'We're going to have a testing ground to deploy not only the services we already anticipate from connected vehicles or connected operating rooms… but the services we can't even imagine'. An ecosystem that puts the city of Barcelona in a position 'to do great things beyond the congress and to use the city as a testing ground to improve the quality of the lives of its citizens'.
Tangible Artificial Intelligence functionalities
Artificial Intelligence is another of the recurring themes in recent MWCs and this was no different in the 2018 edition. It is a technology represented in assistants like Siri or Alexa who are far from reaching the possibilities we can see in cinema. 'Mathematically, we can't make a machine that is self-aware and truly intelligent', Ganyet explained. 'AI is some of the most intensive work on human neurons. The work that needs to be done to get the most out of machine learning and Big Data algorithms is that you need a lot of people thinking', said Juan Cambeiro, Head of Technological Innovation at Telefónica. This does not mean to say that AI does not have tangible applications for the general public. 'Aura (Telefónica's assistant, presented at the MWC), will not be the best assistant and will not have the best interface, but it will be the one that will reach the most households (Telefónica customers) and this has a transformative power and you have a responsibility', said the CEO of Mortensen .
Future discussions: ethics and security
Issues such as ethics, security, privacy or regulation transcend the use of technology but impact many areas of society, so all the speakers agree that it should be a debate that is part of the MWC. 'Once we have everything connected, security and privacy will be key areas', said Juan Cambeiro. 'In the coming years, we need to have more technological solutions for seeing how you can be connected and how you can take advantage of IoT without suffering the adverse effects of being exposed'. This is a matter of vital importance, as we have recently seen with the case of Cambridge Analytica, that the industry itself is interested in solving as soon as possible. 'In the end, it's the only risk you run in technology not moving forward', said Carnovo's CEO.