13 July 2021
TB news
TB news
Noticias
Tech Barcelona joins the second edition of BNEW
13 July 2021
TB news
TB news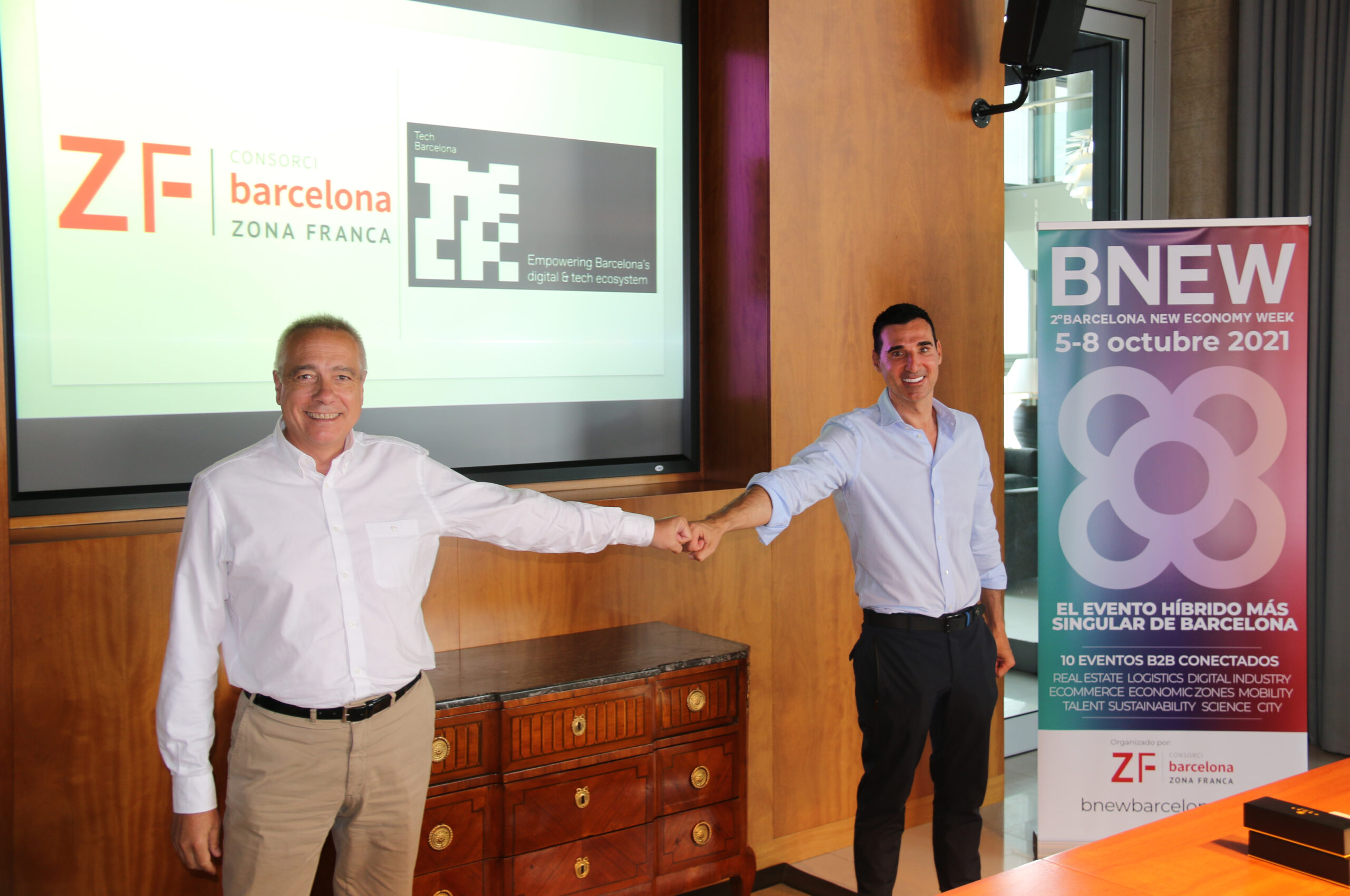 The Consorci de la Zona Franca de Barcelona and Tech Barcelona have signed a collaboration agreement this morning, by which the association joins as a partner in the second edition of BNEW.
Tech Barcelona, which aims to consolidate the city as an international technology hub, will play a prominent role within the vertical Digital Industry.
The Consorci de la Zona Franca de Barcelona (CZFB) and Tech Barcelona have signed a collaboration agreement for the next edition of the Barcelona New Economy Week (BNEW), which will take place from October 5 to 8. Through this agreement, Tech Barcelona will contribute its know-how in promoting Barcelona as an international technology hub, as well as in promoting innovation among the different agents that make up the city's entrepreneurial ecosystem. The association will play a prominent role in BNEW Digital Industry, a vertical that was already present in the first edition of the event.
Present at the signing ceremony, which took place at the CZFB offices, were Miguel Vicente, president of Tech Barcelona, and Pere Navarro, special delegate of the State in the Consorci de la Zona Franca de Barcelona and president of BNEW.
Pere Navarro pointed out that "BNEW grows with the contributions and experience of associations such as Tech Barcelona, ​​with which the CZFB shares objectives such as that of projecting Barcelona and its metropolitan area internationally, and that it will add value to us in the technological and entrepreneur". Likewise, it also highlights that "the CZFB is aware that the industry is experiencing an era of technological disruptions that give rise to new challenges and opportunities for our companies and industries, and through the Digital Industry vertical we are going to provide answers to these new trends".
For his part, Miguel Vicente highlighted that "from Tech Barcelona we work to enhance the ecosystem of digital and technological innovation that is generated from the most innovative startups and companies and that has already established itself as an engine of transformation and growth of the economy. Now it is essential to connect the new technology companies with the traditional industry, and BNEW will once again be a good opportunity to share knowledge and experiences".
BNEW Digital Industry
With a totally innovative, 100% professional and hybrid B2B format, BNEW created a technological precedent in its first edition in which more than 160 hours of online content were generated, spread over the five activity sectors present at BNEW: Logistics, and -Commerce, Digital Industry, Economic Zones and Real Estate. This year the sectors will double, adding new areas of a more transversal nature: Mobility, Sustainable, Talent, Science and City.
BNEW Digital Industry is one of the prominent verticals and it already featured prominently in the first celebration of the event. For the second edition, this sector will deal with topics on manufacturing technologies, hybrid and multi-cloud environments in the industrial sector, advanced computing architectures, 5G and sustainable solutions in 3D. Hyperautomation in production, society 5.0, the universe of qubits and quantum computing will be other topics that will be discussed.