Noticias
Tech Barcelona takes part in Academy for Women Entrepeneurs 2022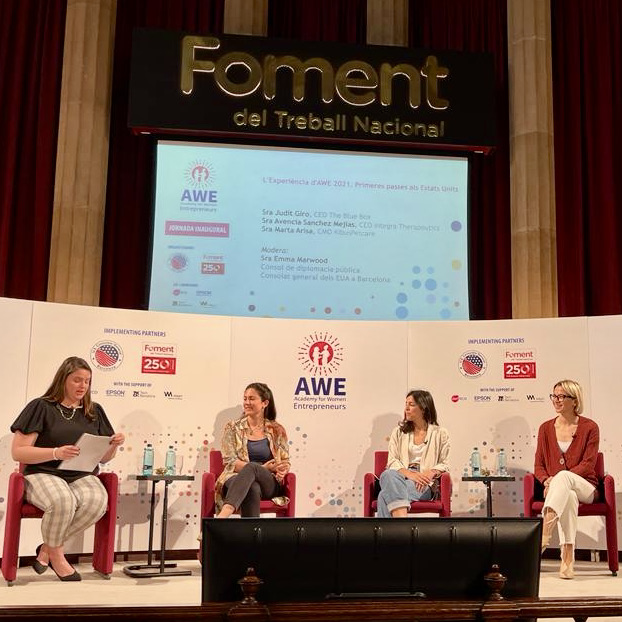 The 30 selected women entrepreneurs will have access to the association's programme of contents and events
Tech Barcelona is participating in the second Catalan edition of the Academy for Women Entrepreneurs (AWE), a programme developed by Foment del Treball and the Consulate of the United States in Barcelona, funded by the US Department of State, with the aim of promoting entrepreneurial projects led by women.
The 30 selected women entrepreneurs will start the DreamBuilder business training programme at Thunderbird Business School, Arizona State University, and will become part of the global network of women entrepreneurs AWE. For its part, Tech Barcelona participates in the selection process and in the training programme, and is committed to provide access and visibility to the winners through its own programme of content and events.
For Miquel Martí, CEO of Tech Barcelona, and member of the AWE 2022 jury along with representatives of EPSON, DWF-RCD and Wayra Barcelona, "the promotion of technology projects led by women is essential to boost and consolidate the entrepreneurial ecosystem in Catalonia". "We welcome the materialisation of collaborations between traditional employers' organisations such as Foment del Treball and the new technological and digital players in the city, and we are grateful for the firm involvement of the US Consulate General in Barcelona with local talent".
For her part, the director of Innovation at Foment del Treball, Maria Mora, highlighted "the diversity of the selected initiatives", which augur a very optimistic future for innovation in Catalonia. The projects will also receive prizes in the form of technological material, mentoring hours and legal advice.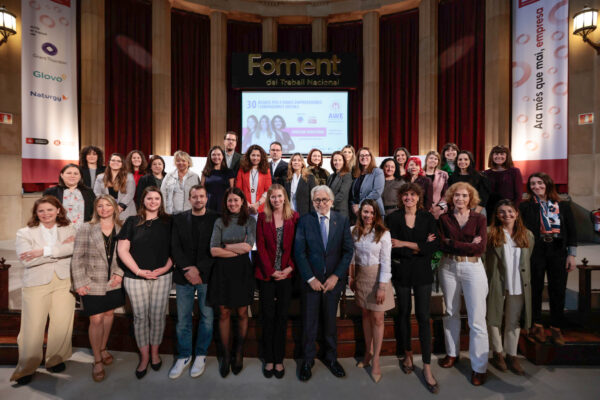 Below, you can consult the presentation and the list of the 30 selected women entrepreneurs:
Carolina Angelini, Strato Analytics.
Silenia Anselmo, Anselmo Consulting.
Astrid Camprubí, Redkey.
Mayte Corbinos, Amar81.
Isabel Castro, In Empresarios.
Mercè Escofet, Creatio4consulting.
Carolina Gaona, LAIAPP Heroïnes Quotidianes.
Laura García Maraña, SialSIG SL.
Lorena García, Pets & Vets.
Raquel González, Alerces.
Angela Jordana, Mi MdA.
Marta Jubero, Roda Cosmètics.
Cindy Moncada, Viridis.
Gabriela Moncada, Lexy.
Clara Nafría Sarró, Woopdo.
Mireia Niubo, Out of Office – Best Places to work.
Lucía Orden, TraceDat.
Aroa Ortega, Pomparoa.
María Alejandra Ortega Machuca, Vitala Technologies SL.
Laia Papiol, Tribbum.
Esther Riambau, Oniria Therapeutics SL.
Cristina Rojas Rodríguez, Academia Linkedfriends.
Maria Soto González, Combating Antimicrobial Resistance With Gold Metalloantibiotics.
Marina Teixidor, Wohee.
Olga Torras, HAL Digital & People.
Danae Vara Borrell, Gocleer.
Andrea Vázquez, Mínima Organics.
Casandra Vicente Sánchez, Oshun.
Patricia Villagrasa González, Reveal Genomics.
Laura Viloria, Mike – Your Real State Lawyer.