24 January 2023
TB news
Tech Barcelona
Noticias
Tech Barcelona and InfoJobs launch a platform to attract talent to the ecosystem
24 January 2023
TB news
Tech Barcelona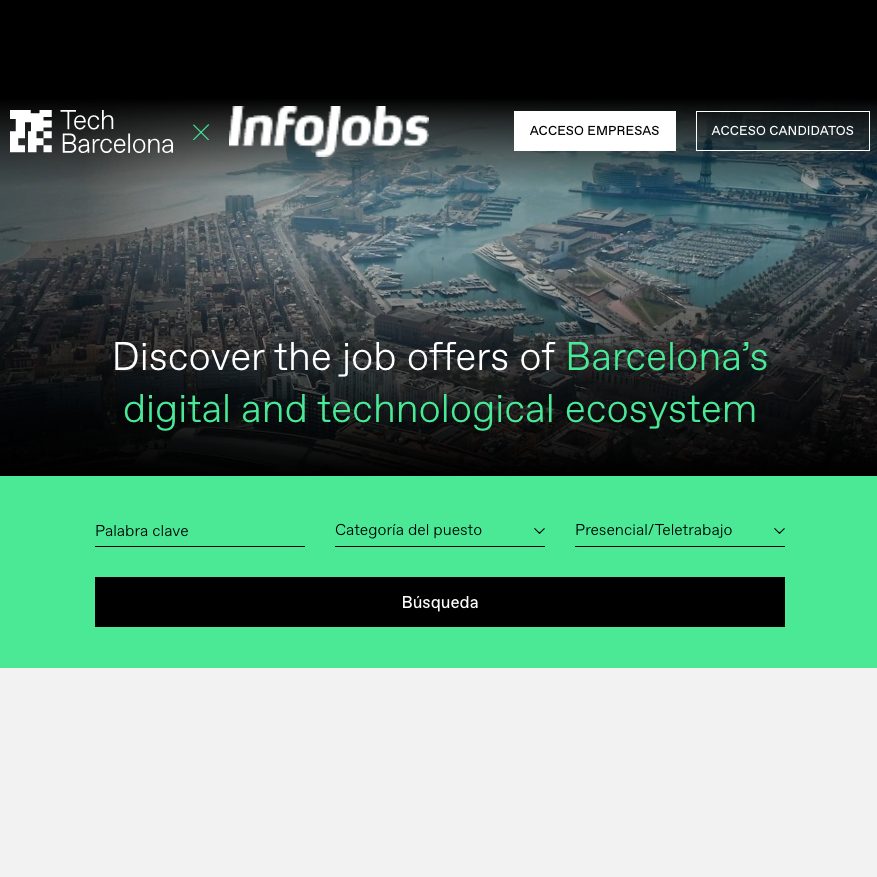 The 'Tech Talent' platform uses InfoJobs technology to showcase the best tech job offers
Barcelona, January 23rd, 2023. – Tech Barcelona and InfoJobs, Adevinta Spain's leading employment platform, are launching 'Tech Talent', a platform aimed at making job offers in Barcelona's technology and digital sector more visible. In the commitment of both organisations to promote and attract specialised talent to the city, this initiative aims to attract professional profiles that want to work in the Barcelona ecosystem and will put them in contact, thanks to the evolved technology of InfoJobs, with the job offers of the startups, companies or corporations that are members and partners of Tech Barcelona.
Tech Talent' is a service developed by InfoJobs in collaboration with Tech Barcelona and is the evolution of a project born in 2021 to strengthen the ecosystem as a generator of technological employment.
This exclusive service will allow members and partners of the association to obtain greater visibility for their job offers through InfoJobs and a specific vertical within the Tech Barcelona website. This page will allow any professional in the sector to easily access the best offers available in the ecosystem.
According to Román Campa, CEO of Adevinta Spain and Head of Real Estate & Emerging Verticals at Adevinta: "Barcelona is one of the world's major tech talent hubs and, as a benchmark technology company, Tech Talent is a good opportunity to continue adding to the ecosystem. In this sense, we are doing what we do best, which is to find the perfect match, this time between companies and candidates".
In the words of Gemma Sorigué, CEO of InfoJobs: "At InfoJobs we have been connecting companies and candidates for 25 years, but as leaders we continue to innovate and look for new ways to add value for professionals and companies. With this project we are joining forces with Tech Barcelona with the clear objective of ensuring that Barcelona continues to grow as a pole of attraction for tech talent and that its professionals find the best opportunities here".
For his part, Miquel Martí, CEO of Tech Barcelona, assures that "attracting talent is now a priority in Barcelona as a city of reference for creating startups and locating international hubs. From Tech Barcelona we want to contribute to attracting the best talent for companies in Barcelona, and this solution from the hand of Adevinta Spain is a qualitative leap for the ecosystem".
The initiative reinforces Tech Barcelona's commitment to talent. The private non-profit association is a founding member of Barcelona Digital Talent, along with the Mobile World Capital Barcelona, the Círculo Tecnológico de Catalunya, 22@Network BCN, Foment del Treball Nacional, the Generalitat de Catalunya and Barcelona City Council. The proposal also has the support and collaboration of Barcelona Global and Pimec.
According to the Digital Talent Overview 2022 report, the demand for digital talent grew by 43% in 2021, while the supply of professionals available on the market only grew by 11%. However, the data also shows that Barcelona is able to attract national and international tech talent; the city has more than 93,500 professionals, a third of whom come from other cities.