21 January 2022
TB Content Session
Noticias
TB Content Session #1 | A tech perspective for recovery 2022
21 January 2022
TB Content Session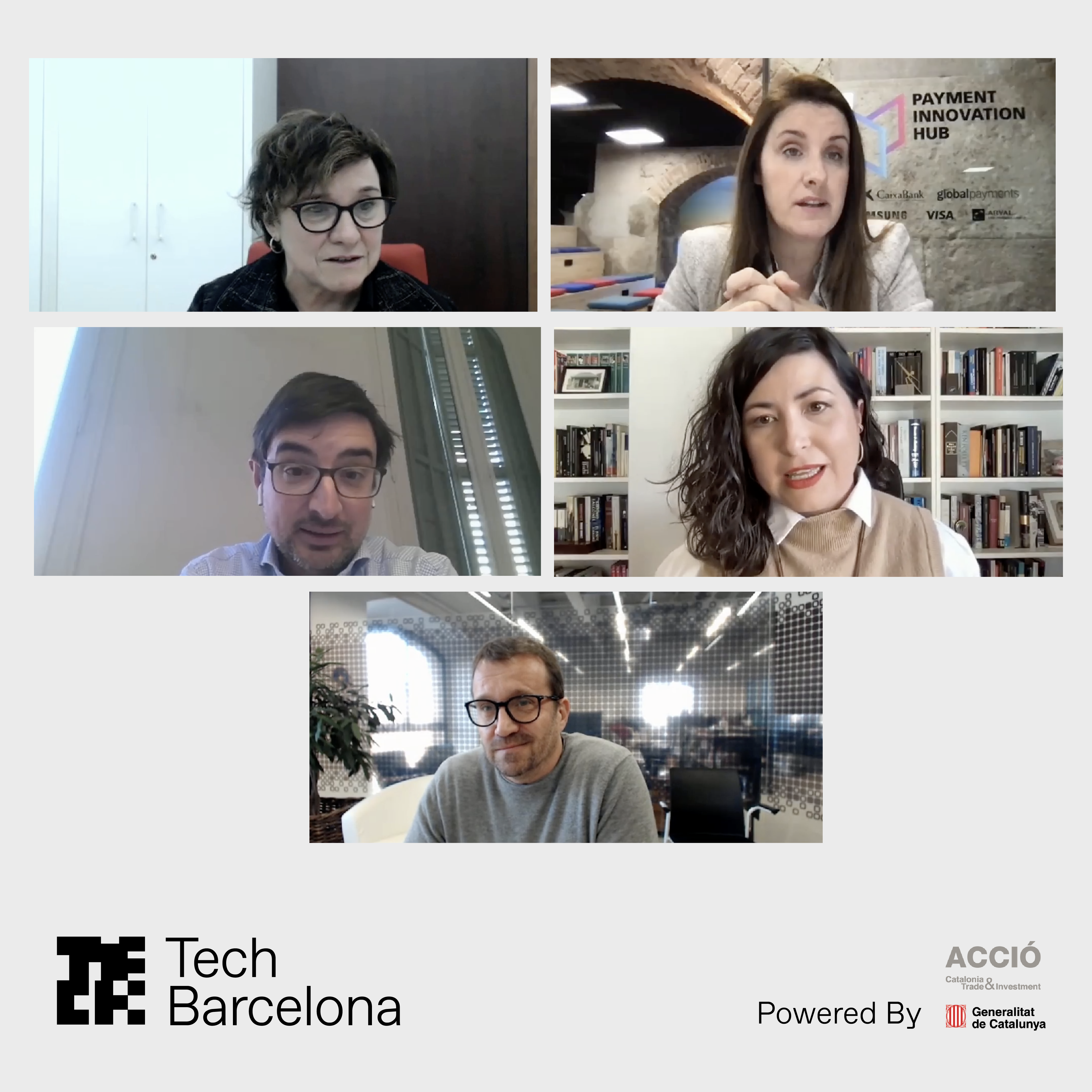 After closing 2021 with record investment figures, the technology sector is starting 2022 with new unicorns and an optimistic outlook for the Barcelona ecosystem. Projects and investment no longer understand borders, and this is a bidirectional trend that positions the local entrepreneurial and investment industry. For new projects, having an impact is no longer optional, but an essential starting point; technological disruption in regulated sectors such as health, mobility or fintech is forcing the Administration to find its new role; and data management is becoming a strategic pillar.
In the first panel of 2022, we discussed these trends from the startup, corporate, venture capital and institutional perspectives, and from the mobility, fintech, health and investment sectors; with the participation of:
Silvana Churruca, CEO of Payment Innovation Hub, an innovation centre created by CaixaBank, Global Payments Inc, Samsung, Visa and Arval to create payment solutions.
Noemí Moya, Institutional Relations Director at Voi Technology in Spain, France, Italy and Belgium, a Sweden-based sustainable mobility company that offers electric scooters and shared bicycles.
Montse Daban, Scientific and International Relations Director at Biocat, the Catalan organisation that promotes the health sector.
Carlos Trenchs, co-founder and managing director at Aldea Ventures, a European venture capital platform based in Barcelona.
Miquel Martí, CEO of Tech Barcelona.
Projects and investment no longer recognise borders
As a consequence of the growing interconnectivity between cities, borders are no longer a relevant factor when it comes to investing and developing projects. As Carlos Trenchs commented, in Barcelona, for example, 60% of the capital invested in early-stage startups in 2021 came from international players: "A few years ago, capital came -for the most part- from the local environment. Today, there are global investors looking at initiatives promoted by people with experience and a global vision.
The effect of borders can be double-edged. While on the one hand they fade away, on the other, Brexit also has an effect. Montse Daban assured that "many British companies in the medtech sector have come to Barcelona, with the aim of maintaining their presence in Europe and opening the door to other markets such as Latin America".
People at the core
Having an impact on society is no longer an option, but an essential starting point for any project. A perspective shared by other productive and industrial sectors. Companies must grow in a purposeful environment, where people are at the centre of decision-making and business strategy.  "Digital transformation cannot leave anyone behind, i.e. accessibility and inclusion in payment systems must be guaranteed for everyone. Our responsibility to the user and support for small local businesses are requirements that are here to stay, and to which we must respond," said Silvana Churruca.
In this sense, Noemí Moya expressed the shared objective of "creating cities to live better: with less emissions, noise, congestion, and with a multimodal transport service that puts the citizen at the centre". "We see mobility as a service tailored to society", concluded Noemí.
From a digital health perspective, the pandemic situation has placed the healthtech sector in a position of unprecedented relevance, which will undoubtedly continue to strengthen over the coming years. Montse Daban forecasts 15% growth in the value of the industry by 2028, which will need to overcome existing challenges in terms of "finding talent and consolidating growth" to materialise.
The administration will have to find its role in the new reality
All the speakers pointed out the need to generate a regulatory framework adapted to the new needs of the market, which is why public-private collaboration will be essential. For Noemí Moya, "although the urban mobility sector has the necessary technology to guarantee the safety of users, the infrastructure is not adapted and there is a lack of clear and homogeneous regulation by the administration. We need to collaborate with them, through the transfer of knowledge, so that mobility becomes a priority in the urban planning of cities". Silvana Churruca also believes that "regulation must accompany growth and momentum, in order to continue exploring and advancing". "In the face of new disruptive challenges such as blockchain, NFTs or the metaverse, order is necessary but, at the same time, it must allow us to move fluidly," she added.
The consolidation of data driven policies
Today's technology gives us access to a vast amount of data. For the speakers, the future lies in being able to incorporate this information into decision-making. "We are getting used to understanding the results of our activity: every day we wake up with health data, mobility companies have emissions data, and payment companies know which economic activities work best," said Carlos Trenchs, affirming that "investors want to invest in stocks whose impact can be measured".