27 September 2022
TB Content Session
TB news
Noticias
TB Content Session #3 | Scytl, a lesson for scaleups: technology, investors and expectations, crisis, resilience and resurrection
27 September 2022
TB Content Session
TB news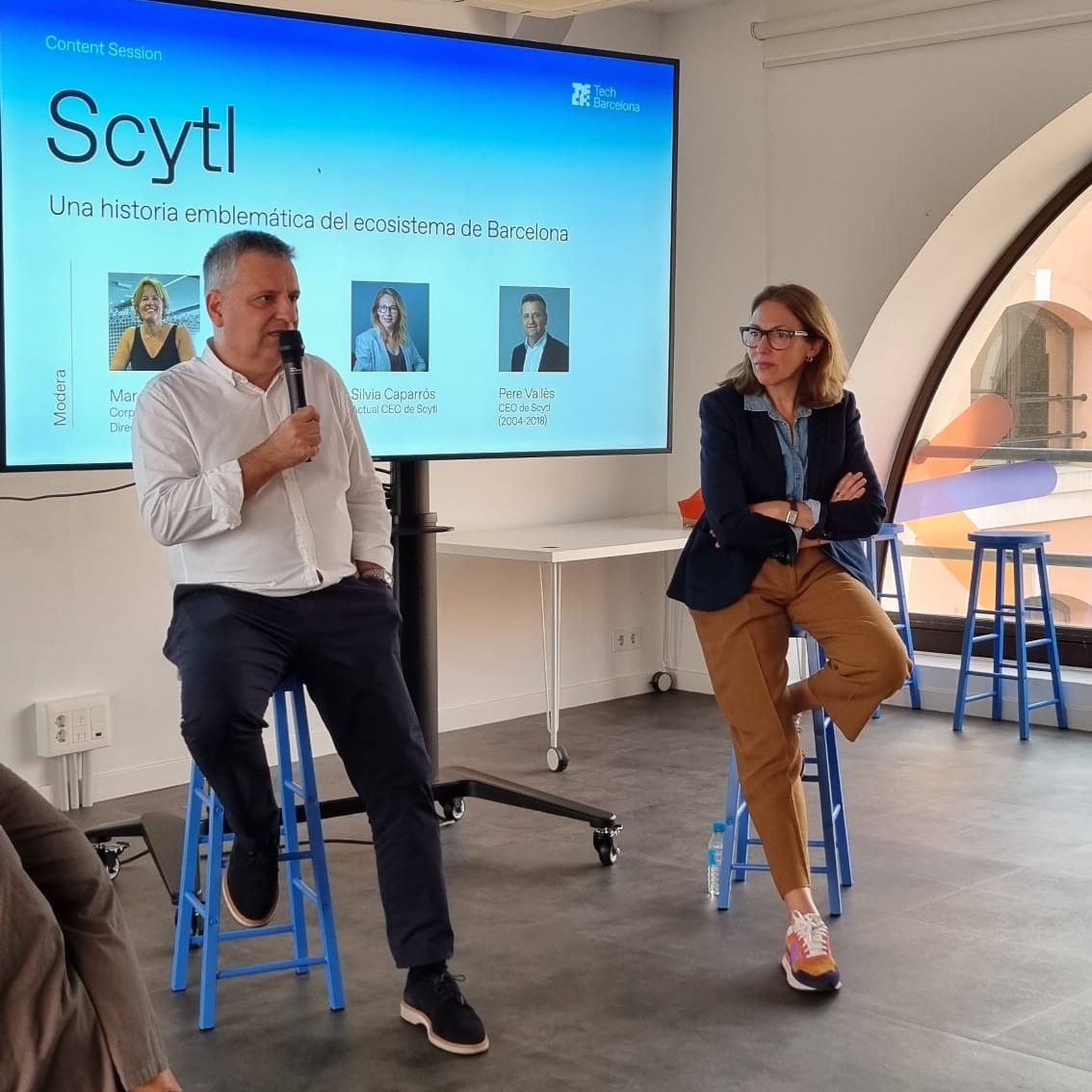 One of the first technological spin offs of the UAB. More than ten years growing at over 70%. A record round in Spain (104M$ in 2014), Paul Allen's first investment in Europe and the first scaleup to announce its goal of going public on the Nasdaq.
Scytl, a provider of electronic voting systems and electoral technology born in 2001 in Barcelona, has a significant history in the city's ecosystem, as well as one of the first major crises in the sector: in 2019 it suspended payments, in 2020 it was acquired by Paragon and now it is emerging with new projects.
Pere Vallès, CEO of Scytl between 2004 and 2016, and Silvia Caparrós, CEO since 2018, participated for the first time in a joint talk, organised by Tech Barcelona, to share the main mistakes and successes of this technological story. And they left us with some great learnings.
Auditori ACCIO-Tech Barcelona, Pier01. 26 September 2022.
A startup that was ahead of its time
Scytl was born as a company ahead of its time, when no country was using e-voting, and grew rapidly thanks to its ease of raising investment rounds. Already in 2002 it received a €1 million investment round led by Riva and García. As Pere Vallés explains, "we had the best technology protected by patents, we reached a market share of 70%, with sustained growth of between 60% and 120% for 10 years in a row, and the company even turned a profit, which is quite exotic for any start-up".
Expectations that are difficult to meet
However, after the $104 million round raised in 2014, the problems began. "This is a fairly classic mistake in startups and scaleups: maximising valuation and generating expectations that are then difficult to meet", Vallés reflects. To justify these expectations, Scytl diversified its technology portfolio and entered other emerging markets, "which were not ready". The strategy did not work, so in 2016 the company restructured: it went from 600 to 200 employees and had to close business lines and offices.
Back to the origins
Silvia Caparrós had participated in the first round in 2002, joined the company as a lawyer and finally took the reins of Scytl in 2018 as CEO. As a strong supporter of the project, and aware of the demands it requires, she highlights the resilience and professionalism of the company. "We went through a restructuring, insolvency, an ERTE, a pandemic and a change of offices. But we have a very solid and organised professional base". In addition, "there is a very ingrained culture of acting immediately in the face of challenges". Now, with the security of working under Paragon, the company has returned to its origin, e-voting, deploying it both at government level and in private enterprise. "The prospects are very good," concludes Caparrós.