7 September 2022
TB Content Session
Noticias
TB Content Session #2 | Catalonia can lead the NewSpace
7 September 2022
TB Content Session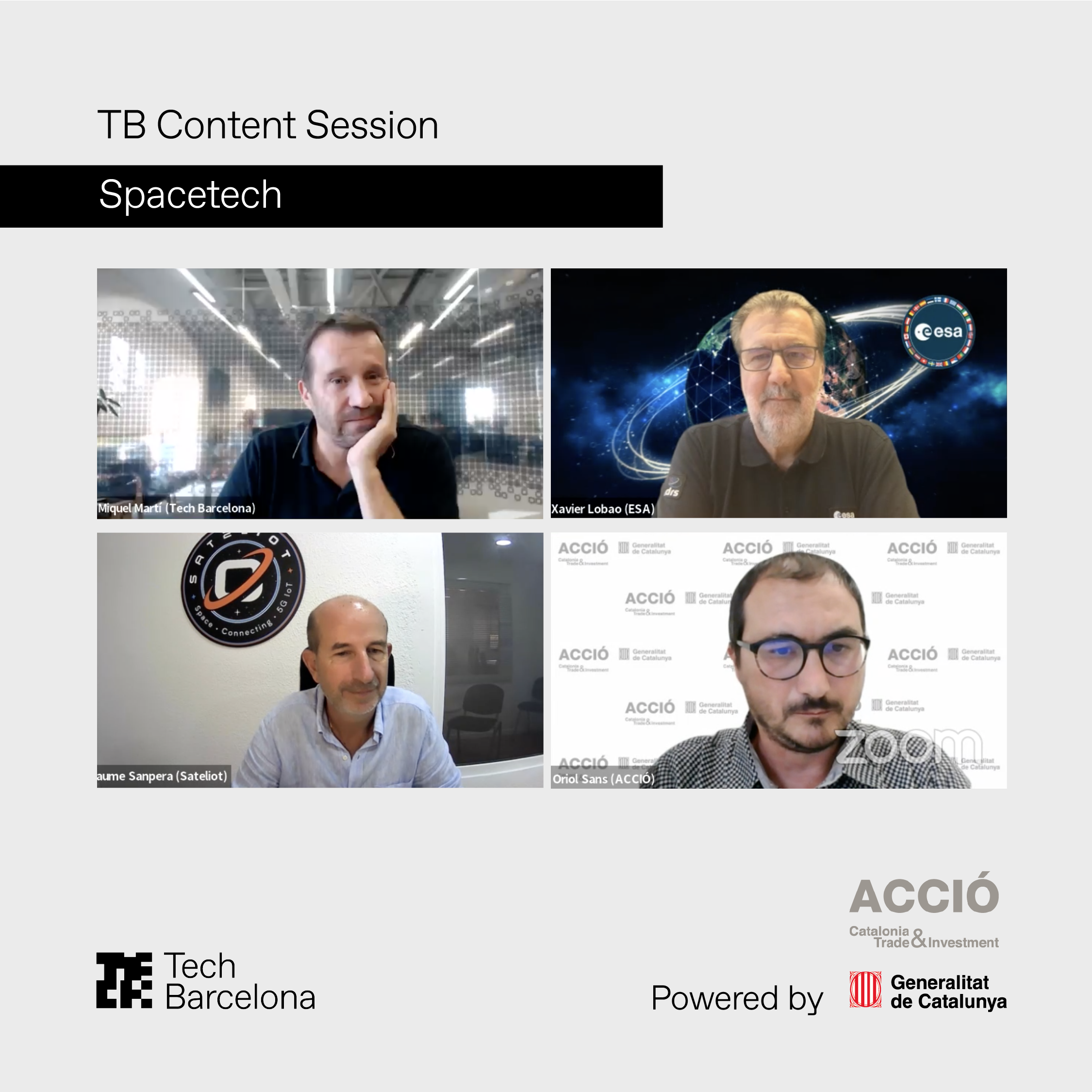 In just 10 years, the market for NewSpace and space technologies has grown by 70% to 224 billion dollars, with expectations of increasing to a trillion dollars by 2040. And Catalonia must seize the opportunity: it has the necessary talent and knowledge, accelerators and incubators with investment interest, success stories such as Sateliot, and public policies, framed in the Estratègia NewSpace of the Generalitat de Catalunya, which seek to promote and accompany this growth. In short, "Catalonia has the capacity to be a leading player in the industry", says Jaume Sanpera, CEO of Sateliot, in the framework of a TB Content Session promoted by Tech Barcelona and ACCIÓ.
In this round table, we talk about the challenges and opportunities offered by space technologies, with the participation of:
Space technology for terrestrial solutions
Satellites, high-tech pieces of technology that work thousands of kilometres above us, already allow us to understand complex phenomena such as climate change or to be connected from anywhere in the world. But "much of the terrestrial solutions offered by SpaceTech are yet to be imagined and developed," says Xavier Lobao. From controlling millions of cows from space, to monitoring intricate logistical routes or extending the use of autonomous vehicles, Sateliot's low-orbit satellite network would make it possible to fill the gaps in the current terrestrial mobile network and connect a multitude of points on Earth with 5G connectivity, even in real time.
Europe's role in the new space race
While the US and China are the kings of space, Europe is relegated to a position of technological dependence. The multi-billion public-private investments in the US and Chinese markets generate competitiveness, and allow the development of large projects, as well as the luxury of trying one's hand at space exploration. In contrast, Europe has a cooperative, small-project culture, whereby each member country decides what contribution it makes to the European Space Agency (ESA). According to Xavier Lobao, "Europe should be less dependent on third countries and private companies like SpaceX, build its own space policies and have the capacity to establish secure communications".
Challenges and opportunities for the future
For Jaume Sanpera, the future lies in "simplifying access to funding, having a country like Catalonia that supports NewSpace and fighting for the ecosystem to come to life". In addition, both experts agree that the formation of "a cluster of SpaceTech companies", with the support of an endorsing agent such as ESA, would reduce the risk factor for investors and develop technology in a safer and more efficient way, both for the developer and the end user.