15 November 2023
TB Coffee
Noticias
TB Coffee with… Kibo Ventures: "Growing up requires a balance between startup agility and management complexity."
15 November 2023
TB Coffee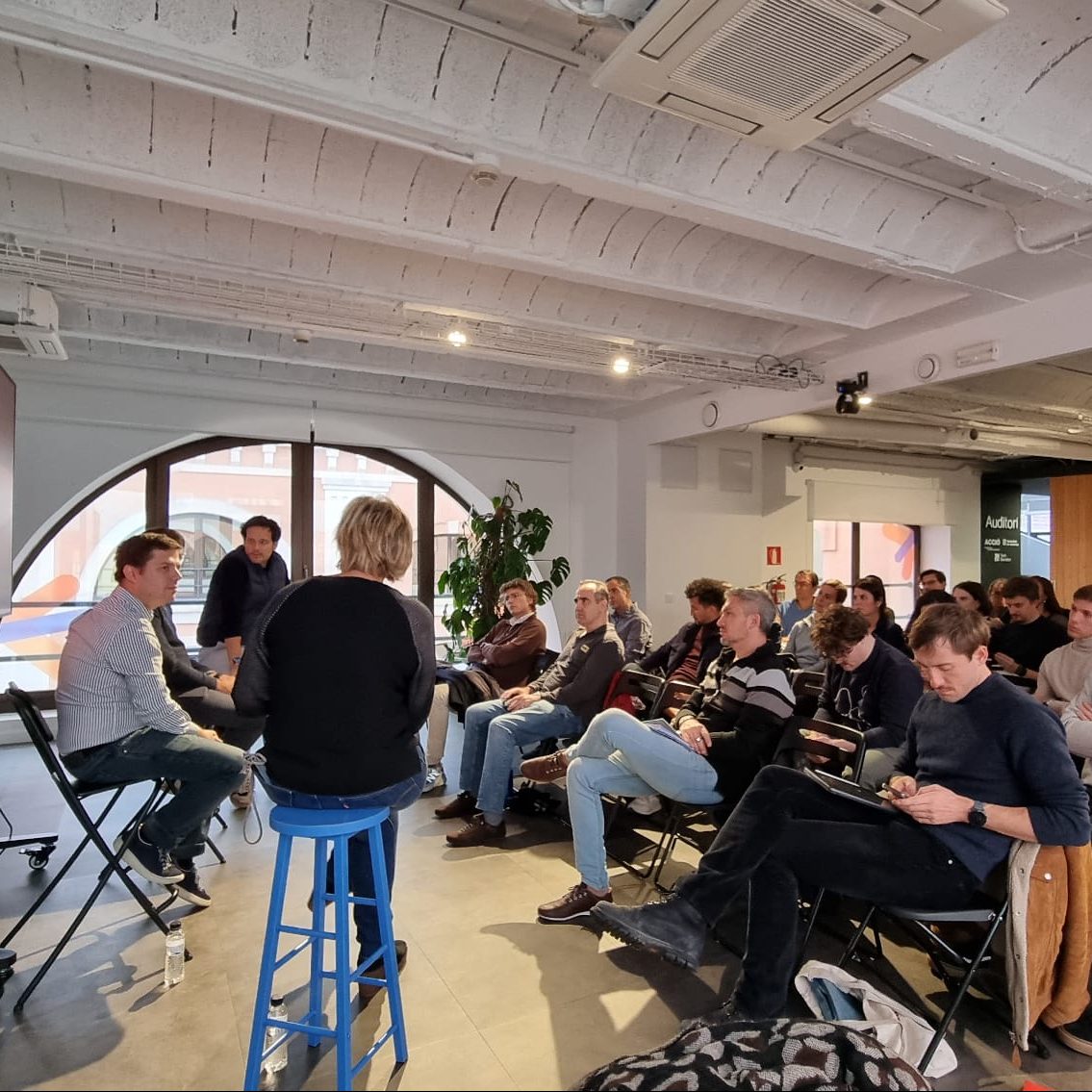 When we talk about startups we usually associate that first stage with finding an 'eureka', raising the money and looking for the team to make it happen and bringing it to market. After the euphoria usually comes the valley of death. And those that survive then face the challenge of any company: to grow profitably. We talked about this moment with two startups with consolidated internationalisation strategies, Innovamat and Lodgify, and with Kibo Ventures, a VC that has supported some of the great success stories of the ecosystem from the beginning.
Internationalisation, financing, company culture and governance were the central themes highlighted in the meeting organised by Tech Barcelona with our partner Oracle Netsuite. Here are some of the main messages of the session:
Juan López, partner at Kibo Ventures
From betting on early-stage startups, to selling them to companies like Airbnb, Apple or Paypal. VC Kibo Ventures has a decade of experience growing startups in Europe.
Founders. "It is not positive that the financial partner leads the company. They are not involved in the day-to-day business. We believe very much in the fact that companies belong to the founders, but it is clear that in the growth stage it is increasingly difficult to maintain that character."
Collaboration. "When we started ten years ago, Spain was not a very competitive country. Our first fund was 43 million euros, so as soon as you did a round, it was too small. This has led us, from the beginning, to be collaborative and invest with other funds, ideally international, to provide vertical and geographic knowledge.
Internationalisation. "For a company to become international, it needs to internationalise everything: from the employees to the board. And it is not always easy. You have to mitigate culture clashes and adapt to the principles and values of each place, both in terms of investment, staff and customers.

Andreu Dotti, CEO at Innovamat
Founded in 2017, Innovamat is a platform that transforms the way children learn mathematics. "But we don't define ourselves as a technology company, we don't connect the child to the screen," says Dotti. It has 320 employees and is present in more than 2,100 educational centres in 8 countries (20% of its business is international).
Company culture. "As we grow, we have to maintain a balance between the startup spirit, the feeling of being agile and the complexity of management. In our case, the creation of the company culture and its processes came naturally: from onboarding, to working on trusting relationships despite being a hierarchical organisation."
Focus. "We are committed to grow only in mathematics, and only in large markets.
Investment. "We have maintained sustainable growth. If I have to give you a piece of advice, go get the money when you don't need it".
Mentality. "In the face of adversity, some of us founders have a very high capacity for self-deception. Sometimes positivity is a good thing".
Alex Giralt, CFO at Lodgify
Founded in 2012, Lodgify is a backoffice system for organising holiday flats, which employs 300 people and generates more than half of its business in the United States (only 3% in Spain). With an annual growth of 50% in the last three years, it has the ambition to be the leader in short-stay flat software.
Growth. "Since 2012, the growth process has been slow and with many iterations. We prefer to feel like scale-up at the moment: decision making changes and the steps need to be much safer.
Product. "If you don't have a 'hype' product, your decisions to grow need to be much more thoughtful, under your own model".
Work culture. "Evolve with your own growth: the pandemic changed a lot of things in the business, but it also meant the consolidation of remote working. And it is very important to work on the links outside of work; we have a specific team for dynamisation and activities".
Investment situation. "The Spanish market has been doing very well up to seed, but after that you have to leave. It is very important to maintain your independence and judgement despite the influence of investors. Even if you have an alternative investment plan that keeps you going.