Noticias
Salary and flexible hours: the key to attracting IT talent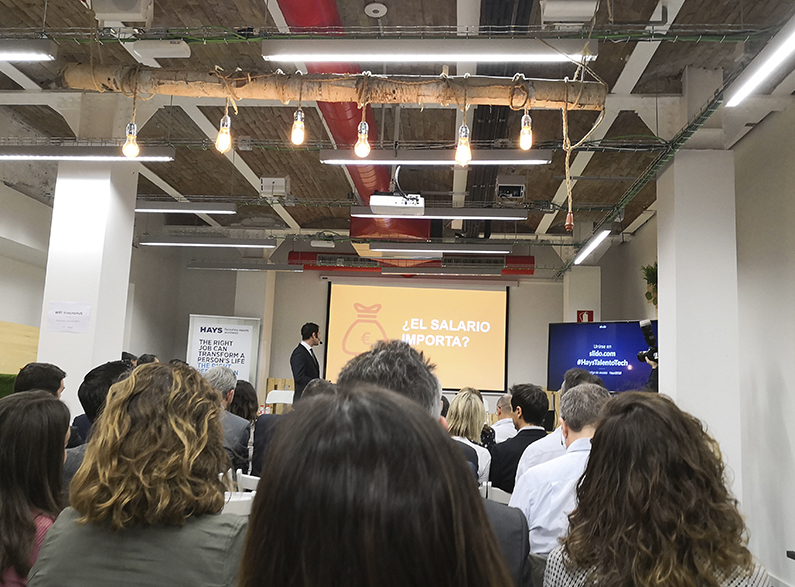 Fear of voluntary turnover has grown exponentially in recent years, with 53% of companies believing that brain drain is inevitable. The sectors most concerned are those that find it most difficult to recruit qualified personnel: technology/internet, engineering and industry.
How can this talent be retained? The main factors valued by professionals in field of technology are salary, followed by flexible hours and the option to work remotely. This is clear from the "Study on the Retention of Technology Talent in Spain", which was conducted by the consultancy firm HAYS and involved interviews with 2,000 professionals from the IT sector. The presentation, held at Barcelona Tech City's Pier01, was given by Julien Mur, Manager of the Information Technology Division at HAYS Spain, accompanied by Sergio Cortés, founder and president of Cink; Luis Moreno, HR Business Partner at Nestlé Global Services Spain; and Marc Oliveras, CTO of Tiendeo.
The aim of the study was to analyse the main criteria and motivations of IT profiles for staying in a job or looking elsewhere. Indeed, brain drain and the shortage of qualified professionals were found to be the main concerns expressed by companies in recent times.
The most sought-after and scarcest profiles
"We wanted to find out what aspects IT professionals value most in order to help companies attract and retain this type of talent, one of the most sought-after and difficult positions to fill, due to the shortage of available candidates", explained Julien Mur, Manager of the Information Technology Division at HAYS Spain.
The study found that professionals in the sector value salary above all, followed by flexible working hours and the option of working remotely. In addition, they also take into account career advancement options and being involved in a state-of-the-art technology project. Other factors valued by the respondents included training and qualifications, social benefits such as restaurant tickets and health insurance, and stock options.
In terms of the social benefits of their current job, flexible working hours were cited as the most important factor by those interviewed as part of the study. This was followed by the option of working from home, as well as company-funded training and technical qualifications. Finally, the list also included team-building activities, access to free snacks and drinks, and having a leisure area or gym within the company.
On the other hand, up to 55% pointed to the company's location as a reason to change jobs. Over half, 54%, agreed that a good office atmosphere was not a factor in their decision to change jobs, although 46% confirmed that they would look for a new job if the atmosphere was bad. Finally, 42% rated multiculturalism at work positively.
With regard to bosses, 54% did not consider them an important factor in their decision to change jobs, which led Mur to recommend that direct managers of IT profiles receive training and professional development to improve interaction and understanding. In fact, as many as 61% said that the reputation of company CEOs or CTOs did not play a role in their decision to remain in a job, and just 2% cited this as a key factor. As pointed out by Sergio Cortés, this is common among older IT professionals, whereas millennials tend to value the background and reputation of their company's CTO or CIO.
Corporations: the preferred choice
The study also showed that large corporations are the preferred choice among these professionals (71%), and that only a small percentage would opt for a start-up (16%) or a SME (13%). Therefore, the companies that need to implement measures to attract and retain talent most urgently are these latter organisations. "SMEs must go digital but should not get involved in 'technological adventures' if they do not have the resources to develop and maintain them. Speaking of SMEs in traditional sectors, their role is more that of users and adopters of existing technologies, and not so much that of developers. Therefore, the type of IT profile they need also differs", explained Sergio Cortés.
In order to retain talent in a sector where professionals receive many offers and qualified candidates are scarce, Hays recommends four measures:
Implement internal skills management policies to limit the effects of staff turnover. This is also known as know-how management.
Provide training and professional development for the direct managers of IT profiles.
Implement new recruitment methods that are more suited to this new high turnover paradigm.
And consider viewing IT profile salaries as an investment rather than a cost.
A company perspective
To gain an insight into the reality of companies and the retention policies they have implemented, the conference was attended by representatives from three company types: multinationals, start-ups and consultancy firms.
"At Nestlé's hub, we have a multicultural, multidisciplinary team of more than 350 people, with very different profiles from the rest of the company's employees. That's why we have adapted the processes to their interests: a friendly, open work environment, platforms for interaction, flexibility and the option to work from home, and they share the values of the company, with more human team relationships", explained Luis Moreno, HR Business Partner at Nestlé Global Services Spain, who added that "it is important to ensure that managers have minimum levels of soft skills like process management and leadership, which is why it's essential to promote the training of managers and directors in these areas".
Marc Oliveras, CTO of Tiendeo, shared his experience from the point of view of a start-up. "The most important thing is to take an open and personalised approach to managing each team member, something we call Management 3.0. Visibility is key, and everyone must feel like every single one of their projects is their own. There's no other secret. Just focus on motivation and self-organisation, which is achieved through constant daily work", he said.
Finally, Sergio Cortés, founder and president of Cink, shared his experience as a business consultant. "The purpose of a company is very important for IT and digital profiles, a phenomenon that is already widespread in other ecosystems such as the UK, and also at start-ups. These professionals have no problems finding employment and have choices, and they want to work for companies that have an impact on society, that have a purpose. It is important to keep that in mind, because the emotional factor also creates a great deal of engagement", he said.