Noticias
Ricard Garriga: Blockchain will be a stable financing method but ICOs are not for just any startup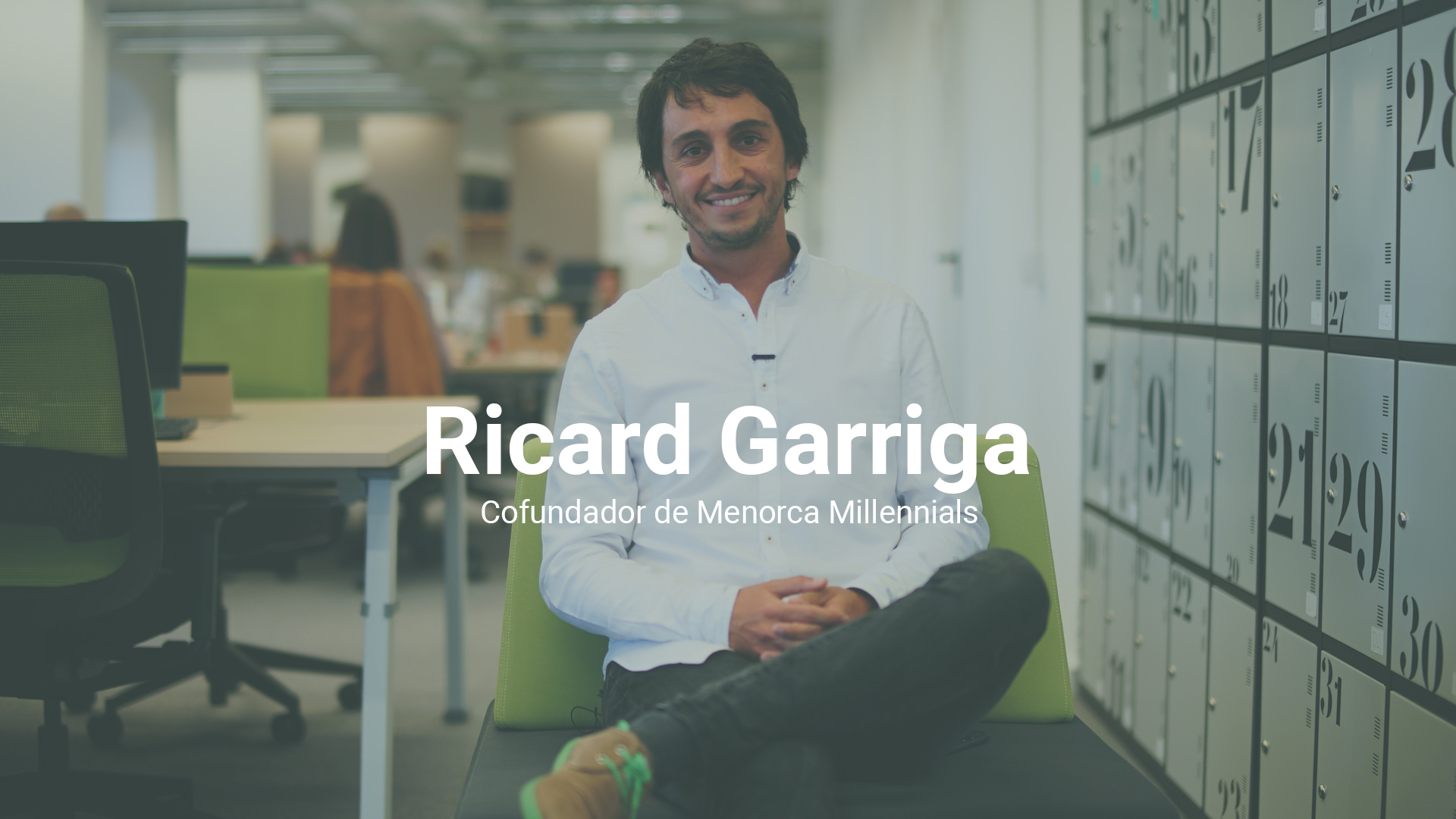 Ricard Garriga has an unusual profile: he is an investor and entrepreneur. He is co-founder of the Series A startup investment vehicle Torret Road Capital, and of Menorca Millennials, the world's first startup decelerator. Garriga is ultimately passionate about technology and finding effective financing methods for growth.
With more than 12 years of experience in the startup sector, Garriga has worked for La Salle Technology Park, for Barcelona City Council at 22@Barcelona, and in Silicon Valley for YouNoodle.
With a degree in Telecommunications Engineering, an MBA and executive education at Berkeley, Garriga has specialised in fundraising for growth since his time as director of strategy at YouNoodle, a San Francisco-based company. As an investor, he believes that the most interesting thing about a company is knowing who is behind it to lead its growth. His latest company, Menorca Millennials, was born out of this belief. As an investor, the challenge for Garriga and the Torret Road team is to find global, internationally-minded companies to adapt to a hyperconnected world. A world that is changing thanks to decentralised technology and that can reshape the investment model in startups and people.
These are some of the ideas and experiences he would like to share with new entrepreneurs and investors:
The team makes the difference
'An idea is worthless', says Garriga. 'We've seen a great deal of amazing executive summaries, but it all depends on the team in the background. It must be good enough to drive the business model, and that is the key'. The advice of this experienced entrepreneur is: 'Build a good team, try to be the best'. It's the same from an investor's point of view, and that's where the idea of Menorca Millennials came from, because it is interesting to get to know the team behind a company. 'By getting to know the teams very well, you can really see who's behind the company and, above all, you can see if they're capable of taking it to the next level', explains Garriga. 'Ideas are worth very little and teams are what really make the difference'.
Think big and play in the Champions League
'Starting a company is complicated and growing it is even more so. It's not worth launching it without the necessary components and the right team to succeed globally', he says. It requires the same effort, that's why he advises 'competing on a global level, playing in the Champions League'.
Stop and think to move forward
It is necessary to slow down because stopping and thinking can mean the success of the company. 'Entrepreneurs must stop and think before starting the growth phase', explains Garriga.
Setting up a company is about dispelling hypotheses
'All companies pivot: you believe a hypothesis, you launch it on the market and the market either buys the product from you or it doesn't', says Garriga. 'If nobody buys it, you go back and make a new proposal, a new hypothesis, always learning from mistakes'. This is where the importance of the team comes in again: 'If the team is mature and interesting enough to handle the small subtleties of the market, it will be able to take the company forward'.
Rethink initial investment models: AngelList
The venture capital world has been following the same rules for decades. But today's technology already supports new models. One of them is the AngelList, in which you don't invest in a company directly, but rather you invest with a trusted investor. This model is widely accepted and recognised in the United States. Similar platforms are already emerging in Spain and may become an interesting option for early-stage investors.
Offer liquidity on the secondary market
Investing in early-stage startups is becoming increasingly common, with many business angels investing small amounts to help these companies grow. Some of these companies grow at a high rate, multiplying their paper valuation day after day, however, for the initial investor this return is not liquid and there is no exit window with which to recover their investment with this multiple. For this reason, there is currently still an opportunity available to offer liquidity to business angels who want to divest themselves, to obtain new strategic travel companions who can provide very specific benefits for the growth of the company.
Being connected: Good Deal Flow
'The key is to be well-connected', says Garriga. The 'Truffle pigs', the ones who will be successful in detecting young companies, will be those who are well-connected internationally, surrounded by people who have already gone through the process of success and with a sense of smell trained to detect places where great global opportunities are generated. 'Now, you have to know where these places are. You have to know how to detect the signs. You have to be in the right position to constantly learn and know at all times what is happening, and what and who is at the forefront of the companies that are leading the new sectors.
Blockchain for financing
Getting millions of euros in minutes is remarkable, but this financing model is not suitable for all startups. Initial coin offering (ICO), is a non-country regulated, blockchain-based medium. As Garriga explains, a startup can raise funds through ICOs to carry out its project with shares of its company in cryptocurrency format, called tokens. 'These tokens are listed on the blockchain-based cryptocurrency market, which is the world's largest computer system in which thousands of computers connected to each other communicate to certify information. It is a similar process to the stock market where you can also buy and sell company tokens at any time. It therefore generates a lot of liquidity, and hence the interest it has generated among global investors'.
Thanks to this technology, it is possible to obtain new partners, or launch immediate global capital increases, supported by smart contracts and validated by this computer system. No notaries, no banks, no restrictive regulations. For Garriga, there is no doubt that in the coming months this will stabilise and will be a stable method of financing for very specific companies. 'ICOs are not for just any startup, but only for those with absolute decentralisation in their DNA', he points out.
The bubble (or not)
For Garriga, blockchain is a reality that is already generating a change in society that is just as or more disruptive than the web was in its early days. 'In the coming months we will witness wonderful things', he says. To accelerate the growth and implementation of blockchain's potential, he says that we must be open-minded about breaking bureaucratic taboos, failing in detail, knowing that there is much more to gain than to lose.
'Yes, there is a bubble due to our misuse, but behind every bubble there is something interesting. Here we are experiencing a great change in society that will increase when regulation permits'.
Benefits of e-residency
Virtual residence or e-residency for decentralised companies, in force in Estonia since 2014, enables them to establish their virtual headquarters, be subject to taxation and pay taxes in a country that understands and enhances their very nature and where they do not necessarily have to be physically located. 'More and more countries are considering it, despite its bureaucratic and conceptual complexity, and that's why many decentralised companies that are financed through ICOs with millions are setting up in the countries that allow it', explains Garriga. 'There is a great opportunity to attract these companies, so that instead of going to Estonia they come here', says the entrepreneur. The fact is that getting new decentralised companies to set up in the region could mean, for example, 'having a much more attractive tax rate for everyone, lowering taxes because there would be more companies paying for them'.