Noticias
Public funding opportunities for startups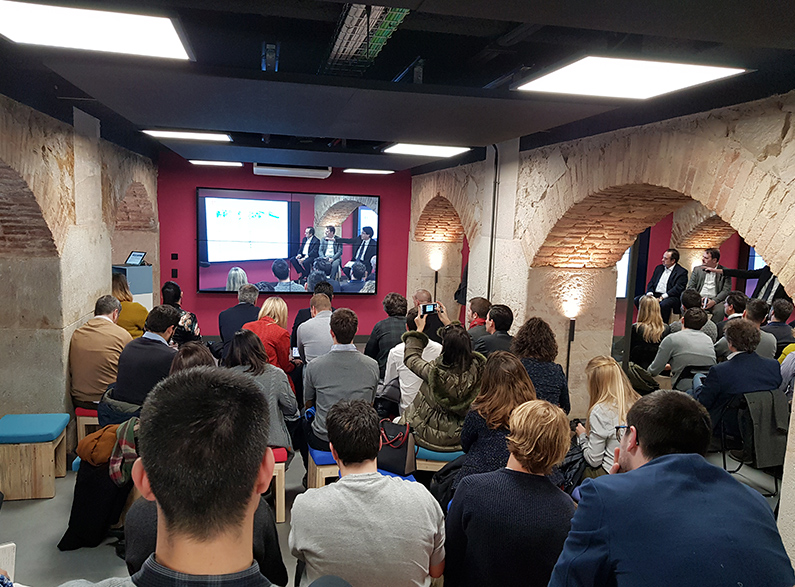 Securing investment for projects is one of the main battles of any entrepreneur. There are various options for both private and public funding. Finding out about the financing opportunities offered by different administrations and public bodies is a challenge for entrepreneurs and startups.
Consequently, Barcelona Tech City organised a round table moderated by Miguel Vicente, President of the Association, on funding opportunities for startups. It was an unprecedented meeting in which representatives from the Official Credit Institute (ICO), ENISA, the Catalan Institute of Finance (ICF), ACCIÓ and Barcelona Activa participated.
The conference was held at Pier01, in the auditorium of the Payment Innovation Hub, where these organisations explained the lines they are following in the area of financing. These are lines with which they intend to become 'intermediaries' of the public sector that they represent with the startups. Among these initiatives are non-refundable grants (such as those offered annually by ACCIÓ of up to 75,000 euros and from which between 25 and 30 companies are expected to benefit this year), loans and indirect investment through venture capital funds (an option promoted by the ICF), and specific programmes.
The Regional Government of Catalonia, through ACCIÓ, the agency for company competitiveness, has financial advisory programmes for startups, as well as other programmes for them to attend meetings to promote themselves, such as the Mobile World Congress (MWC). During the conference, Joan Romero, CEO of ACCIÓ, highlighted the importance of startups for economic growth and the challenges of internationalisation and growth. 'Startups are crucial because they have internationalisation in their DNA and they drive innovation', said Romero.
Barcelona City Council reiterated that, through Barcelona Activa, it has an advisory service on the best funding for entrepreneurs. Over the last year it advised 500 newly-formed companies, of which 200 obtained funding, according to Jaume Baró, Director of Business Services at Barcelona Activa. 'We have a support service for entrepreneurs, we know about everything that is available. We can advise on what is of most interest. We are very specialised in advising start-ups in the early phases', explained Baró.
Barcelona Activa will also allocate a total of 3.5 million euros this year to encourage companies to hire unemployed people, with grants of up to 12,000 euros, with the intention of 'generating quality employment'.
As for the options of the Official Credit Institute (ICO), Pablo Zalba, its President, explained that they have three investment funds with which they have injected some 5 billion euros, with almost 70% of the amount allocated to SMEs. 'The line to follow is to promote internationalisation', said Zalba, 'one of the main focuses is to contribute to diversifying sources of funding'. The president of the ICO is clear that internationalisation provides more jobs and, in this sense, 'Barcelona is destined to play an international role'. According to Zalba, 'Today, one third of ICO's activity is aimed at supporting internationalisation'.
For Bruno Fernández, Chief Executive Officer of ENISA, collaboration between institutions is key to achieving milestones, a joint effort that he hopes will continue. With regard to his company, Fernández spoke about the equity loans they offer to startups: 'The main characteristic is that we do not ask for endorsements or guarantees. It is the project itself and the team behind it that help us decide whether to endorse it. These are new sources of funding for entrepreneurs that have transformed into an increase in demand for these equity loans in 2017', Fernández explained. ENISA has allocated 132 million euros to 32 funds.
The Financial Director of the Catalan Institute of Finance (ICF), Josep Ramon Sanromà, said that although the ICF is the financial body of the Regional Government of Catalonia, it does not depend on the public budget as it has financial autonomy. In addition, Sanromà spoke about the specific line of financing for startup companies and SMEs that they are developing together with Avalis. 'We currently have a stake in 27 funds, where we share investment with the ICO and the European Union and also with private investors', he explained.
It was a conference at which everyone agreed on the need to make an effort to attract international funds and to coordinate these efforts between entities to facilitate access to funding for startups. This coordination has already borne its first fruit with initiatives such as this conference between important investment agents to facilitate the dissemination of these financing opportunities, something that is very much in demand in the ecosystem. 'I started out 10 years ago and now I am beginning to understand financing lines', joked Miguel Vicente, President of Barcelona Tech City, who called for the event be held annually.