Noticias
Pier07, the new health and life sciences hub of Tech Barcelona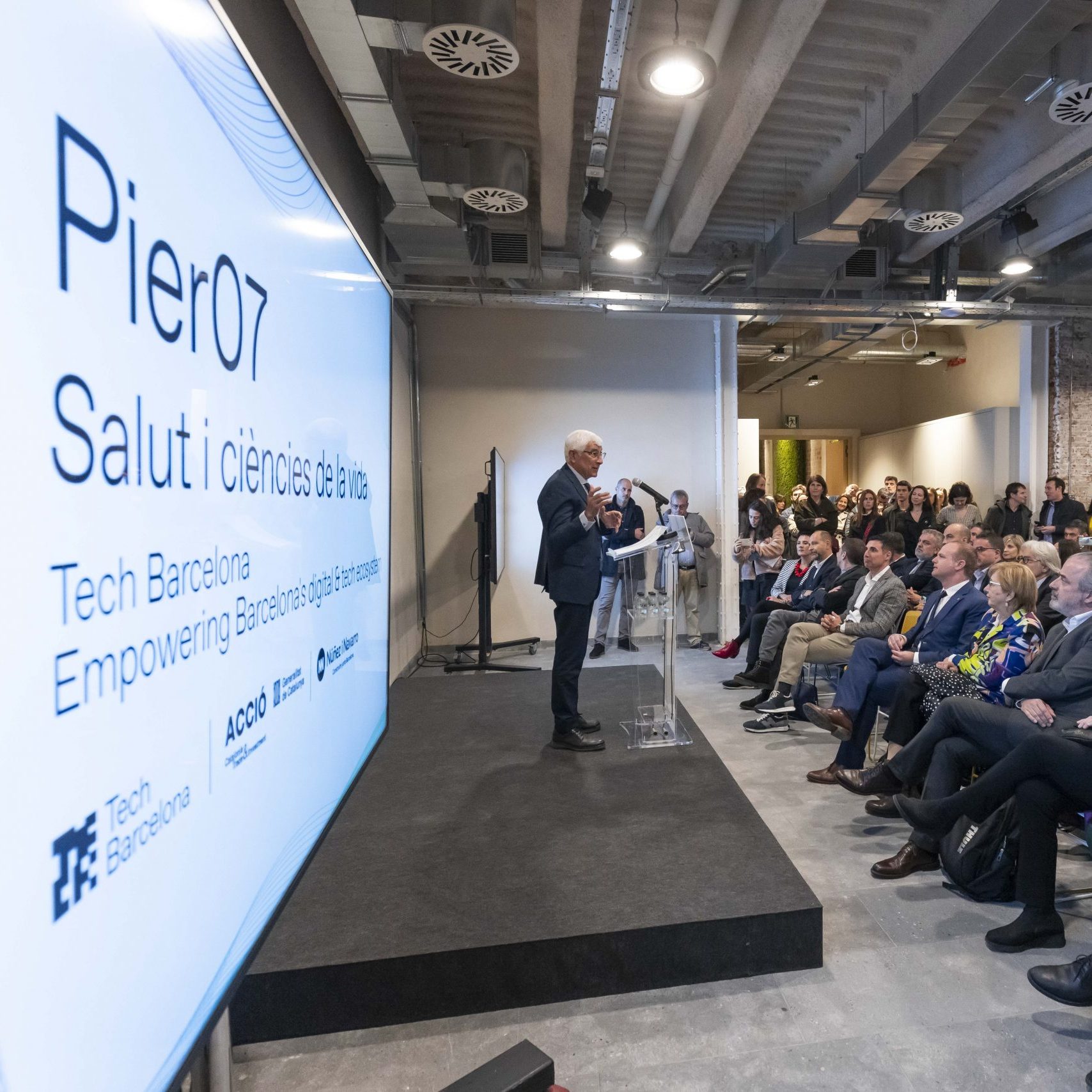 The building, located at Via Laietana 26 and owned by Núñez i Navarro, is a reference space where science and health business meet to seek joint solutions from technology, from Barcelona and with international projection.

The project is supported by ACCIÓ, leading organisations in the Catalan health ecosystem such as the Vall d'Hebron Research Institute (VHIR), the Southern Metropolitan Territorial Management of the ICS (Hospital de Bellvitge) and the Hospital Sant Joan de Déu, and Tech Barcelona partners such as Ferrer, Novartis, Vifor Pharma, Boehringer Ingelheim, Uriach, Ediciones Mayo, Cushman & Wakefield, Nestlé, HP, i2cat and Trifermed, among others.
Barcelona, February 23rd, 2023.– Tech Barcelona has inaugurated Pier07, the new Health and Life Sciences Pier of Tech Barcelona. The opening ceremony, attended by some 200 people, was attended by the Honourable Mr. Manel Balcells, Minister of Health; Mr. Albert Castellanos, Secretary of Business and Competitiveness and CEO at ACCIÓ; Mr. Lluís Juncà, General Director of Innovation and Entrepreneurship; and Mr. Xavier Aldeguer, Knowledge Society, Transfer of Knowledge, Technology Transfer and Innovation; accompanied by Miguel Vicente, president at Tech Barcelona and Miquel Martí, CEO at Tech Barcelona, as well as representatives of the health ecosystem and civil society.
Pier07 – a sustainable space of 6,000 m² located at Via Laietana 26 and divided into 8 floors with a total capacity for 500 people – has undergone a complete refurbishment by Núñez i Navarro, as a sign of its commitment to promoting buildings focused on sectors of high added value that allow the revitalisation of the city centre with quality projects and employment.
Pier07 is a systemic space where the different agents of the innovative ecosystem in health and life sciences can meet, locate their offices, organise activities and search for joint solutions to challenges from technology, from Barcelona and with international projection. The project is a space for collaboration between startups, corporations, research centres, innovation areas of hospitals, universities, administration and the health system.
Tech Barcelona has launched Pier07 with the support and participation of ACCIÓ, the agency for business competitiveness of the Department of Business and Knowledge of the Generalitat de Catalunya. In addition, for the conceptualisation of the new Pier07, the association has had the support of recognised organisations in the health sector such as the Vall d'Hebron Research Institute (VHIR), the Gerència Territorial Metropolitana Sud de l'ICS (Hospital de Bellvitge) or the Hospital Sant Joan de Déu (I4KIDS project), and Tech Barcelona partners such as Ferrer, Boehringer Ingelheim, Novartis, Uriach, Vifor Pharma, Ediciones Mayo, Cushman & Wakefield, Nestlé, HP, i2cat or Trifermed, among others.
The health investment fund Asabys Partners is the first tenant to open its offices in the building. In addition, Cebiotex, Chasing Science, Adbio Partners, Trifermed and ACCIÓ will move into Tech Barcelona's own coworking space. More tenants will be confirmed shortly.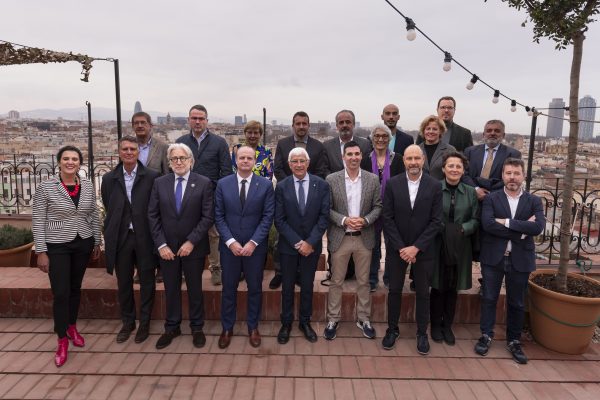 During the inauguration, the Catalan Minister of Health, Manel Balcells i Díaz, said that "today we are consolidating something we dreamed would happen. We have a leading sector that generates wealth in an ecosystem of life sciences talent with large research centres, technology centres and Biocat. The system is good and we must ensure that technological solutions solve problems to improve people's quality of life. With this building we have a space where we can make things happen and implement the technological advances we achieve in the public system", he explained.
The Secretary for Business and Competitiveness and ACCIÓ's CEO, Albert Castellanos i Maduell, stressed that "Pier07 is many things: a hub for business and entrepreneurship, a meeting point for the entire health and life sciences sector and a magnet for talent". Castellanos recalled that this type of hub is "a formula that has been proven to work, which will accelerate the health sector and help to consolidate and further project Barcelona as a dynamic and innovative city". "It is no coincidence that the first Tech Barcelona space dedicated solely to one sector is specialised in the health sector: a sector of the first magnitude, very permeable to innovation and which generates around 9% of the country's GDP and for this reason, from the Government, through ACCIÓ, we are very pleased to form part of this project for the country", he concluded.
Miguel Vicente, president of Tech Barcelona, explains that the new Pier07 responds to the same philosophy with which Pier01 in Port Vell was built in 2016 and Pier03 in Reina Isabel II in 2018: spaces to bring together talent and projects, develop solutions, make visible and showcase the innovative dynamics of the ecosystem. Vicente says that "from Tech Barcelona we generate these spaces to promote the creation and growth of new companies, as well as the interaction with other agents of the ecosystem". But unlike other buildings of the association, built with transversal models where companies from all sectors are gathered, Pier 07 is the first space with a sectoral approach: health.
Miquel Martí, CEO of Tech Barcelona, explains how health and life sciences have become a strategic sector for the country. "Currently, we have a mature ecosystem capable of mobilising from research and development to science parks, universities, hospitals, corporations and even the public system. Creating a new Pier, Pier07, with a focus on the health sector and integrated into the Urban Tech Campus project, is a logical step in the association's strategy to bring technology and solutions with the Barcelona brand to where people live. Apart from having a magnificent space, the content has to be the protagonist. We hope that not only the organisations located at the Pier07, but also all the stakeholders of the health system and other related industries, will take advantage of our spaces to collaborate transversally in the search for solutions to the main challenges to improve people's health".
The building, by Nuñez i Navarro
The new Pier07 has a multifunctional auditorium, a terrace for communal use, a Tech Barcelona coworking space and private office space. The building, an original historic building dating from 1936, has been completely refurbished by Núñez i Navarro in accordance with the most advanced sustainability standards, and is LEED, WELL and WiredScore certified. The refurbishment of the building, located at Via Laietana 26, promotes the enhancement of one of the city's historic art galleries, which is currently undergoing a complete transformation.
Urban Tech Campus: integration of innovation and technology in the city of Barcelona
Since it was founded in 2013, Tech Barcelona has worked to position the city as an entrepreneurial, technological and digital hub of reference in southern Europe. The association has become the backbone of the ecosystem, the benchmark environment for connecting startups, corporations, investors, institutions, universities and administrations.
The association currently represents more than 1,200 companies (60% are startups) from all sectors and technologies. Pier01, created in 2016, is the start of the Urban Tech Campus, Tech Barcelona's project to develop buildings in the city centre that integrate innovation and bring technology to citizens.
The maturity of the Healthcare & Life Sciences ecosystem in Catalonia
The health and life sciences ecosystem in Catalonia represents more than 9% of GDP and continues to grow. According to the latest BioRegion 2022 report prepared by Biocat, startups and scaleups have attracted 445 million euros in investment, almost double that of the previous year: 77% has been raised by venture capital funds and 12% by competitive grants. The Biocat study also points out that foreign investment, mainly from Europe, Asia and the United States, in projects created and developed in Catalonia is also very significant: 95% of the capital raised has come from international investors.