Noticias
Mireia Mir: Offering people flexibility and the opportunity to work towards objectives helps you attract talent and boost commitment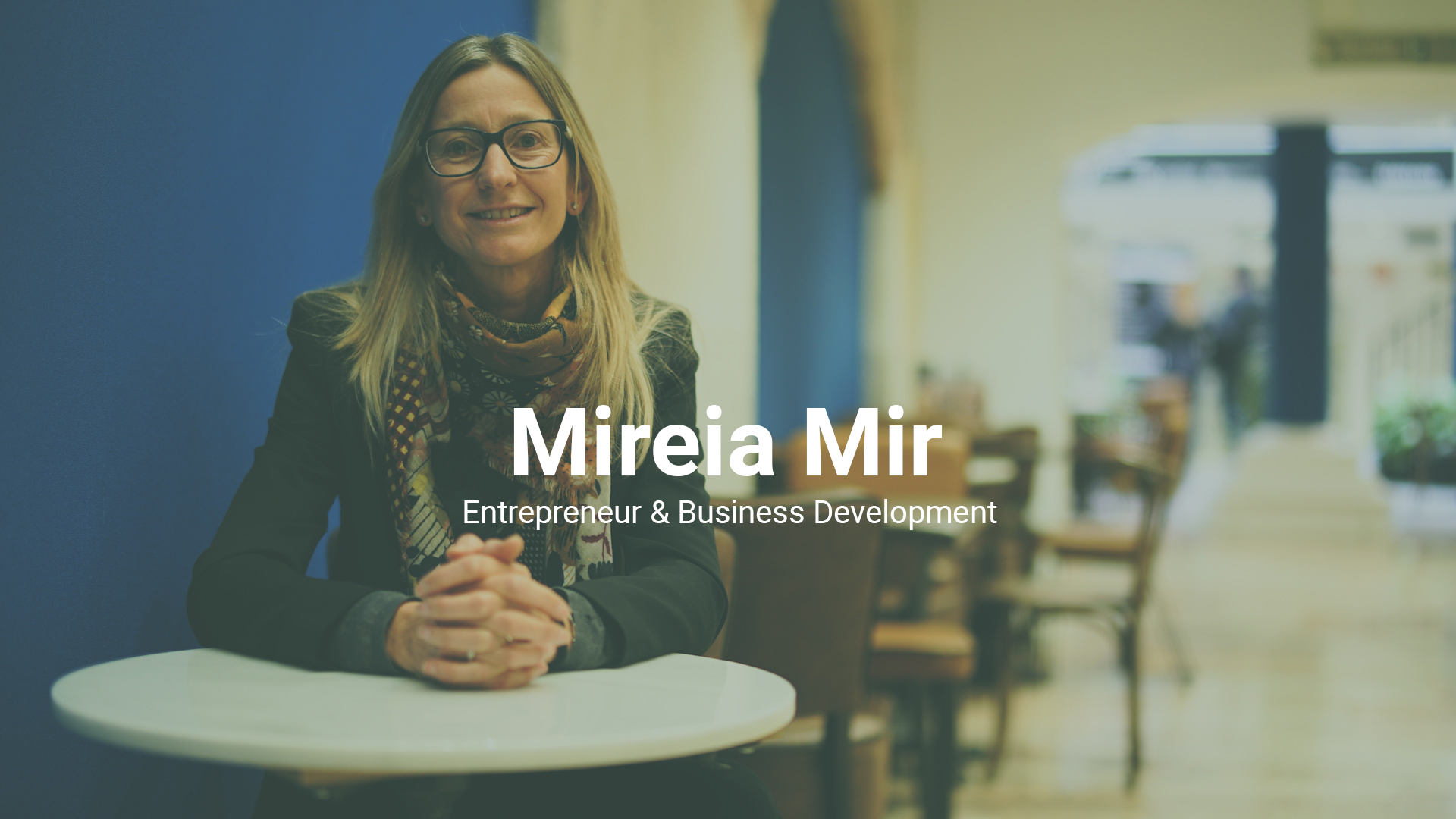 One of the clients that Mireia Mir worked with during her tenure as an entrepreneurship consultant for Barcelona Activa was a novel digital start-up by the name of Infojobs. That was back in 1998, the year she also came into professional contact with Grupo Intercom, a company that would later recruit her to head up its newly created business incubator. During her three years with Barcelona Activa, Mir got to know more than a thousand entrepreneurs, a number of whom were creating start-ups in the digital sector.
The career pursued by Mir after obtaining a doctoral degree in economics has been closely aligned with the entrepreneurial ecosystem, from her first position with the Colegio de Economistas (a sector professional association) to subsequent posts at Barcelona Activa and the investment firm Grupo Intercom. Her longest professional association has been with Grupo Intercom: an eighteen- year stint spent identifying new Internet-related investment opportunities and cultivating investors.

Mir became an entrepreneur in her own right with the 2005 launch of paraBebes.com, an online community of fledgling parents with children up to the age of three. The project grew out of her own experience as a first-time mother and a conviction that businesses related to parenting would find a ready audience. In early 2017, she sold the company to Mom2Mom, a sharing economy platform that links up parents looking for child care assistance with other people willing to help them out.
Mir's newest challenge is creating an international network marketing joint venture focused on personal care and anti-aging products in collaboration with NuSkin, an American company with thirty years of experience in the sector. This project comes on the heels of her support for another start-up called Teaming, an online platform that allows groups to raise funds for social causes through monthly one-euro donations. This site currently has over 200.000 registered "teamers" whose monthly micro-donations provide financial support for 8,274 social initiatives and causes. A socially committed entrepreneur, Mir is particularly interested in becoming involved in projects that help children and teenagers develop an entrepreneurial spirit and provide assistance to women entrepreneurs.
Below are some ideas and tips that Mir, a sector professional with twenty years of experience and member of Barcelona Tech City's board of directors, is happy to pass on to other entrepreneurs.
Learn and unlearn in order to adapt to change
An entrepreneur must have a number of qualities one doesn't develop at school. From the outset, Grupo Intercom sought entrepreneurs who, above all else, were "open people with an affinity for digital technology willing to learn and unlearn, which is really important given that the rules of the game were changing", Mira recalls. "We are interested in collaborating with professionals that stand out for their generosity and sense of humility because a good working environment is fundamental and can be achieved when you surround yourself with this kind of people", Mir asserts. The secret is a mix of "healthy competiveness and a desire to work together as a team".
Digital sector entrepreneurs have become more professional
Sector enterprises are much more rigorous then they used to be when it comes to recruiting talent and have also changed the way they go about attracting investors. Companies and their employees alike have undergone a process of professionalization. "Being an Internet entrepreneur today is very different than it was 18 years ago. It's much more difficult now because the sector is must more professional and you need to create teams of highly specialised people with a lot of experience", Mir observes. "I think that most of the entrepreneurs in the digital sector today are very well prepared".
Not every company needs to go international
"As I see it, some companies set out to target an international clientele while others, in contrast, seek to be small-to-medium enterprises. While the trend is to think in terms of million-euro investments and pursue successive rounds of financing, I don't see this model as being applicable to all of today's digital enterprises", observes Mir. Seeking to capture an international market may be the only option open to companies hoping to sell certain types of products, but such an approach can prove fatal to others that happen to launch at the wrong time or in the wrong market.
Controlling the extent of investor input
Although the input of investors is usually commensurate with the size of the stake they hold in a company, this is not always the case. As Mir points out, "Smaller investors who demand to have a major say in multi-stakeholder companies can make the day-to-day work of an entrepreneur extremely difficult. Entrepreneurs should therefore be very aware of what they are agreeing to whenever they sign agreements with partners".
Entrepreneurs must be fully implicated in the projects they launch and be ready to devote substantial time to the endeavour.
Entrepreneurs must be willing and able to devote their complete time and energy to the projects they are trying to develop. This was something that Mir learned when she tried to hold on to her job at Grupo Intercom while launching her own company and starting a family. "It was a mistake", Mir admits. "I was looking for entrepreneurs ready and willing to do something I myself hadn't done: make a 100% commitment to their projects. There was a moment when I was forced to make a choice and pour all of my energy into paraBebes.com".
Flexibility and working towards objectives: the keys to attracting top talent
"Whenever you take on a new project, the people who make up your team need to be on call round the clock. It's therefore important to surround yourself with selfless, totally professional individuals willing to share and give everything they've got", Mir advises. The solution is to offer full-time jobs that offer flexibility and the opportunity to work towards objectives. "Intercom gave me this from the day I joined the company. I've employed the same approach with people who have worked for me. It ensures that everyone is happy, grateful and devoted to the endeavour twenty-four hours a day. It's a good way of getting people more involved. "I think that companies unwilling to move in this direction have a harder time attracting and retaining talent", Mir reflects, "because younger professionals prefer situations that offer greater autonomy, flexibility and personal development".
Entrepreneurship is like a rollercoaster: expect to be riding high and hitting bottom in a single day
"You have to learn to live with it, which is why it's so important surround yourself with people you can rely on through thick and thin", Mir stresses. The support team members provide is important "but it's also helpful to be in an environment such as Barcelona Tech City or Grupo Intercom that brings you into daily contact with other entrepreneurs who understand you because they're going through the same thing. Being able to share experiences and solutions is a real plus".
Being a part of the ecosystem is essential
Mireia Mir spent 18 years at Grupo Intercom sharing experiences with more than 40 other entrepreneurs. "The ecosystem they've created there is super special and it was a really enriching experience – it's something you miss out on if you work in isolation", Mir observes, underlining the importance of forging close ties with like-minded professionals. "Barcelona Tech City has managed to create a powerful, extensive ecosystem, which I believe is essential to anyone regardless of his or her area of specialisation", she adds.
Network marketing as a good bet
According to Mireia Mir, about 80,000 companies throughout the world have now adopted a new approach to marketing and sales called network marketing. "It's based on the power of personal recommendation, which is an extension of word of mouth. In the digital world, word of mouth can go viral and social media has opened up opportunities to develop all kinds of networking marketing businesses", she explains. Mir recommends reading Robert Kiyosaki's book The Business of the 21st Century, which predicts this new strategy will revolutionize business in the 21st century thanks to the emergence of social media and e-commerce, which have made it much easier to sell products and services on the basis of user recommendations. "I recommend this book to anyone in search of business opportunities", Mir says, adding, "Network marketing allows me to stay connected to the entrepreneurial ecosystem while using my digital experience to spread the word about the good business opportunity networking presents and the products NuSkin offers".