Noticias
Miquel Martí: Barcelona Tech City Campus will represent the development of the ecosystem, focussing on specialization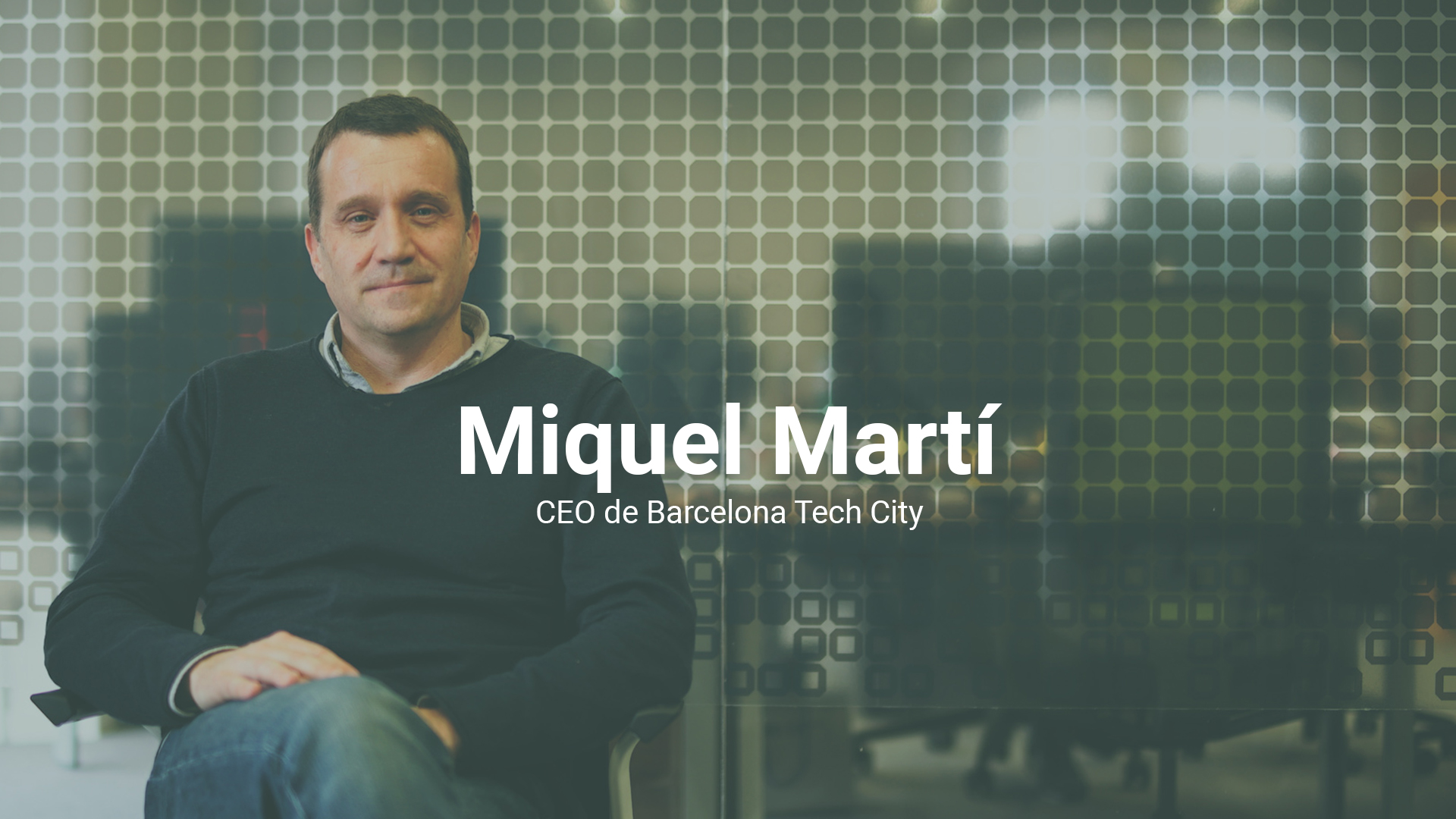 Miquel Martí is the CEO of Barcelona Tech City, a private association whose main aim is to make Barcelona a leading international ecosystem in the digital-tech sector. With a degree in Industrial Engineering from the UPC and an MBA from ESADE, Martí previously worked for Biocat, the Catalan biotechnology cluster, as Innovation and Finance Manager, and as manager of BDebate, International Center for Scientific Debate.

At the head of Barcelona Tech City since 2013, for Miquel Martí the creation of a hub was necessary to consolidate the ecosystem. This led to the concept of Pier01, which is located in Palau de Mar and houses more than 100 companies and startups with more than 1,000 professionals. With Pier01 now completed and with a waiting list, Martí is clear that the expansion of the hub involves the creation of an urban campus that includes new sites to accommodate the high demand, as well as vertical or specialized technology areas.

The local and international recognition that Barcelona Tech City and Pier01 are obtaining has helped make Barcelona a leading tech hub, in competition with other European cities such as London, Berlin, Paris or Amsterdam.

The Association was founded in 2013, mainly because a group of entrepreneurs led by Miguel Vicente wanted the city to reach the level they thought it deserved. What is your assessment so far of Barcelona Tech City? Have the aims of your foundation been achieved?

Barcelona had been the ideal space for these entrepreneurs to create their businesses, many of them successful. The Association arose with the desire to embrace the needs of the ecosystem and to align them, as well as giving it joint and independent representation. Five years later we can say that the aim has been achieved: Barcelona Tech City currently represents more than 800 companies employing 30,000 professionals, having added a series of very powerful partners – such as Telefónica, SEAT, Caixabank, ESADE, Naturgy, Accenture, EPSON, KPMG, MWCapital, Ymedia Vizeum, Airbnb, ASICS, Damm, La Vanguardia – and it has been able to align the interests of the different ecosystem stakeholders, which can be very divergent, ranging from corporations, public authorities, business schools and universities, accelerators and incubators to, in particular, entrepreneurs. The Association is also recognized by the ecosystem and the milestones achieved are considerable.



Pier01 was opened in 2016, located in Palau de Mar. More than 11,000 square metres housing about 100 companies and employing more than 1,000 people. Did Barcelona need a meeting place like Pier01? What benefits has it provided? 

When we started this project, we looked at best practices in other parts of the world. When we analyzed these benchmarks – London, Berlin, Paris, New York or Boston – we saw that, in this competition between cities, all of them have a certain space that brings together an important part of the ecosystem. In Paris it is Station F; in London it is the Shoreditch district and the Google Campus, for example; in Berlin it is The Factory; in New York it is what has been created in Brooklyn Navy Yard and Industry City; in Boston they have the Cambridge Innovation Center and the MIT Urban Campus; Amsterdam has two large buildings: The TQ and B.Amsterdam… In other words, all the major tech hubs have a physical space that truly represents the entire ecosystem and is also closely linked to the city.

It was clear to us that we had to find a space that represented what Barcelona is and, of course, that was very well located in the city. Although we were offered many buildings we were quite determined to get the Palau de Mar. The vision was to turn this building into a space for entrepreneurship in the port of Barcelona and by aligning this vision with the SCCE and the Port of Barcelona it became a reality.

Pier01 was conceived from the desire of a community to work together. One of its main characteristics is that it has managed to attract large corporations' innovation labs – 5G Lab of Telefonica and 5GBarcelona; SEAT's Metropolis:lab; Paymment Innovation Hub of Caixabank, Visa, Arval, Global Payments and Samsung; and Naturgy's InnovaHub- in the same space as startups. There is a very strong cooperation right now, which is not very common.

The Pier01 project has been completed in a very short time and has created tremendous demand. There is actually a waiting list of partners that could fill several Piers. What is the growth strategy?

We are working at the Association to respond to a community that demands greater space. Our responsibility is to try to create a bigger Pier, with a cross-cutting philosophy. But beyond that is the next development: we are no longer talking about a series of buildings, but rather an Urban Campus concept.

The Barcelona Tech City Campus will also represent a certain development of the ecosystem as a whole. When it has reached a certain level, there will be vertical aspects that develop more or have more potential than others. We want the new spaces to represent these vertical aspects, maintaining the cross-cutting focus and adding an area of specialization according to the ecosystem's potential. Blockchain, life sciences, sports tech, wellness, tourism, or retail, etc. are vertical areas that are already quite well established in Barcelona and which will be reflected in many of the spaces we could have in the future. It is a question of combining specialisation with a certain cross-cutting approach. We try to achieve representation in everything we do, a small sample of the total ecosystem.




Barcelona Tech City's strength lies in its associates – company founders, CEOs, top representatives of organizations, partners and other stakeholders – which now represent 800 companies and 30,000 workers in the city's digital-tech sector. What is the main advantage for members?

Being part of Barcelona Tech City, being an associate, allows you access to different advantages that arise from our activity. The Association as such is responsible for connecting and advising entrepreneurs about what they need. Good entrepreneurs can do the job on their own, but a little help can make the process much faster. We have a wide range of stakeholders, which gives us access to technology, contact with investors, access to distribution channels, access to partners, etc. And in this case, our responsibility as an Association is to understand our members' business models and, to help them, either reactively or proactively.

One of the most significant aspects for the Association is knowledge as an acceleration engine. Our program of activities is based on knowledge and always with a layer of community consolidation and a sense of belonging to the Barcelona technological ecosystem. Having seen the good result of Pier01, we hope that Barcelona Tech City Campus's reach will extend throughout the city via an urban Campus with different spaces distributed throughout the city.

Large corporations are approaching Barcelona Tech City to become partners and be in direct contact with the entrepreneurial ecosystem. What does the Association offer them in this regard?

Large corporations have realized that the world is changing at a very fast pace, that it is time to innovate more quickly, and that this innovation may sometimes come from internal teams but often from external ones. They have begun to realize that this is about doing things differently, about applying Open Innovation and moving away from the usual dynamics of a large corporation. If innovation has to come from outside, start-ups are great agents of change or great companions on this journey, due to their flexibility and speed, and because they are based on trial and error and on the swift development of projects.

Each corporation has its own idiosyncrasies and in order to interact with these new agents of change it must therefore find out what the space is and the way to do it. One way is to be close, either virtually or even physically. Working side by side with those who do it differently ends up influencing, almost by osmosis, the way they work. The link with Barcelona Tech City allows them to be closer to startups.




What can startups expect from large corporations? What benefits can partners gain from this proximity?

Corporations look to startups for talent, new ideas and even companies to be acquired or to work together. A startup can therefore be perfectly integrated into the portfolio of a large consulting firm. A large corporation can be a partner for a startup that wants to test design or gain access to technology, and it can be a good partner for entering new markets and for receiving advice, because there is a mentoring side that the corporation itself can offer, it can be an investor….

Barcelona Tech City wants to facilitate this link. We have set up the dance floor and put on the music, and the startups and corporations are already dancing, getting to know each other and looking for points of interest.

Barcelona has had a digital ecosystem since 1992.At Barcelona Tech City we are contributing to the growth of the ecosystem and to encouraging public-private collaboration. What is the strategy?

There has been a very significant growth in the last 4-5 years, coinciding with both our creation and that of 4YFN by Mobile World Capital and the Mobile World Congress. Barcelona Tech City was created with the desire to provide a contribution to technology in Barcelona from entrepreneurs.

We are geared to cooperating with all stakeholders who share the same vision and one of the most important ones in the tech ecosystem is the public sector, due to its history and the work it carries out, as well as the multiplying capacity of public authorities (financing, incubation and acceleration spaces, internationalization capacity). ACCIÓ and Barcelona Activa have indeed played a fundamental role in the local tech ecosystem. That's why we cooperate as part of the value proposition and work together.  We also want to take advantage of the multiplier effect of Public Authorities in this public-private partnership, allowing us to amplify private sector initiatives that are of interest to the whole ecosystem. Public Authorities also have the capacity to internationalise or reach places where the private sector alone could not reach or would do so differently.

We intend to continue working along the same lines. Barcelona Tech City has a very good partnership with the State, as well as with the Generalitat and the City Council. We must continue to explore these avenues, working together to prioritize polices that promote economic growth, both those related to the technology sector and those with a social impact. As technology is going to have an ever bigger impact on our society, it must serve the public. Barcelona Tech City also aims to contribute to making this technological world more humane.




Artificial Intelligence and robotics will indeed have a big social impact in the next 20 years. How does Barcelona Tech City approach this challenge?

Here in the technology sector we want to contribute to the humanization of these technologies, which are there to serve society. The great global challenge is to prepare society for the coming transformation. And this will be done through technology, but also from more social and humanistic areas. Our idea is not only to promote technology projects but also those with a social impact. For us, gender balance in the industry, making technology serve the public and contributing to society's adaptation to the new technological revolution are becoming increasingly important parts of our work.

According to different international rankings, Barcelona's ecosystem is among the five best in Europe. What are the main challenges facing Barcelona Tech City in the coming years?

Barcelona has obtained great international recognition. The annual report on the technological panorama in Europe by Atomico, one of the leading global venture capital funds, places Barcelona in fourth place in the ranking of the 10 technology hubs in the European Union by number of startups and the third city preferred by entrepreneurs to create startups. In the same report, Barcelona also ranks fourth in the ranking of European cities according to investment received.

And this is so even without the optimal regulatory, legal and tax frameworks for entrepreneurs and investors and even for attracting talent.  It is necessary to work on taxation for entrepreneurs, to have a legal framework that allows a more friendly treatment for stock options,to have a regulation that allows us to speed up procedures, etc. These are some measures that would make our ecosystem more secure. Despite not having an optimal ecosystem we compete in the top league of European cities. I wonder what would happen if we were also able to create a value proposition at least as competitive as Paris or London?




And what are the main challenges for Barcelona's ecosystem? What needs to be improved in the short term?

One of the main challenges is to promote technology transfer between universities and companies. We must ensure that technology transfer is truly on the same level as applied basic research in Catalonia, which is a world leader. The aim would therefore be to encourage the creation of products and services based on basic and applied research at universities. This would attract more investors and advanced technology companies to Barcelona.

Barcelona's ecosystem is in a good position. We must continue to improve it so that it is globally competitive and allows us to compete for talent, companies and ideas with other cities that are currently ahead of us.