Noticias
Miguel Vicente: Barcelona Tech City is open to all entrepreneurs interested in developing the city's digital ecosystem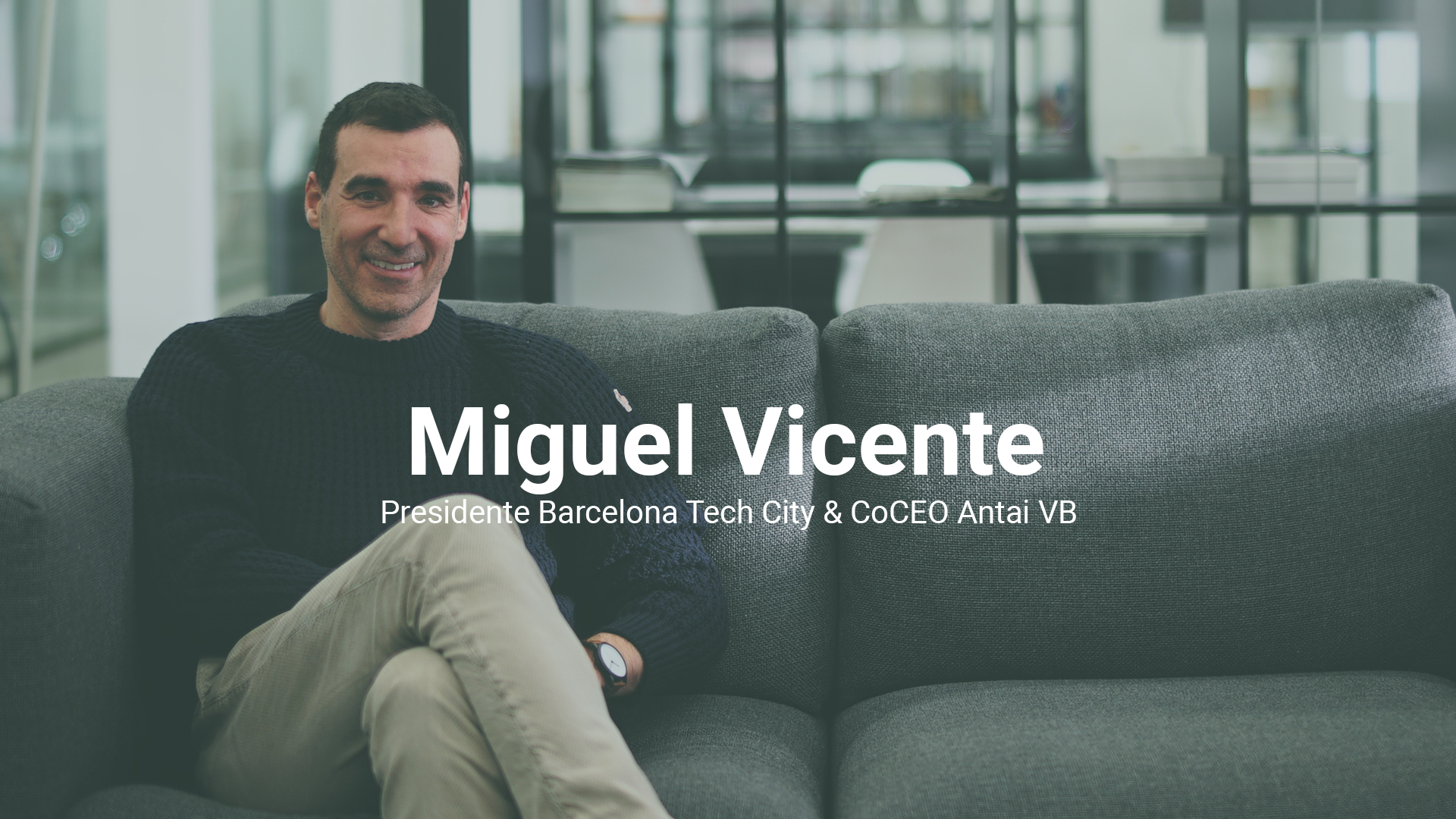 Serial entrepreneur Miguel Vicente is co-CEO of Antai Venture Builder, a company builder instrumental in the creation of firms such as Wallapop, CornerJob, Glovo (Just Bell), Carnovo and ProntoPiso. He is also the chairman of Barcelona Tech City, a non-profit organisation in Barcelona that represents over 600 digital and tech enterprises. BCN Tech City is an initiative launched six years ago by a group of entrepreneurs with a shared commitment to Barcelona and the digital ecosystem.
According to the third annual State of European Tech report released by the prestigious venture capital firm Atomico, Barcelona ranks fourth among the EU's ten major tech hub cities in terms of start-ups generated during 2017 and is entrepreneurs' third most preferred location for launching new projects. Digital sector companies created in Barcelona collectively employee over 30,000 people. Open to any local and international entrepreneur or company with business interests in Barcelona, BCN Tech City is striving to consolidate Barcelona's status as a top-notch international hub by attracting investors and stimulate entrepreneurship in the sector. Proof of its growing solidity was its 2016 launch of Pier01, a meeting point that has become a point of reference within the tech and digital ecosystem.

One of Barcelona Tech City's main aspirations is positioning Barcelona as an international tech hub. What, then, is the organisation doing to achieve this goal?
Barcelona Tech City, which has enjoyed the support of local and regional government agencies (Barcelona Activa and ACCIÓ) from its very inception, is an excellent example of a public-private collaboration focused on promoting Barcelona as a tech stronghold.
Barcelona Tech City has managed to engage every type of player within in the sector. It works with start-ups and entrepreneurs, more than 600 enterprises and 40 partners that constitute a complex universe that includes beginning entrepreneurs, companies in an early phase of development, consolidated start-ups, business angels, venture capital funds, corporations interested in entrepreneurship, business schools, university technology programmes and government agencies and entities that provide framework support such as ACCIÓ, Barcelona Activa, ENISA, ICF and the Port of Barcelona.
Barcelona Tech City is a citywide project underpinned by a strong feeling of community ownership that has flourished thanks to the enthusiasm of the entrepreneurs who founded it, close coordination between these individuals, its board of directors and local and regional government and the support of corporate partners. It is furthermore completely open to any entrepreneur interesting in helping develop and promote the city's digital ecosystem.
CEO Miquel Martí and core staff members Ricard Castellet, Joana Fusté, Xavi Gaspar, Toñi Herrero and Jordi Torrent have done an impressive job with the backing of board members Ignasi Costas, Marcel Rafart, Lucas Carné, Didac Lee, Carlos Blanco, Miguel Planas, Mauricio Prieto, Jaume Gomà, Manuel Matés, Carlos Trenchs, Christopher Pommerening, Mireia Mir, Tomás Diago, Iñaki Ecenarro, Gerard Olivé, Angel García, Josep María Echarri, Mar Alarcón, Xavi Capellades, Carlota Pi, Christian Rodríguez, Helena Torras, Miguel Valls and Jacinto Roca.
What do partners bring to the organisation?
The organisation has developed a robust circle of partners from a wide range of sectors that share its vision and values. These are companies fully aware that one of the keys to innovation today is linking up with entrepreneurial talent. My thanks go out to Mobile World Capital, Caixa Bank, ESADE, Gas Natural Fenosa, Airbnb, Epson, Telefónica-Telefonica OpenFuture, SEAT-Metropolis: Lab Barcelona, Damm, KPMG, La Vanguardia (Grupo Godó), Letgo, Ymedia Vizeum, Aguirre Newman, Axicom, Be Republic, Crea Inversión, DigaliX, EY, Forcadell, Ges Start, HAYS, ILV Silver, IF, McCann Barcelona, Michael Page, Actua Andorra, Mortensen, Rosaud Costas Duran, Saba, SEUR, Soprano and ThoughtWorks as well as ACCIÓ (the Catalan agency for business competiveness), the Autoridad Portuaria de Barcelona (the city's port authority), Barcelona Activa (an initiative of the City of Barcelona), the Barcelona Chamber of Commerce and the Sociedad de Centros Comerciales de España (SCCE) for their ongoing support.
All of these organisations have worked hand in hand to promote and strengthen this technological hub and foster links between the innovation efforts of start-ups and major corporations.
What are the main indicators of your success to date?
The more than 600 companies that have become members of the organisation constitute a solid framework for sector networking. Over the past five years, we have managed to galvanise the support of tech community players needed to achieve a number of common goals, which have been to consolidate the organisation as the sector's main platform for entrepreneurial networking, offer an ample programme of activities (approximately 80 in 2017) and create Pier01, which functions as a physical meeting point and nerve centre for Barcelona-based entrepreneurs.
In terms of the digital ecosystem, things are going very well. Today there are over 30,000 people working in the digital ecosystem in either companies created in Barcelona or international digital firms that have relocated some of their corporate installations here. Over the last two years, over 1.2 billion euros has been invested in Barcelona-based companies as a result of mergers, acquisitions and rounds of capital funding and the ecosystem is becoming better and better at attracting international talent and financing – the key to any start-up's success. Another striking development is the increasingly global outlook of the local entrepreneurs behind start-ups currently being created in Barcelona, who are taking an international approach from the outset of their projects and launching enterprises that are based in Barcelona but target other markets such as the US and the rest of Europe. This has meant, as the latest studies confirm, that Barcelona has become the fourth most powerful tech hub in Europe in terms of the annual number of new start-ups created – which was close to 1,300 last year – and, for the very first time, in terms of investment as well, which reached €453 million in 2017.
According to the same report issued by Atomico, one of the most important global venture capital funds operating today, Barcelona is also entrepreneurs' third most preferred location for creating a new start-up. Why is this the case?
In addition to the Mediterranean climate that makes Barcelona intrinsically appealing, its vibrant cultural scene, gastronomy, position as a strategic enclave, quality of life and technological ecosystem, the city has been working closely with local entrepreneurs and venture capital firms for over twenty years, and these ongoing efforts have created a virtuous circle in which talented people who have been involved in the launch and development of several successful ventures are well prepared to take on new projects. Local capacity to attract new talent is also exceptionally strong, thanks to the conditions the city provides and the quality of our business schools and technical universities.
Pier 01 has been up and running for over a year now. What impact has it had on the ecosystem? What makes its an outstanding place?
It became clear to us that we needed a place where everyone within the ecosystem could mix and mingle. Pier01, which is located in the Palau de Mar, is truly unique from a number of perspectives. First of all, its size: more than 1,000m2 of space housing 100 + start-ups that employ over 1,200 people. Second is the symbiosis it fosters between corporations and entrepreneurs. Pier01 is home to accelerators, incubators and major corporations such as Seat, Gas Natural, Telefónica and the Payment Innovation Hub (an initiative launched by Caixabank, VISA, Samsung, Arval and Global Payments) – organisations that have transferred some of their innovation operations here. Creating this mix means having the best of two approaches to innovation (entrepreneurship and intrapreneurship) under one roof and being able to take advantage of the capacity of major corporations to drive innovation.
The third aspect is the internationalisation of the hub: 30% of the people working there are from other countries and have extended international experience. Last, but not least, is the mix of entrepreneurs and companies at different stages of growth and development. Accelerators, co-working spaces and well-established companies coexist here, which means that every stage of the start-up growth cycle is represented.
Pier01 is an excellent example of a successful public-private initiative thanks to the collaboration and support of ACCIÓ, Barcelona Activa, the Port of Barcelona and SCCE.
Nevertheless, it represents only the tip of the iceberg of the city's ecosystem. Given that only 1,200 of the 30,000 professionals involved in the sector work at Pier01, we are working to create additional piers and connected vertical campuses that are part of a plan to connect 22@ with the city centre and establish an urban tech zone we envision as a Barcelona Tech City Campus.
Members constitute Barcelona Tech City's most important asset. What does the organisation offer its membership?
Barcelona Tech City is open to all of the city's entrepreneurs, who in addition to having the opportunity to be part of the community, enjoy access to all of the advice and support we are in a position to offer, public and private financing channels, contact with other players within the ecosystem, training, international promotion and working spaces that reflect the organisation's values. Members of Barcelona Tech City can also get involved in special projects supporting the ecosystem and social causes.
Barcelona Tech City is creating an International Council Board of twenty international ambassadors. To broaden the organisation's horizons even further, it is also forming what it calls The International Affiliate, a network of venture capitalists and successful entrepreneurs with international connections.
What impact have the tech sector and the organisation had on the city?
Beyond the wealth and value-added jobs that international investment in our sector generates, Barcelona's positioning as a tech hub has another positive local impact. City residents benefit from the implementation of cutting-edge technology in education, health care, smartcity initiatives and connectivity, to name only a few areas in which the sector is making a difference.
Barcelona Tech City is also developing programmes focused on supporting disadvantaged community groups at risk of missing out on the benefits of the tech revolution and reducing the digital breach. We are already involved in a number of social projects and working with partners to determine what can be done to improve low-income children's and seniors' access to new technologies. Various initiatives now at the concept stage will form part of a larger global plan that contemplates collaborations with various NGOs, foundations and crowdfunding platforms.
Given the ways in which the tech revolution is transforming society, Barcelona Tech City would like to help ensure that technology plays a leading role in overcoming major pending social challenges in areas such as gender equality.