Noticias
Miguel Planas: Some accomplishments can only be achieved alone and at decisive moments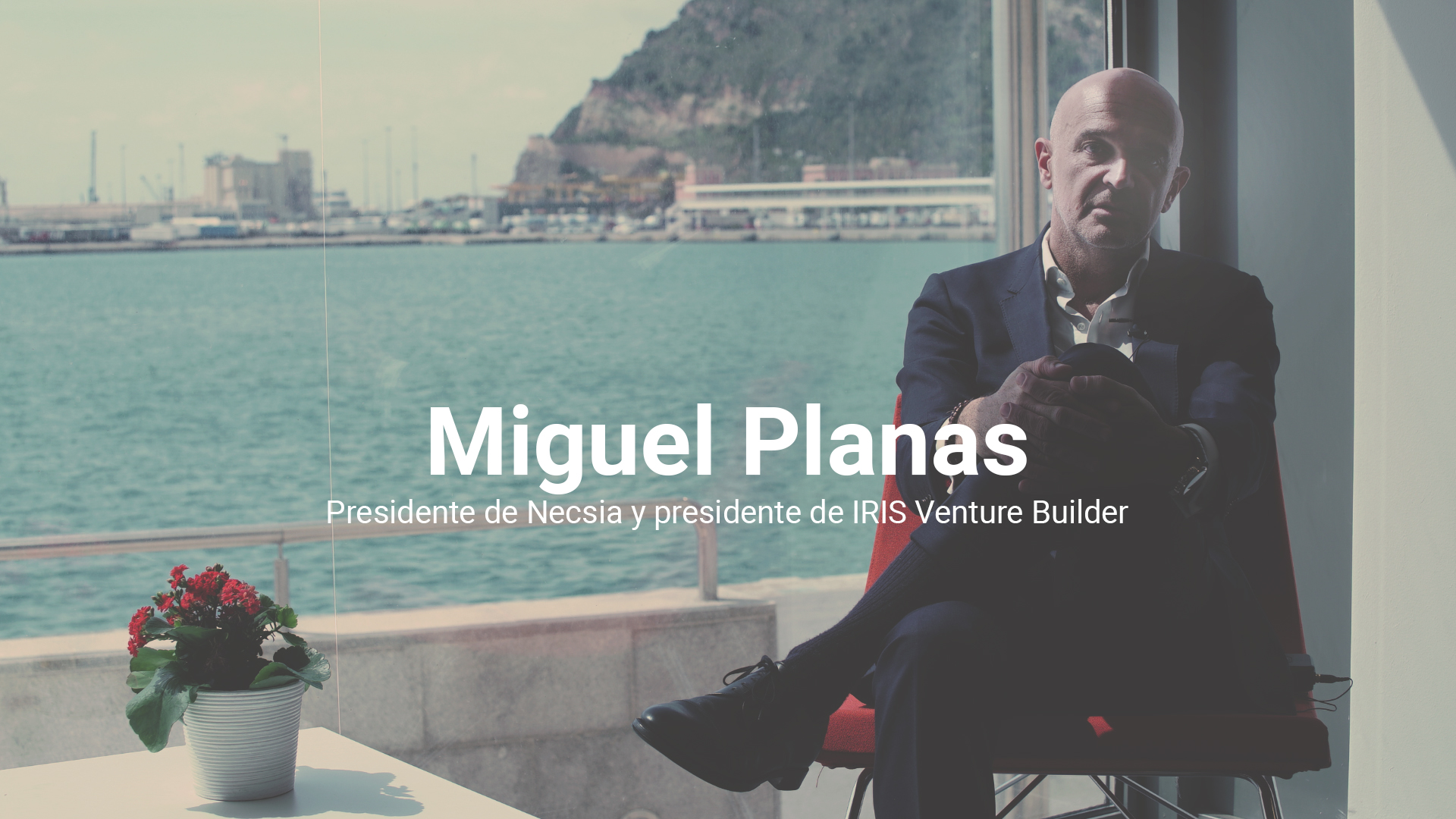 Having studied economics and business studies, Miguel Planas Arruti's professional career began in the family business, focused on the chemical industry. After gaining two years' experience, he started working for LEAR Corporation, a multinational automotive company. After spending 12 years in this international industry, starting companies and developing business, he moved to DOMINION in 2004 where – as executive and shareholder – he led a number of projects that included the creation of the IT consultancy company NEAR TECHNOLOGIES, which later became Necsia, a pioneering specialist in cybersecurity and digital transformation. Fourteen years ago, cybersecurity was a niche market that Miguel Planas saw for its entrepreneurial possibilities. He decided to focus on his own ventures and left DOMINION in 2010, buying the company's shares in NEAR with his friend and colleague Pedro Fontana. Necsia Consulting, where he is president and founder, now has over 300 workers spread across Madrid, Barcelona and Latin America, and its client list includes all of the Spanish banking sector and a large part of the IBEX (Spanish Stock Market Index).
With "overoptimism" being the key principle to be a good businessman, and "realism regarding one's own options and the business environment", Miguel Planas currently combines his business side with his investor and entrepreneurial side in his own ideas and those of other partners, though IRIS, a Venture Builder and holding company which brings together the different players. This VB was created in 2011 through the initiative of three friends (Pedro once again, together with Gabriel Ferraté), with the clear aim of investing in and developing projects, businesses, cybersecurity related solutions, digital transformations and artificial intelligence. Two companies stand out: Nubalia and Tranxfer, with substantial growth, based on adapting ideas which work in the consumer world and transferring them to the business world.
"For several years, technology has been reaching consumers before it reaches businesses. So we transfer things that are successful in the consumer world to the corporate world, with other security elements and features. It wasn't a preconceived idea, but we've realised that this is a common factor in the seven projects that we have created. In general, we don't invent anything totally new, but rather we reinvent consumer ideas for the business world", the co-founder and president of Iris Venture Builder points out.
Committed to the entrepreneurial ecosystem, Miguel Planas is co-founder, vice president and active member of the Board of Directors at Barcelona Tech City, and we spoke with him about his experience as a businessman and investor, picking out some interesting points for reflection:
Know how to work alone
We often talk about the importance of the team for a project's success and, generally, that's how it is. But this entrepreneur has, throughout his career, learnt that there are also situations in which you can only rely on yourself. "There are many moments for team work, but there are also situations for individual work. Some accomplishments can only be achieved alone, in decisive moments, where there's no time to lose", explains Miguel Planas.
Hire slowly, fire quickly
The speed at which companies move these days can lead them to lose sight of the recruitment protocols to be followed. People are hired too quickly, and then "when somebody doesn't fit in, the emotional side takes up a lot of space when making the decision to dismiss them". Furthermore, in a start-up the profiles for the different job roles change very quickly when there is growth. So it is advisable to hire slowly and fire quickly.
The importance of knowing how to say 'No'
It is very important for an entrepreneur or businessman to learn to say no. "I found this very difficult. In fact, I am still learning, mainly because part of an entrepreneur's character is saying yes and having genuine optimism"; explains the founder of Necsia IT Consulting.
Overoptimism (at the beginning) and effort
One of his mentors, Pedro Nueno, gave him a lesson he will never forget when presenting the year-end closing to the Board: "Don't fret about not meeting targets, without an extra dose of optimism in the initial Business Plan we would never achieve anything…"
Staying power and the ability to make sacrifices are fundamental: to put up with so many 'noes' and to work calmly in an environment of losses.
Implementation, implementation, always implementation
"Something that I have always repeated is that a mediocre strategy and efficient implementation is much better than the opposite", highlights Miguel Planas. He also pointed out that the strategic plan should also be small in order to review it every three months.
Give new generations space
Miguel Planas began his journey as an entrepreneur at 37. One of his current challenges is leading without commanding, without giving orders. "Something that is important for any manager, but essential for a president". But also stepping aside and giving way to new generations. "I think that my generation acts as a bridge in the technological environment in which we live. We are only serving to move from the past to what is already arriving, and I think that there will soon be little room for us.
Planning the best time to take action
It was no coincidence that Miguel Planas began his journey as an entrepreneur at around the age of 40, it was planned. "Most business people and entrepreneurs who I had met previously, between 20 and 30 years old, earned good money, but had been warped personally and were terrible managers. They attributed their successes to their value and failures, to their employees, competitors, market…". This is why he thinks that good training involves spending a long time with different bosses, who normally, if they are good, focus more on your potential for improvement than on your achievements. This experience led this entrepreneur to learn values such as team work, dealing with frustration, respecting authority and even sacrificing personal enthusiasm for something bigger, such as the overall project or the group.
Business evolution and making risky decisions
When Planas took a chance on cybersecurity and digital transformation, both terms were yet to be exploited. In the last five or six years, these concepts have developed into what they are at present. Necsia has had to evolve with them and, at times, make risky decisions. "When I started at Dominion and Necsia, we had a substantial team with strong knowledge of document management and I sensed that this didn't have much of a future. Going against the opinion of the Management Board, I decided that we would gradually leave this field and commit ourselves to the world of business productivity and collaboration. We got lucky, shortly afterwards, collaborative intranets exploded into use and, with this team and the app development team, we created a line of business in digital transformation from which the 'modern work place' is being developed in large corporations", explains the president and founder of Necsia IT Consulting.
The art of knowing how to put together teams and create a talent pool
"Surrounding yourself with a team of professionals who are better than you". This is, perhaps, one of the most important lessons for entrepreneurs, along with learning to deal with egos.
One of the challenges for the cybersecurity and digital transformation sector, especially in Spain, is finding talent. When we started out, there weren't many professionals in the market with the focus that we needed (a very technical profile, as well as a consulting profile). "We soon understood that the only option we had was training people and we created our own talent pool, hiring students in the last year of their university degree. For a long time this group in turn became the main cybersecurity talent pool in Spain for other consulting firms. Many professionals have emerged from it who are still with us today, but others are in the 'Big Four' or working with end users…"
A tendency towards specialisation
Necisa has recently carried out an organisational change, through which all of its employees are now specialists, except for the president and the managing director. "It has been a tough change because it means that many people had to be trained at a forced pace, otherwise they wouldn't fit in the project…", explains Planas. A change which was, nevertheless, necessary due to market demands: "Even if there is coordination between the different business units, the reality is that our fields have become so complex that there can no longer be any non-specialised role".