Noticias
Mar Alarcón: Corporations and startups must get along, but the formula has yet to be found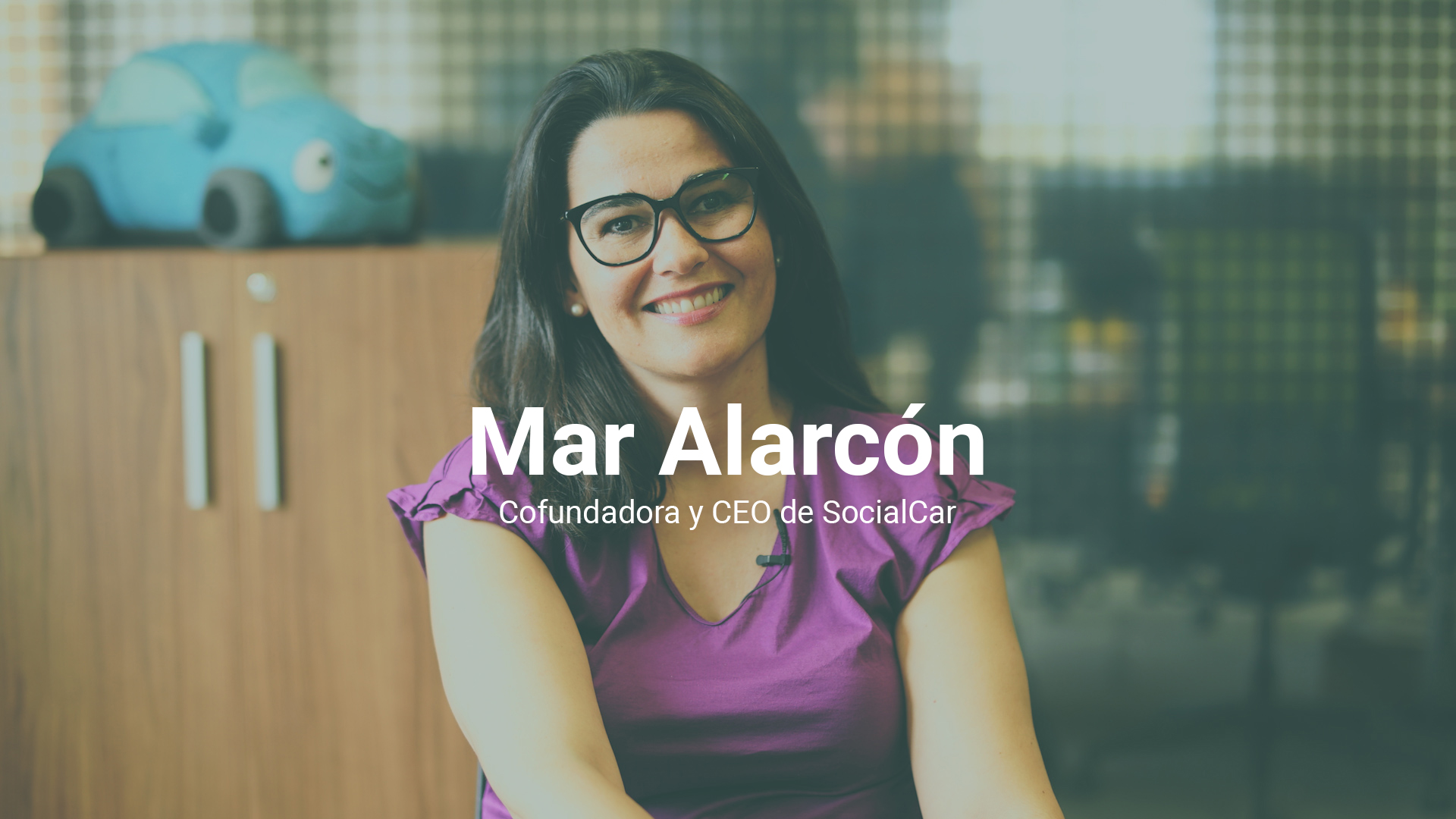 When Mar Alarcón founded SocialCar in 2011, there was still no talk of the collaborative economy. And this peer-to-peer car rental service inadvertently became the first collaborative economy platform in Spain. Sustainability and social entrepreneurship have been two of her passions which have come together perfectly at SocialCar. Her time at the Grameen Bank of Professor Muhammad Yunus, Nobel Peace Prize laureate, brought her closer to social entrepreneurship. This experience, together with having lived in China, France and the United Kingdom, always renting cars without having her own, sowed the seeds of SocialCar, the company she manages. Her legal background has also helped her to better understand all the legal pitfalls she has faced as a pioneer in Spain's collaborative economy.
One of the most outstanding entrepreneurs, she acknowledges that being a woman has not been a problem for her to start up a business and claims to have found flexibility in a new sector that has allowed her to reconcile her personal and professional life to perfection.
Thanks to her career path, she has become one of the leading female entrepreneurs in Europe, she is a member of the Board of Directors of Barcelona Tech City and a member of the Board of Directors of the Fira de Barcelona. We've talked to her and here is some of the knowledge she wants to share:
Entrepreneurial qualities: resilience and the ability to wait
According to Mar Alarcón, entrepreneurs are typically dreamers, and she confesses that throughout her career she has had to learn to be patient.  And although the entrepreneur always wants quick results, "especially in disruptive businesses such as SocialCar where we want to change people's behaviour in mobility, resilience is necessary. Be patient, wait for the moment and endure. It may go against dreaming, but you have to know how to combine the two", she says.
Entrepreneurship in social business is possible (and profitable)
Social impact has always been one of the objectives of Mar Alarcón and she has achieved this with SocialCar, the first collaborative economy platform in Spain. Despite the success, the road has been long and "an important lesson has been seeing that social business is possible".   Alarcón is sure that a technological startup or a software company can have a significant social impact without ceasing to be a business. But that impact must be broad enough to be understood as social. In her case, despite the initial reluctance, "we have been able to demonstrate that there is a significant social and economic impact on what we do and that it has repercussions on Spanish families, something that motivates us and something that we like".
Being disruptive and approaching the difficulties of converting people
Launching a disruptive product on the market implies many challenges and one of them is making the product known, so that users understand what the new proposal is. In the case of SocialCar, renting privately owned cars to other users was something that had never been done in Spain and was unknown. "That's why one of the most difficult tasks was working so that the public could get to know what this startup was offering", points out Mar Alarcón.
Spread your idea and take great care of its implementation
From Mar Alarcón's point of view, one of the main mistakes that entrepreneurs make is to keep their ideas to themselves to prevent someone from copying them. The SocialCar founder considers it vital to understand your idea very well and to spread it and explain it to everyone. "Entrepreneurs must be their own spokesperson and try to do this as best they can", she says. The next step is its implementation where "it is key not to leave anything to chance". Therefore, everything must be perfectly clear and planned in order to convey the idea as well as possible to future users. "Without good implementation, the company can quickly disappear".
Investors in the collaborative economy, a niche
For a time there have been many investors who have been looking for collaborative economy projects, starting up businesses in this sector has been an advantage in the opinion of this entrepreneur. "Investors who invest in collaborative projects have their niche, they are highly recognised." What makes them attractive? In the collaborative economy, projects of great scalability and exponential growth are usually included, two characteristics that are very attractive to investors. "Investors are looking for scalability and collaborative platforms are scalable by definition".
Do not neglect the operations element
According to Mar Alarcón, in digital business there is an excessive focus on the technological part which can lead to the neglect of another important part of the project: operations. "SocialCar is a technological platform, a piece of software, but behind the activity between users is an operations element which must be worked on so that everything works perfectly", explains the founder. "Even though it is a platform, it is still a place where people contact each other peer-to-peer, so, apart from having good technological equipment, it is also necessary to have a team that guarantees user care and user experience in transactions".
The Mobility of the future: connected, electric, autonomous and shared
The future of mobility is uncertain, so this is a sector where there are many possibilities to explore. "I think what we have achieved with SocialCar is a start, it has been a trigger for change," explains Alarcón, who says that the future will be based on four pillars: "mobility will be connected, electric, autonomous and shared, and that's where we come in. So far, we have managed to be one of the drivers of change".
Sustainability, a sector with many possibilities
Alarcón points out that Spain has been a benchmark in renewable energy, although imposed legislative restrictions have been a major obstacle to moving forward. One example is the regulation of energy self-consumption, which has been in place for more than ten years. "The pressure from the lobbies of big companies has had a negative impact by paralysing industry leadership". Therefore a positive impact to push for regulatory changes would come through the strength of the union of the startups.
"Associations such as Barcelona Tech City could be an ideal spokesperson for the technology startup sector, serving to bring politicians and emerging and innovative sectors to the same table, especially now that the different administrations have created lines of work for the Digital Agenda", points out Mar Alarcón. Because "innovation is always ahead of legislation", all parties need to understand each other and work together to accelerate regulatory processes.
Before inventing, try to solve needs
Entrepreneurs often spend a lot of time trying to find something new but in most cases it is much simpler than that: just look around and find something you need. "I always suggest to entrepreneurs that they don't invent anything, that they think with their heads and see what needs there are, and try to solve them," says Alarcón.
Corporations and startups, called to work together
"Startups and large corporations are animals from different species," says the co-founder and CEO of SocialCar. These differences often doom both parties to not understand each other. "I think some lessons need to be learnt on both sides so that we can understand each other, but what is clear is that we have to do it. I absolutely believe in open innovation, but the formula has not been found," says the entrepreneur. For Alarcón, commitment and respect are the foundations of the relationship between these two actors, between whom there must be total collaboration in order to move forward, because "in sectors as key and complex as mobility, both startups and traditional industry could save time and resources by acting together to generate a truly effective impact".