2 November 2021
TB Key Players
Noticias
KEY PLAYERS OF THE ECOSYSTEM: Nestlé Global IT Hub
2 November 2021
TB Key Players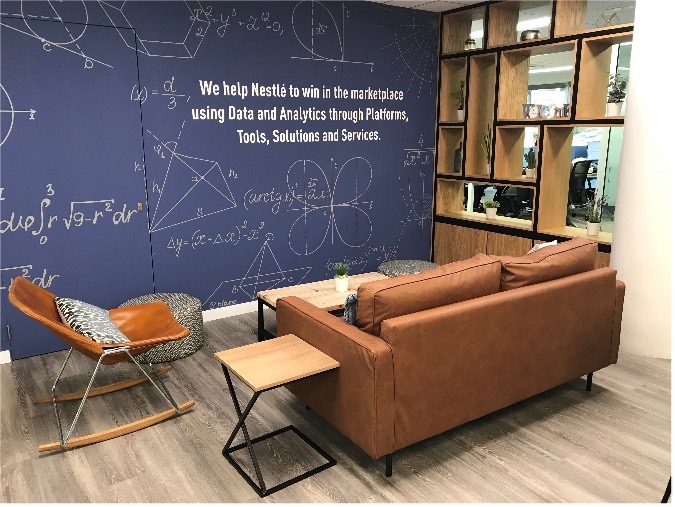 Nestlé, the world's largest food company, is leading its global digital transformation from Barcelona. Susana Pastor, head of the Global IT Hub in Barcelona, and Jacques Reber, general manager of Nestlé Spain, tell us about the functioning, transformation and digital challenges of the world's leading food, health and wellness company.
"We were the first to create a global digital hub in Barcelona, but now there is great competition to attract digital and technological talent" – Susana Pastor
"We need to transform ourselves, and in such a fast-paced and disruptive environment, we need to have our eyes opened to what's going on in the world" – Jacques Reber
GLOBAL IT HUB: the challenge of constant transformation
Nestlé, the world's largest food company, decided in 2016 to locate its Global IT Hub in Barcelona, the global technology factory that drives the Group's technological transformation. The Global IT Hub has an international technical team that focuses on the development of technology products that Nestlé brands use to communicate with consumers. Susana Pastor heads Nestlé's Global IT Hub: "We were the first, but now there is great competition to attract digital and technological talent in Barcelona".
"Barcelona is one of the cities with the best reputation for universities and, at the same time, it has a strong start-up ecosystem, a key aspect for us: opening Nestlé's doors to a new generation of digital and entrepreneurial talent, which until then did not exist in the company," she adds.  Today, the Global IT Hub employs 600 people of more than 50 different nationalities (34% women and 41% women in leadership positions). And stay tuned… the Hub is still in the midst of attracting talent, check out the open positions!
Innovation Outpost
As part of this transformation process, the Innovation Outpost has been created within the Global IT Hub, a space to accelerate the company's cultural and digital transformation, focused on Inspire – Connect – Explore.  The Nestlé Innovation Outpost in Barcelona specialises in Artificial Intelligence and is networked with the other Innovation Outposts around the world.
NESTLÉ Spain: Excellence now needs speed   
Nestlé, founded in 1866 in Vevey (Switzerland), has 291,000 employees, more than 20,000 brands, 400 factories and is present in 196 markets (in Spain it started selling powdered milk in 1873 and opened its first factory in 1905). How does a large corporation articulate innovation and technological and digital transformation? What pillars underpin the company's innovation strategy?
"Nestlé is a success story of more than 100 years that has been built on always striving for perfection. But now the pursuit of perfection makes us slow. The context has changed and we need to change our culture," says Jacques Reber, General Manager of Nestlé in Spain. "We need to transform ourselves, and in such a fast-paced and disruptive environment, we need help, to open our eyes to what is happening in the world. It is in this context that Nestlé Spain's collaboration with Tech Barcelona as a Global Partner began in 2018. In recent years, it has established itself as a relationship of proximity, focused on sharing knowledge and relationships to identify new business opportunities and transform the organisation, and which still has a long way to go.
The challenges are constant. "We were very introverted, and we have discovered a spectacular world. Now there is not a meeting with Switzerland in which the Tech Barcelona agreement is not mentioned," says Reber.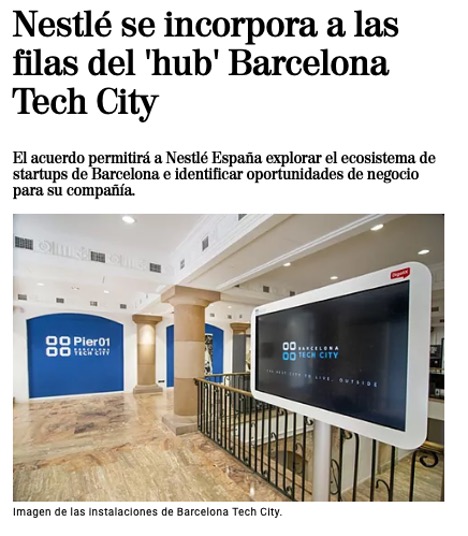 Takeaways from the visit to Nestlé and its IT Global Hub
CULTURAL TRANSFORMATION. Digital transformation without the transformation of corporate culture and change of mindset is impossible. To achieve this, Nestlé has been driving holistic transformation management and fostering disruptive leadership for two years, with the aim of impacting all teams in the value chain with its purpose.
"DRIVEN BY THE RIGHT DATA". Data analytics is fundamental and an opportunity, not a threat. One of the main challenges for large corporations like Nestlé is to manage the company based on all the information they generate on a daily basis. Understanding that reporting is not control, but an enabler within the business strategy. In this sense, technological transformation takes on a strategic role, connected to all the company's departments.
"BEYOND THE CORE". Nestlé has a team thinking beyond where the business already is. To look for new products or services or markets, or cross over existing ones.  "The goal is to build a corporate culture that is ready for change, and this can only be achieved through talent, innovation and the support of key players in the ecosystem.