Noticias
Jose Nascimiento: With Metropolis Lab:Barcelona, SEAT aims to be part of the solution to the challenges of mobility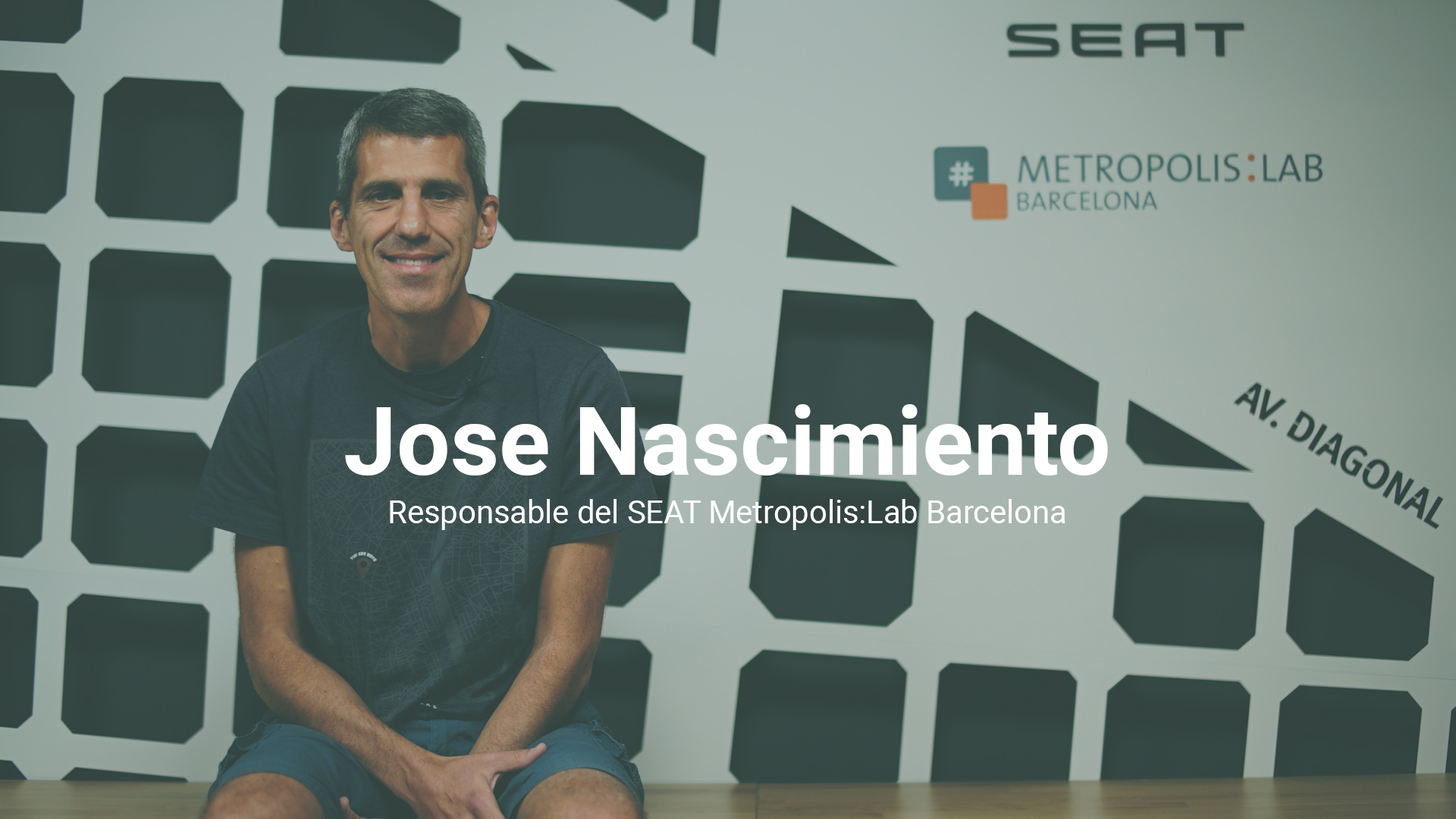 When Luca de Meo, President of SEAT, visited Pier01 during its inauguration, it was clear to him that if SEAT wanted to innovate, it had to set up shop there. And so it did, by creating SEAT Metropolis:Lab Barcelona, an innovation laboratory that joins the worldwide network of IT-Labs that the Volkswagen Group already has in Berlin, Munich, San Francisco and Wolfsburg, yet which operates independently and is wholly owned by SEAT.
Mobility is changing. In light of this fact, one of the largest car manufacturers has chosen to analyse and find intelligent solutions to the challenges facing mobility in the future and to contribute to the positioning of SEAT as a market leader in connected cars. Therefore, it uses a combination of mobile and big data technology to optimise the relationship between citizens, the intelligent city and mobility-related services.
At SEAT Metropolis:Lab Barcelona, specialists, including engineers, developers and data scientists, work together; a team that is expected to expand over the next few years to include 50 employees. These specialists will be in charge of creating software and algorithms related to mobility services from the data obtained from the vehicles, from Barcelona as a Smart City and from pedestrian movements. Jose Nascimento heads this Lab and has more than 20 years of experience in the field of technology for different industries. Nascimento has worked for the Hailo taxi application, as Technology Director since 2010. He holds a postgraduate degree in Economics from the University of London and a Master in Computer Science from the Florida Institute of Technology.
We spoke with Jose Nascimento, head of SEAT Metropolis:Lab Barcelona, about the laboratory's objectives, strategy and contribution to the ecosystem.
What are the main objectives of SEAT Metropolis Lab:Barcelona?
We believe that the future of cars and transport lies in sharing. The main objective of the laboratory is simple: to create products that make people's lives easier when they have to move around the city. In 20 years time, only a few people will be driving their own cars. The city can't take it anymore. So, knowing this now and providing technology makes sharing easier. We all say we want to share our cars, but no one does because you have to check that the other person is going in the same direction as you and at the same time. The availability of technology that simplifies this, makes sharing easier. We hope that by providing it, we can solve a great challenge, especially for people who travel to the same workplace on a daily basis.
Curiously enough, you shouldn't just focus on the car itself…
Indeed, we don't just focus on cars, we are geared towards mobility in general. The car can be part of the solution to mobility.
We were founded by SEAT and are a visionary laboratory.  SEAT knows that car ownership will change considerably in the future: most people will not have a car and, as a car company, it must be prepared for this. One way to be prepared is to change sides and become a mobility provider. One solution could be to integrate cars into the city's transport network. Right now, public transport includes buses and the underground, and cars are private. In the future, everything will merge into one. That's why SEAT is taking this leap into the future and building the knowledge that it needs to have so that, when that time comes, it can become a supplier. Then we will be regarded as a mobility solution provider, rather than just a car manufacturer.
Why did SEAT create this innovation laboratory? Why not make this innovation from the inside?
I think there are two issues here. One is the need to look towards innovation; every car company, as I said, is trying to see the future in 20 years' time, and see that the world is going to change dramatically, and we have to be part of that. Every car company is investing heavily in technology. The important thing is that many large companies realise that they cannot innovate; they are so bogged down by their processes, by their hierarchies and other aspects. So, if you really want to innovate and really want to attract the best talent for software development, it's important to get away from your main workplace and create an environment like this.
The Volkswagen group has other laboratories. They're not exactly like this one. Metropolis:Lab is one of the first to be a truly independent company. The other laboratories are departments of the Volkswagen Group. We share information with them, we work together in some cases, but each of them has a different goal.
What is the role of SEAT Metropolis:Lab Barcelona in the ecosystem?
I think we're just another piece of this ecosystem. This ecosystem is made up of exciting startups that are attracting talent from all over the world, which is putting Barcelona on the startup map. And the role we want to play is to be another light of hope in this ecosystem. Therefore, this is another example of the technology being built here, proudly created in Barcelona, mainly by people from Barcelona, and considered as a good solution, which attracts more talent and makes the city even more important in the technological arena.
Do you think this kind of initiative, an innovation lab, is the way a large company can do something in the startup ecosystem?
I'm not sure what the best way is, but this is one of them. The first thing a large company must realise is that internal innovation is always difficult because you have to inform five managers and ask for projects and permission to do things. That is why it is not usually an environment where ideas emerge and are implemented quickly. So then it is decided to open a completely separate laboratory (and not just physically) to support this and let people actually get on with the work. The key is that the company that does this has to be really willing to allow the lab to operate as an independent company. That's what SEAT has done.
In addition to leaving control to one side, these large companies have to understand that if they want good results they have to be patient. We're not going to create a new Facebook here in a month, it doesn't happen like that. It takes a lot of independence and time. If they are willing to do that, then they can get results.
SEAT has been willing to take that risk and they allow us to continue with our projects.  It means looking at the long term, and then the results are good.
One of the main challenges for technology companies is recruitment, why is it so difficult?
If you ask Google or Facebook what the biggest problems for them are, the answer would be the same: recruitment. Technology is not becoming simpler, but increasingly more complex. We see things that look simple on a mobile device, but behind it there is an incredible amount of technology. The level of skills that professionals have to have is very high. Unfortunately, schools are not training people well enough… It's not like an accountant or a lawyer who gets a degree and knows what he or she is doing. Much of what these people do, and what I do, is based on experience, not what you learn at school.
Therefore, getting good talent to be able to understand the complexity of technology today is not easy. We compete for resources with companies that are much larger than ourselves. Any of these professionals can work for Facebook or Google and they can do that anywhere in the world. There's only a finite number of people who can actually do that job. For companies all over the world, some of them with an incredible amount of money and great advantages. Just because we're small doesn't mean we're looking for mediocre people. We are looking for the same level of professionals as any other great technology company. Even though we already have a dedicated team of staff, any one of them receives three or four calls a day with job offers. So, it's not just about employing them, but also about keeping them, and that's what's complicated.
What is the solution to the technological talent shortage?
We think that the solution is to make the work here as exciting and interesting as possible so that they are interested and committed to what they are doing. The worldwide solution is to train more people, even before university.  Most of this learning, especially about software development, is self-taught by many people. They are curious about how this works and start buying books and learning the programming language. This sort of initiative has to be encouraged, even before college. It's probably much more exciting for kids to learn how to develop applications than some of the things they're being taught. Because, if this isn't sorted out, we'll have a constant challenge to have resources.
Another part of this problem is that not only employing talent is difficult, but also employing female talent is very complicated. For us it is almost a personal goal. Employing female talent is incredibly difficult.  I think the problem is once again a cultural one. Even when they are little, eight or nine-year-old girls begin to receive subliminal messages that playing with dolls is better than building things. We actively look for this female talent, but getting one or two CVs is very difficult.
It's something that I think is becoming critical because every technology company has 90 per cent men. This is nothing like how it is in the city, which is 50/50.
Do you think a place like this, located in a city like Barcelona, can help keep and retain this talent?
To a certain extent, yes. Barcelona is a pleasant city; it has a pleasant culture. People love coming here. But, at the end of the day, most software developers are young and they have no partners, so they can say:  'Yes, I'll come back to the sun in ten years, but right now I'm going to London to do twice as much as I do here'. Therefore, Barcelona can help because it is an attractive place, more attractive than other cities in Europe. But, it won't be enough. But what matters most to these guys is, 'Am I doing something interesting?', 'I like it, I enjoy what I do'. That's the number one question, it's even more important than the money. But money is also a big concern. So, that combination of putting together an attractive product, an attractive proposal and attractive money makes this a huge challenge.