Noticias
Helena Torras: If you surround yourself with people better than you, your company will improve and you'll go further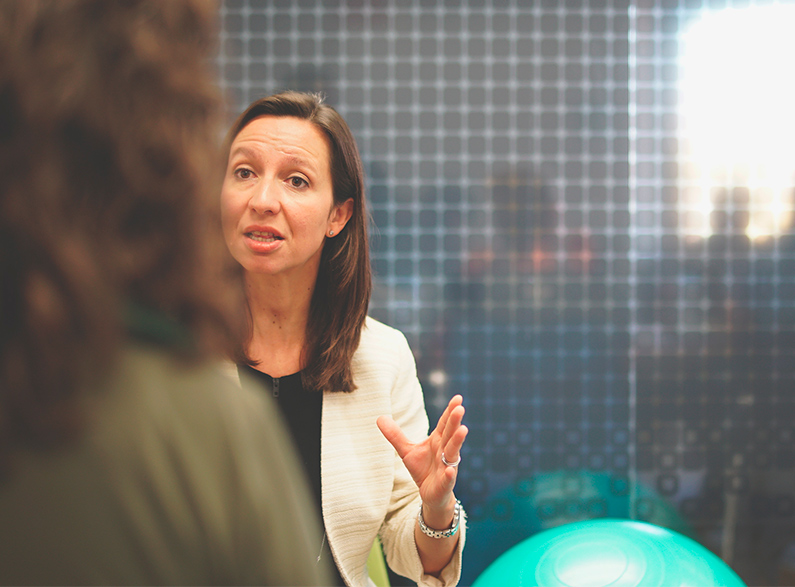 Helena Torras is co-founder and CEO of B-wom, an app that offers a digital coach to help women in their preventive healthcare. Based on a test of their habits and symptoms, the application offers personalized action plans to improve women's health. The startup currently has more than 200,000 registered users in more than 10 countries and has a significant presence in the United States. B-wom is currently considered one of the 49 Femtech startups worldwide, according to CbInsights.
She holds a degree in Business Management and Administration and an MBA from Esade and McGill University. She has invested in more than nine technology startups through the investment vehicle Pao Capital. Torras has also helped other entrepreneurs by mentoring accelerator companies such as Menorca Millennials, StartupBootcamp, Connector Startup Accelerator and Wayra.
Her professional career began at the international auditors KPMG. She later invested on the American holding company for the technology startup Abiquo, a company that achieved several investment rounds and that she headed, along with the entrepreneurial team, apart from being a member of the Board of Directors. B-wom was established in 2015, a project in which Helena Torras combines the passion for her work in recent years with the possibility of positively impacting women's health. With the aim of helping professional women she also founded OneDreamClub (1DC), and is on the board of the Consell de Conselleres at the Barcelona Chamber of Commerce and the Grup Set, which defend the benefits of diversity. She is also a vice-president of the 50a50 association, ensuring that women share positions of responsibility with men. She is currently leading #Barcelona Tech City's #BCNTECH4WOMEN initiative, which aims to make Barcelona an international benchmark in gender equality in the technology sector. She is also a member of the board of directors of Esade Alumni Entrepreneurship and the Círculo Ecuestre, and an Independent Director of a Venture Capital fund of funds.
A multifaceted entrepreneur, Helena Torras is also a member of the Board of Directors of Barcelona Tech City and we have been talking to her about the challenges of entrepreneurship.
The people you surround yourself with
"It's important to surround yourself with a great team, a team that is involved and generous", explains Helena Torras, who adds the need to "find a team that is complementary, that helps you in what you don't know. If you surround yourself with people better than you, your company will improve. You have to go and look for stars to accompany you on that path. And she goes even further: "without a team, there is no company, no matter how good you are as an entrepreneur". And she adds that team diversity is highly valued in the technology sector, "a diversity that ultimately makes it a more productive team".
The loneliness of the CEO'
One of the challenges facing entrepreneurs is making decisions that will affect the future of the business. "The position of a CEO is very lonely and that is why it is vital to have this support, this trust with both the team and the investors," says the co-founder of B-wom. "In spite of the great loneliness involved in undertaking and making difficult decisions, having the support of your family, your team, your investors, your friends, mentors, other entrepreneurs or stakeholders in the ecosystem who simply support you in those moments when there seems to be no way out gives you the energy and strength to continue fighting", she explains.
Being willing to learn
"You have to be humble. We don't know everything, neither now nor in the future. No matter how much we achieve, there are more and more things to learn," explains Torras. "Guide yourself, surround yourself with people, seek advice, ask other entrepreneurs and experts and then draw your own conclusions, because it is your idea, you have to decide for yourself, but listen, and do it with humility and a willingness to learn.
Generosity: compensating those who have helped
In the different stages of a startup there will be many stakeholders involved in our project that will add value. It is important to be able to recognise and reward this help, as well as to giving it to new entrepreneurs.  "There are going to be many people who will help you along the way, not all of whom you will be able to compensate. Keep them in mind, recognise them and if you can return the favour in any way, do so," recommends B-wom's CEO. "There are many ways to repay the favour, sometimes you can do it financially and sometimes you can simply offer your time or help. Not surprisingly, Helena Torras has mentored numerous startups at Menorca Millennials, StartupBootcamp, Conector StartupAccelerator and Wayra.
Investors make the difference
The investor is just another travel companion in the entrepreneur's project and will spend a lot of time with us. That's why it is vital that they can provide us with more than just capital, they must be involved and grow with you. "The investor provides the network, contacts, support, knowledge… and all this is essential and can make the difference between a successful company and an unsuccessful one", says Torras. But entrepreneurs have to bear in mind that obtaining financing is always a difficult task as the number of projects always exceeds the number of investors. "There has to be a combination of factors: the investor must be interested in that particular aspect, the team must be good and the project should be at the right stage, among other things", explains the co-founder of B-wom.
Market oriented, customer-centric
The market is marked by demand and it is the customer who will determine the final success of the product. "When you start, you don't have to wait for the perfect product, the one you dreamed of. It starts with something very small", says Helena Torras."Always think of the customer, not yourself, and adapt your product accordingly. The demand will make you design, have and offer the product that really suits the market.  As advice: "Try out and test things; it's better to make small mistakes in order to get the big issue right, don't lose focus".
Don't be blinded by passion
Sometimes, when we believe in our project we can be blinded by passion and not able to see its disadvantages and advantages. "You have to ask for references, from suppliers, workers, partners and investors, from everyone. You have to validate the project and your travel companions", explains the co-founder of B-wom.
Big Data for Healthcare
Many technologies are involved in B-wom, including Big Data or, later, Machine Learning. "We are learning about the customer and can give her very personalised advice. We have information that doctors don't have and that they can then use to improve the treatments", explains the entrepreneur. "In the future, it won't be possible to separate the product from technology:  it is the combination of technology, service and product that offers/will offer a satisfying customer experience.  User data may be used in combinations of products and services that, together with the change in habits, will be able to "have a positive impact on health".
Joining together for greater impact
As a future challenge, Torras aims to make B-wom a world leader in women's health applications and impact many more women. A task that this entrepreneur does not believe possible without joining up with other companies in the industry: "We believe that to impact women's health we need to cooperate with other companies and startups that are working in different areas of women's health, in different niches. Together we can achieve this. "Alone you can go faster, together we can go further", stresses Helena Torras.