EVENTO
Trans Atlantic Angel Conference Program Final Demo Day Event
Por SIA- Startup Investor Accelerator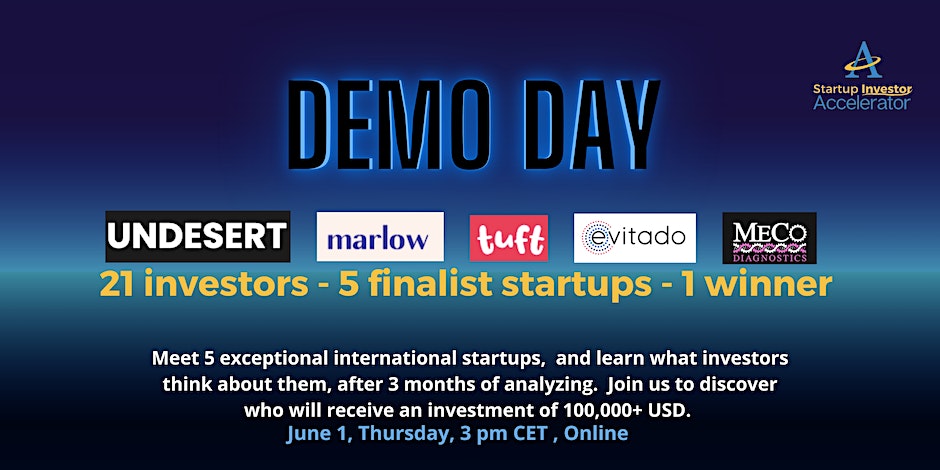 The Trans Atlantic Angel Conference is a "learning by doing" program where new Angel Investors learn about Angel Investing by doing an Angel Investment.
Across 3 months, 21 Angel Investors together reviewed 60+ companies who shared company financials, business strategies, customer references, and operating plans. We held individual and group investor discussions, where we evaluated, selected, debated about, and did meaningful due diligence.
This Demo / Pitch Night is the end of the program. It is an exclusive virtual reception during which participating companies have the opportunity to pitch to an audience of entrepreneurs, mentors, investors, and community members.
The 5 finalist companies will present. The Due Diligence teams will outline what they explored in the process of due diligence. And then the Angel investors will select a company to make an investment in. The audience is invited to also vote for an Audience Award.
Many Angel Groups will be invited to attend. Many will be there. There will be time to network and engage with other attendees. This is an online event.
The finalist startups are:
Evitado is an automation platform for automating airport operations. It provides algorithms for autonomous movement of all assets on the ground and insights for real-time decision-making in operations. The first product is a collision warning system solving an industry wide problem of aircraft ground collisions. This serves as the foundation for our platform collecting the data to build numerous additional use cases.
Marlow is the first-ever lubricated tampon, consisting of organic cotton with a plant-based applicator and an all-natural lubricant. They address the huge gap of women, (1 in 3) who experience vaginal dryness, resulting in discomfort using the existing producst in market.
A first-in-class predictive biomarker, which tests to harness antifibrotic drugs for cancer metastasis prevention. It aims to reduce breast and prostate cancer burden in patients before surgery, leading to higher rates of lifelong remission, by bringing targetted therapy costs >10X lower.
Tuft is the UK's first Pet SaaS for finding, booking and reviewing your local pet services. Their innovative technology is disrupting the pet care industry and brings a new level of convenience and efficiency to pet owners and service providers everywhere.
Undesert's patented technology uses available underground salt water or sea water to produce pure water, irrigates forests in plentiful unused empty desert to capture atmospheric CO2 in gigaton quantities, halting or reversing Global Warming.
Trans Atlantic Angel Conference Program Final Demo Day Event