The SelectUSA Tech program connects early-stage and startup technology companies to prospects for advancement in the U.S. market. The 2022 SelectUSA Investment Summit will feature exciting opportunities and programming for SelectUSA Tech participants at a discounted rate of $600 USD (In-Person) or $400 USD (Limited Virtual Programming), including:
Exhibit products and or services at a branded booth, with the opportunity to upload a three-minute in-depth product/service demo video;
Apply to pitch in front of a panel of judges and an audience; deadline for pitch applications extended through May 13th.
Attend specialized talks on how to finance and scale your startup;
Tune into SelectUSA Tech Investment Academy Sessions on investment trends and opportunities in key industry subsectors, as well as on topics like smart cities, soft-landing programs, startup ecosystems in the United States, and more;
Utilize the networking app and website to set up one-on-one meetings with economic development officials, accelerators, incubators, and others; and
Join invite-only networking opportunities.
Companies interested in applying for SelectUSA Tech must fit the following criteria:
Less than 10 years old (founded on or after January 1, 2012)
Up to $10 million in annual revenue
Up to 40 total employees
Developing a new technology product or service, or delivering an existing technology to a market in new ways
Planning to expand to the U.S. within the next 2-3 years
SelectUSA Tech Program will take place on June 26th, 27th, 28th and 29th.
Incubators and accelerators, private equity investors and venture capitalists, and other startup ecosystem representatives can qualify for a discounted rate to participate in the Investment Summit as a Tech Partner. To apply, email SUSAEvents@trade.gov.
Call for Pitching Session Judges: Please submit your interest to judge a Pitching Session at the 2022 Investment Summit. We will reach out to you directly. For any questions, please email SUSAEvents@trade.gov.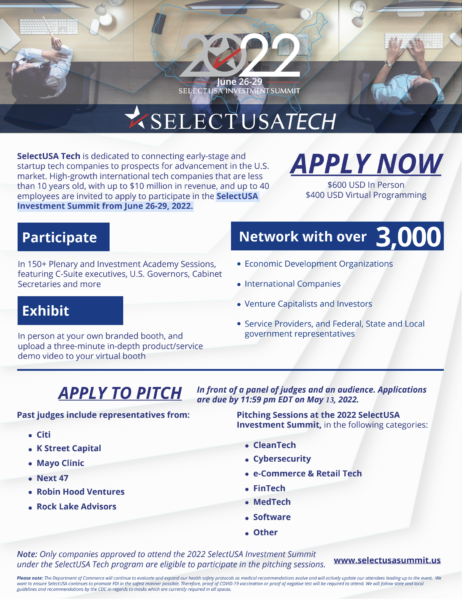 SelectUSA Tech Program