EVENTO
Path to Investment Success: Unleashing the Potential of Startups and Angel
Por SIA - Startup Investor Accelerator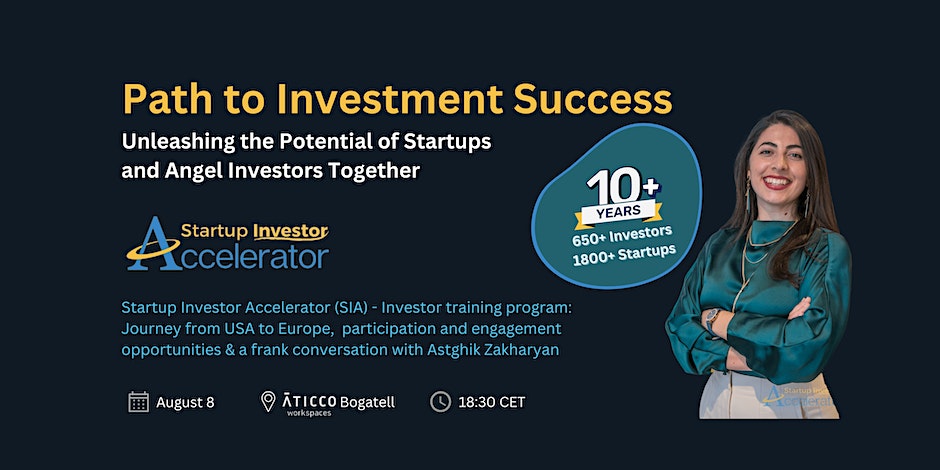 Get an insight into our "Path to Investment Success" and join us to "Unleash the Potential of Startups and Angel Investors Together."
Hosted by Startup Investor Accelerator (SIA), this in-person event offers a unique opportunity to discover what a successful startup and angel investor collaboration can be like, for mutual growth and prosperity.
In this engaging session, you'll delve into the rich experience of a company that has trained more than 650 Angel Investors around the world and has created an impact of $225M investment into startups.
Together we'll explore the importance of early-stage investments in startups, the steps to building healthy ecosystems, the process of becoming a successful investor, and the keys to succeeding at fundraising as startup. We will look at some examples together.
Join to also discover the SIA program itself, designed to equip aspiring angel investors with the skills and insights they need to thrive. And for ambitious startups – the keys to succeed at the by-annual pitch competition of $200K investment.
Astghik Zakharyan is the European manager of the program, will unravel the incredible journey from the USA to Europe, sharing valuable insights into global investment landscapes.
Engaging, informative, and brimming with opportunity, this event promises to be an enlightening experience for entrepreneurs and investors alike. Don't miss this chance to unleash your potential and forge lasting connections with like-minded visionaries!
Path to Investment Success: Unleashing the Potential of Startups and Angel