In 2022, the OVHcloud Startup Program continues to strive to not only give you access to world-class cloud solutions but also global opportunities for your startup and scaleup as well.
We are excited to announce our global Startup Program Showcase, where you have the chance to engage with venture capitalists (VCs) and industry, showcase your scaleup or startup across the world and win prizes!
Sign up to pitch and enjoy:
Roundtable discussions
Startup and scaleup clinics
Video networking
Do you have what it takes to be crowned winner of the 2022 OVHcloud Startup Program Showcase?
If so, submit your pitch deck before midnight on Thursday, 9 June 2021. You will be in with a chance to win our cash prize of 10,000 euros, 1-1 mentorship with Global Startup Program Leader, Philip Marais and much, much more.
All finalists will receive prizes. These include direct access to, or an extension within, the OVHcloud Startup Program and increased visibility on OVHcloud communication channels. Finalists will also get at least 5 facilitated super connections from Empact Ventures, who are partnering with us to deliver this amazing event!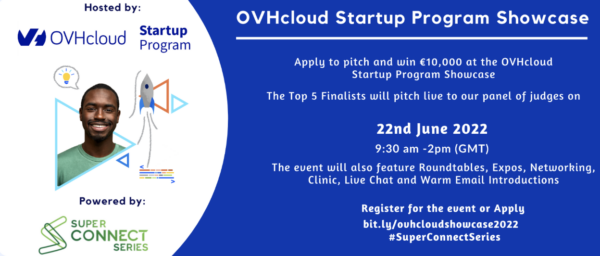 OVHcloud Startup Program Showcase