EVENTO
MASTERCLASS I Crea y lanza un producto de inteligencia artificial sin programar
Por The Valley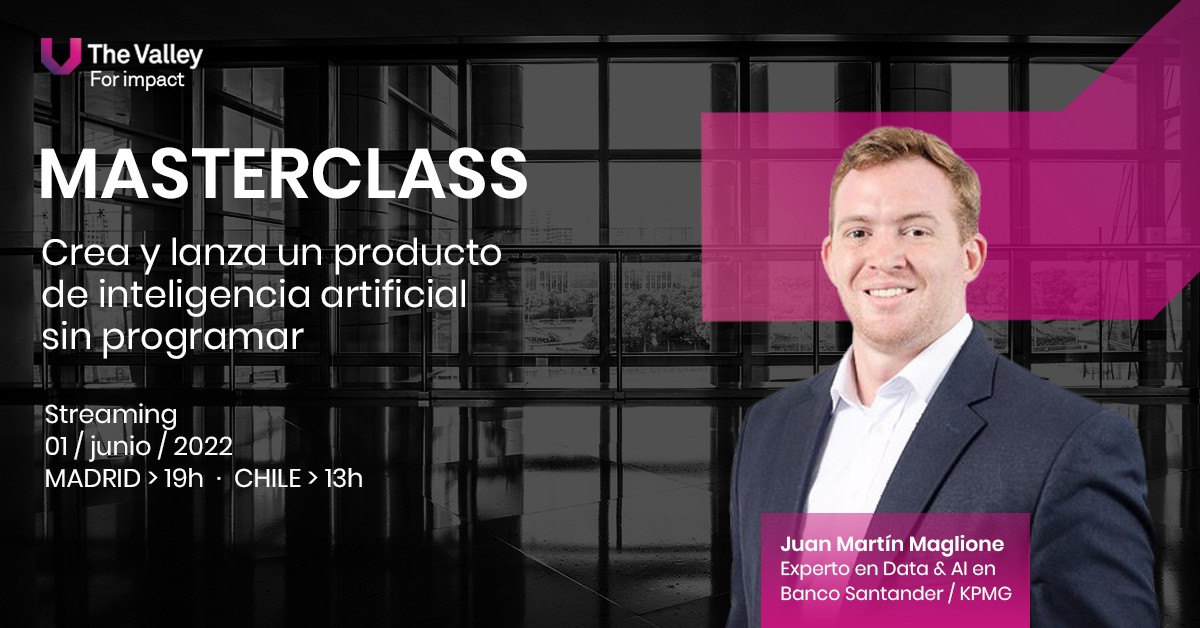 Juan Martin Maglione, experto en Data & AI en empresas como Banco Santander o KPMG, además es profesor en The Valley. Nos trae un nuevo taller donde nos enseñará, sin tener conocimientos previos en la materia, a dar el salto al Machine Learning: crearemos una solución de inteligencia artificial con la herramienta más potente y sencilla -Knime- para predecir el precio de coches de segunda mano que ayude a la gente a vender sus coches rápido y al precio más realista posible.
Si te interesa aprender sobre el mundo de los datos, la analítica y quieres descubrir qué es el machine learning y cómo aplicarlo, ¡este es tu taller!
Conoceremos los pasos a seguir para crear una solución predictiva sin programa, aprender a  conseguir los datos y prepararlos, realizar y poner en funcionamiento un modelo predictivo son algunos de los conocimientos que  podrás adquirir en esta masterclass.
Te invitamos el miércoles 1 de mayo a las 7 de la tarde en nuestra sede de The Valley Madrid a pasar una tarde divertida aprendiendo una herramienta nueva y sobre inteligencia artificial de forma práctica, todo sin programar.
Inscríbete de forma gratuita a esta masterclass en streaming, ¡te esperamos!
MASTERCLASS I Crea y lanza un producto de inteligencia artificial sin programar