EVENTO
MASTERCLASS I Aprende PowerBI para analizar datos de negocio, visualizarlos y crear dashboards
Por The Valley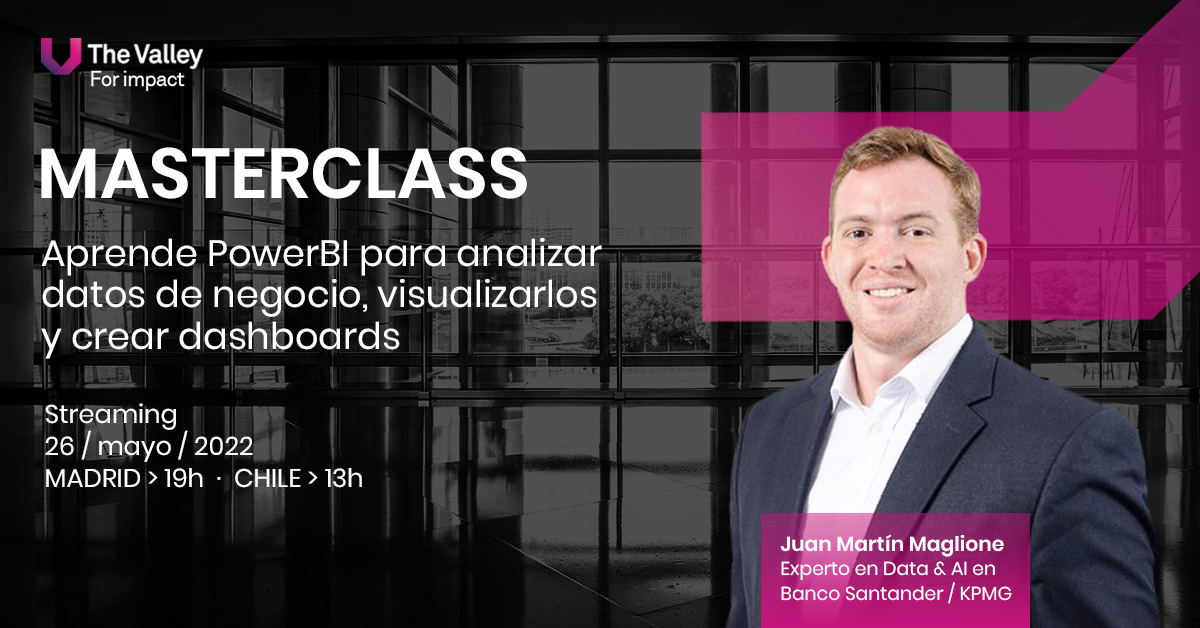 Juan Martin Maglione, experto en Data & AI en empresas como Banco Santander o KPMG, nos trae un nuevo taller con el que nos adentraremos en el mundo del Business Intelligence y la visualización de datos a través de la herramienta más demandada de Data Analytics por las empresas y muy accesible a todo tipo de perfiles: Microsoft PowerBI.
Transformar datos en conocimiento que nos ayuden en nuestro día a día, saber generar un dashboard, aprender a medir el funnel de tu negocio o ser capaz de tomar decisiones basadas en datos son algunas de los conocimientos que podrás adquirir en este taller.
Juan, además de experto en transformación digital, analítica e inteligencia artificial, es profesor en The Valley y estará con nosotros el jueves 26 de mayo a las 7 de la tarde en nuestra sede de The Valley Madrid.
Inscríbete de forma gratuita a esta masterclass en streaming.
Si quieres pasar una tarde divertida aprendiendo una herramienta nueva y desarrollarte en el ámbito data-driven, ¡te esperamos el 26 de mayo!
MASTERCLASS I Aprende PowerBI para analizar datos de negocio, visualizarlos y crear dashboards