Noticias
Dídac Lee: The degree of project ambition is more restrictive than the geographical scope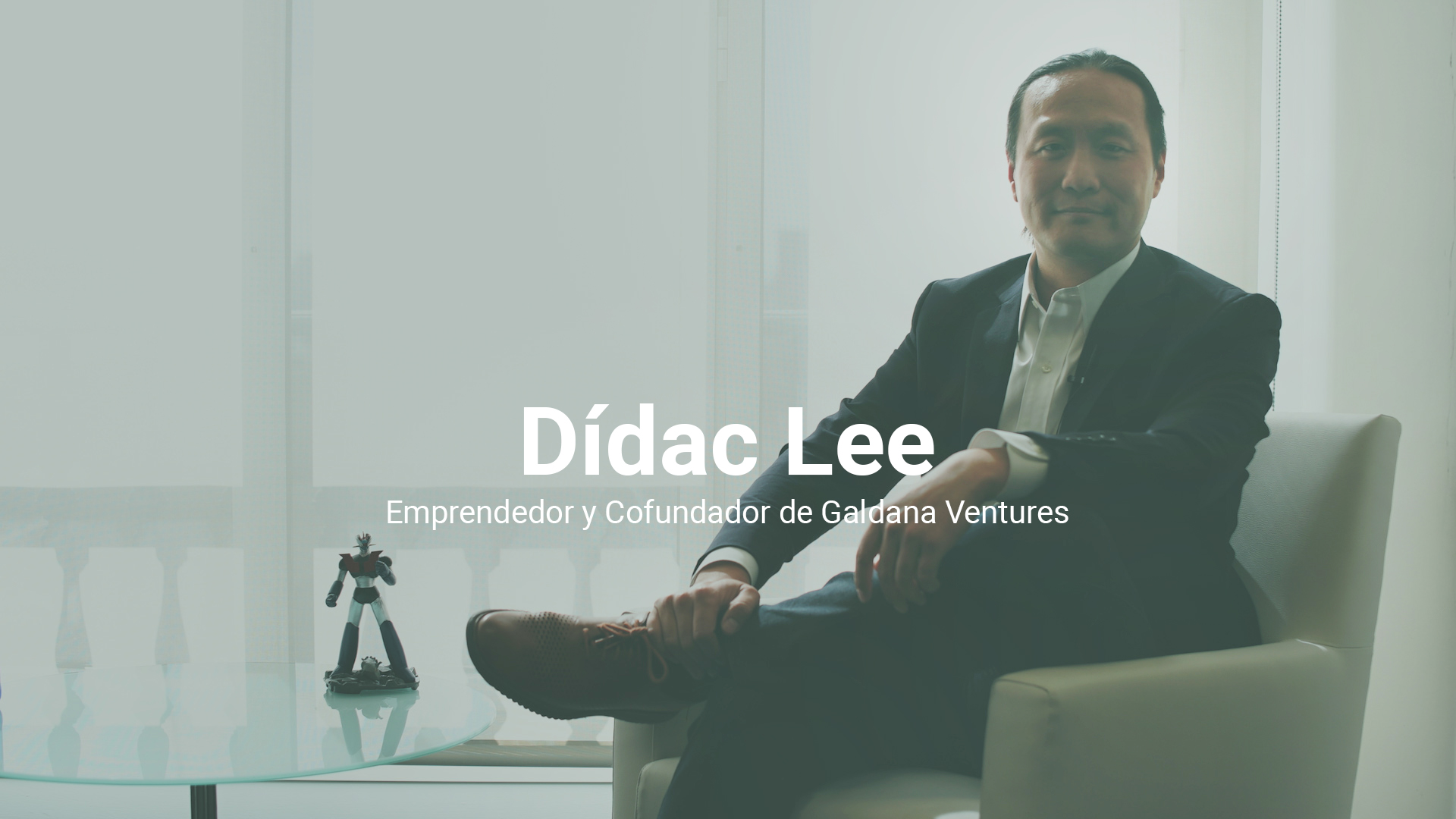 For Dídac Lee, an entrepreneur for more than 20 years and now an investor, Barcelona's digital ecosystem needs to attract multicultural and multinational talent. To do this it is necessary to create international projects that are attractive to these professionals. Throughout his more than 23 years of experience as an entrepreneur he has created several successful companies, including Fhios, Inspirit and Scubastore (now TradeINN), where he is both the co-founder and shareholder.
An extensive track record that he has now made available to Galdana Ventures, the investment fund created together with Marcel Rafart, Roque Velasco and Javier Rubió, and which invests in other investment funds in the world, especially Silicon Valley, China and Europe. With this entrepreneurial project, Lee has changed his entrepreneurial role to that of an investor. His numerous trips and international experience, as well as his multicultural idiosyncrasies, have put him in contact with some of the best international funds, and in which he now invests with Galdana. In 2017 they invested 275 million euros in more than 30 technology funds around the world.
From an interview about his long career in Internet projects, as well as his professional experience doing business all over the world, we have extracted some key points.
The location loses importance
"In our industry, location is becoming less and less important", says Dídac Lee, who started out as an entrepreneur in Figueres, his home town. "From Barcelona it is possible to be an investor in the best companies in the world and enjoy an environment as privileged as the one we have", says Lee. So, among the things he would like to transmit to other entrepreneurs is the power that a location has as a driving force for talent from all over the world and how you can be doing business all over the world from just one place. "The geographical scope is becoming less and less restrictive, the degree of project ambition is the restriction", he explains. More and more companies and projects in Barcelona are receiving investment from American funds and international funds such as Badi or Glovo.
The rise of the multicultural professional
Although Barcelona is a very attractive city and is in fact the third best European city for startups, according to Atomico, one of the weak points about the Catalan capital and where it cannot compete with other cities like London, is in finding talent from different nationalities. "I realize that borders and boundaries are becoming more cultural than geographical", says Lee. "I think we have to be more open to the world, more global, try to integrate more languages into professions, be able to spend more time abroad", he says. In terms of attracting multicultural talent, it would be necessary to facilitate the process by helping them, with relocation services when they arrive for example: looking for housing, schools, etc.
The ecosystem as a link
"Starting up a business in a place where you are alone, where you don't have an ecosystem created, is more complicated", explains Lee, recalling his beginnings in Girona. Over these 20 years, companies have consolidated themselves and a group of smaller startups have appeared, but with a lot of potential. A group of companies that lacked some kind of backbone, a link, and that is exactly what they found when Barcelona Tech City was founded as an association", stresses this multicultural entrepreneur.  "With a very powerful executive team, Barcelona Tech City is supporting and coordinating the entire ecosystem, which is currently in a consolidated phase, something we should all be very proud of", he says.
Not being obsessed about being the next Silicon Valley
There is a growing recognition of companies coming from Barcelona, something that is very important and that did not happen 10 years ago. "Barcelona can aspire to be the best technology hub in Europe, one of the top three, without a doubt. Barcelona will be a world benchmark in technological matters and large companies will appear. We can be a leader in this industry, clearly, but we have to do it according to our reality and our idiosyncrasies", he says. "We shouldn't get obsessed about being the next Silicon Valley. What's the point in being the best technology hub in the world if you have polluted air or can't see your childhood friends? And today we live and work in a place where it makes sense. To be able to go out and breathe, I value this above being the best ecosystem in the world.
Attractive projects to attract multicultural talent
For Lee, Barcelona has a competitive advantage that other European countries do not have: the climate. But the ecosystem lacks the ability to attract multicultural and multinational talent. "The more global you are, the more financing possibilities you can have, and the more financing you can obtain in rounds,…", says the entrepreneur.
From entrepreneur to investor
After his career as an entrepreneur, Lee started to invest in other startups, taking on the role of investor. "After 20 years the motivation to create something new is not as great as trying to participate in very interesting projects. Before I was motivated to create it myself and now I am motivated to participate. It is a natural step for many entrepreneurs, after many years of entrepreneurship, to move into the world of investment", explains Lee, now head of the Galdana Ventures investment fund.
The importance of qualitative leaps
Being an entrepreneur implies understanding how they think, that optimistic way of looking at things, and that is something that Lee applies in his facet as an investor and business angel. "Discomfort, need and crisis situations are what lead entrepreneurs to make qualitative leaps", says Lee. During his time as an investor he has therefore tried to accompany entrepreneurs, making them aware of the home truths that "we have to listen to but that do a lot of damage and the more damage they do, the more successful they are". In his case, he is sure that "it is when they've put their finger on the sore spot when I've have made a qualitative leap forward".
Helping to reflect for good execution
Around entrepreneurs there are always other figures helping them to make decisions. The personal experience of mentors or investors, also with experience of startups in many cases, is not always applicable to other people, since the same situation, with different people, is a different situation. There are no universal answers, no manuals, no fixed rules, but experience is essential.
"As Bruce Lee said, the best teacher is not the one who gives you answers but the one who asks the right questions", recalls the founder of Inspirit. Based on their experience, "mentors and investors should make entrepreneurs reflect, these being the ones who really have to make the decisions and execute them. In the end it all depends on good execution.
Fewer but better developed relationships
In China there is the concept ofGuanxi, which distinguishes between knowing people and the level of relationship. "You can meet a person at a networking event but the level of relationship is weak. The important thing is not just to know someone but what level of relationship you have with that person. For Dídac Lee, social networks such as Facebook and Linkedin have devalued the concept of personal or professional relationships. "Fewer but better developed relationships", he says.
During his many travels around the world as an entrepreneur, Dídac Lee has established relationships with other markets such as Silicon Valley and China, an experience that has been key to getting to know international investment funds. These are funds that are extremely difficult to get into. "If you're successful with the funds you've set up, everyone wants to put money in and there's excess demand", points out Lee.  "In China our level of relationship is very high because we have previously established many relationships there and we have worked with various funds.
Choosing the right investor for the right moment
"If the entrepreneur is in the initial stage you clearly have to go and seek the support of Business Angels, who basically buy them, buy their team and buy their vision. They should believe in them and their team. When an entrepreneur starts to have metrics, he can go to a more professional fund. My recommendation is that they should start with local funds because there are a great many and they are very good", says Dídac Lee.