2 December 2022
TB news
Tech Spirit Barcelona
Noticias
DAY 1 | Digital and technological ecosystem meets again at Tech Spirit Barcelona
2 December 2022
TB news
Tech Spirit Barcelona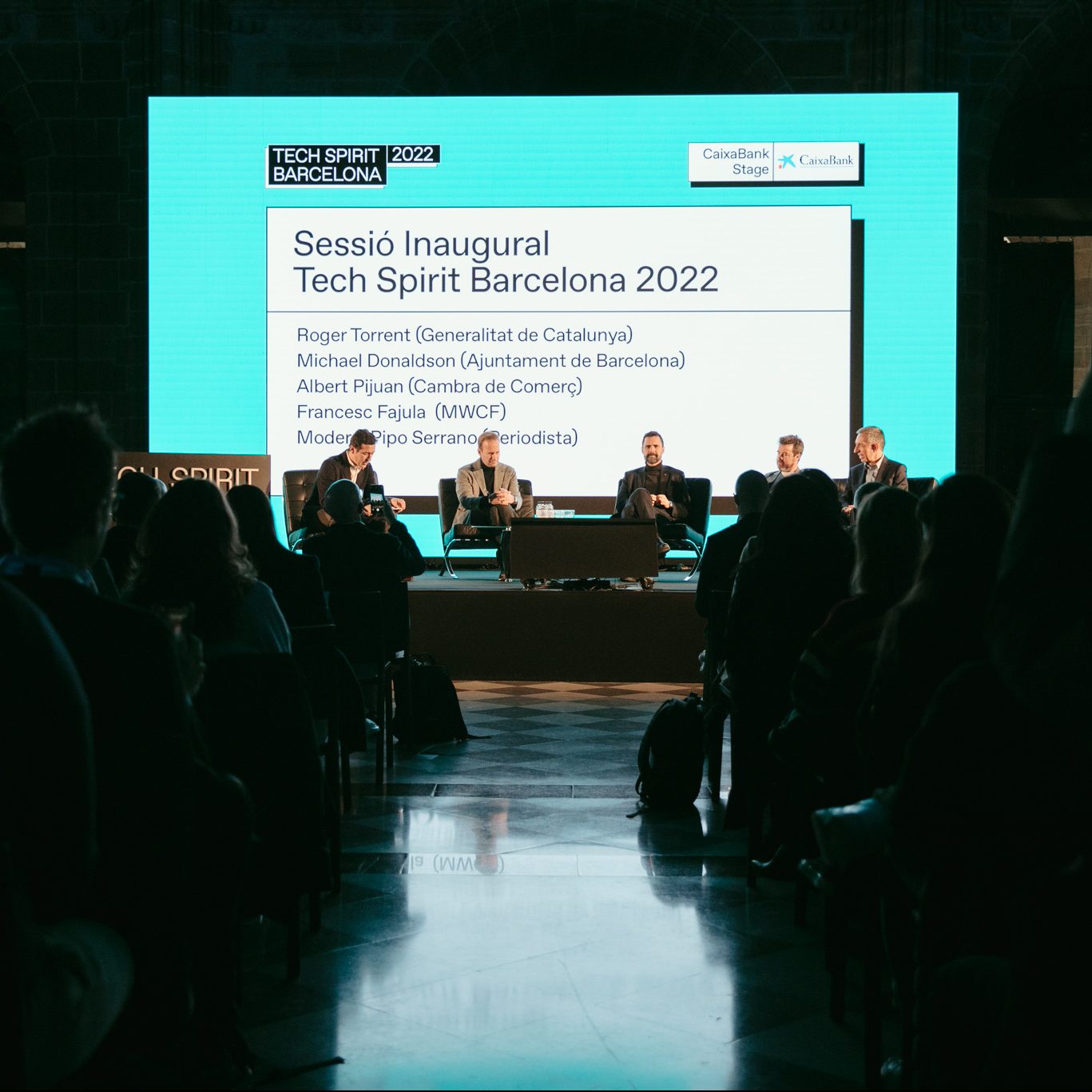 Speakers from renowned startups and global corporations such as Factorial, PepsiCo, TradeInn, Platanomelón, Vicio, Factorial HR, Wayra, among others, participated in the first day

Drone company Only10s has flown its drone inside Tech Spirit to capture unique moments and never-before-seen images of the event
Barcelona, 30 November 2022-. Tech Spirit Barcelona, the event promoted by Tech Barcelona to mobilise and give visibility to the digital and technological ecosystem, has started with a high attendance of entrepreneurs, investors and innovative corporations that corroborate the positioning of Barcelona as a hub for talent, investment and the creation of technology companies. As of this morning, 8,500 people had registered to attend the event, which was held this morning at Llotja de Mar.
After the institutional inauguration, the two-day event began with talks and colloquiums on the Caixabank Stage and Tech Barcelona Stage, to discuss the present and future of the ecosystem, as well as the success stories of renowned entrepreneurs and startups.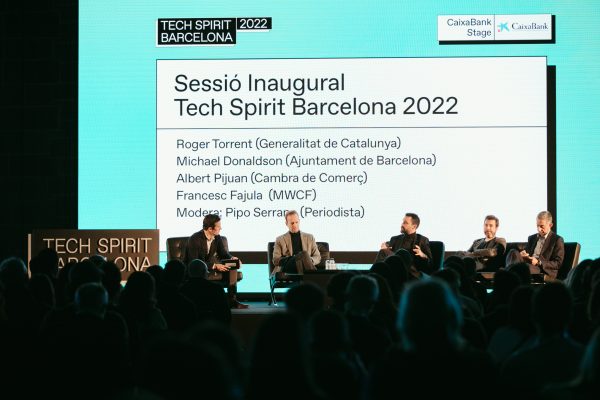 "Local Heroes" brought together three significant success stories from the ecosystem to analyse the future potential of Barcelona as a base for the creation of new success stories and unicorns. Jordi Romero, co-founder and CEO of Factorial, shared his personal experience as the driving force behind the latest unicorn born in Barcelona's entrepreneurial ecosystem. "Startups may not have resources, but we have the capacity to go faster than large corporations. It is possible that in Barcelona we are late compared to other digital and technological ecosystems, but we have the attributes that a city needs to become the first. I am optimistic," adds Romero.
In the words of Ana Maiques, co-founder and CEO of Neuroelectrics: "Barcelona has the ability to attract talent, and we have a culture and a value that makes us different, a European way of doing business. We are the city of creators and we need to boost this aspect, which is a challenge. We need more 'Wallbox', 'Glovos' and 'Factorials'". Maiques added, "We have to keep working, because Europe is the continent lagging behind in the creation of startups." Pol Valls, founder of Submer, highlighted the role of sustainability in any future-oriented business.
David Martin, CEO of Tradeinn, an e-commerce company founded in Girona and which this year will have a turnover of more than 400 million euros, explained the path that has led him to position Tradeinn as an e-commerce giant. "TradeInn is a company that covers a wide market, which is why our website is translated into 18 languages and has multiple payment methods. We sell in markets such as the United States, Japan, Australia, among others. It is for this reason that the creation of in-house technology has played a key role in adapting the company to each specific market. Even so, we collaborate with external partners on specific issues. TradeInn's CEO also stresses that "TradeInn is a profitable company, because from the beginning it has made a profit that has been reinvested in improving our technology with the sole objective of increasing our sales". Finally, Martin assures that "the future of the retail sector is online sales, the physical shop will take a back seat because people no longer like to go shopping".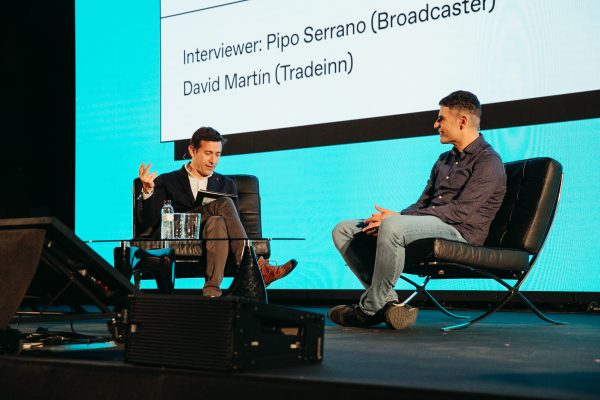 Pavlo Kartashov, Director of Ukrainian Startup Fund, was interviewed live by Carmen Ríos, founder and COO of Doctomatic, to explain how Ukraine is betting on the technology sector for the reconstruction of the country after the war: "from Ukrainian Startup Fund we provide financial and non-financial support to startups, developing an ecosystem and bringing the community and the Ukrainian ecosystem and key players to an international level. In 3 years of activity we have already funded more than two hundred Ukrainian startups". We are building an ecosystem that is already very strong."
Speakers included Pere Vallès, CEO of Exoticca; Francesc López, COO and co-founder of Stayforlong; Ross McNairn, Chief Product Officer and Technology Officer of Travelperk and Toni Raurich-Marcet, co-founder and managing partner of eBooking.com, who discussed the attraction and strengths of Barcelona to dominate the future of the global travel industry.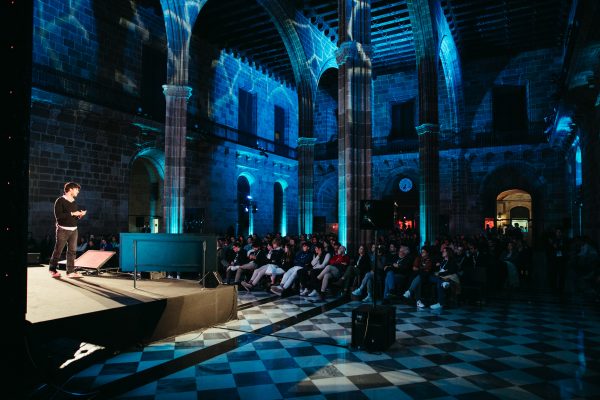 The presentations focused on key issues for the growth of the ecosystem such as trends in public-private investment, artificial intelligence, web3 and Blockchain technology, as well as the main drivers that attract large companies to locate their digital hub in the city of Barcelona.
A Drone's Eye View and Catalan Pitch Competition
The drone company Only10s has flown its drone over the Tech Spirit to capture unique moments and unpublished images of the Llotja, as well as of the different conferences held during the event. The images captured will soon be available on Tech Barcelona's social networks.
During this first day, and with the aim of boosting the ecosystem and facilitating the raising of funding by Catalan start-ups, ACCIÓ also organised the Catalan Pitch Competition, in which 27 start-ups explained their business model in one minute to the most representative investors in Catalonia.