Noticias
Challenges for the future of Barcelona as a Startup Hub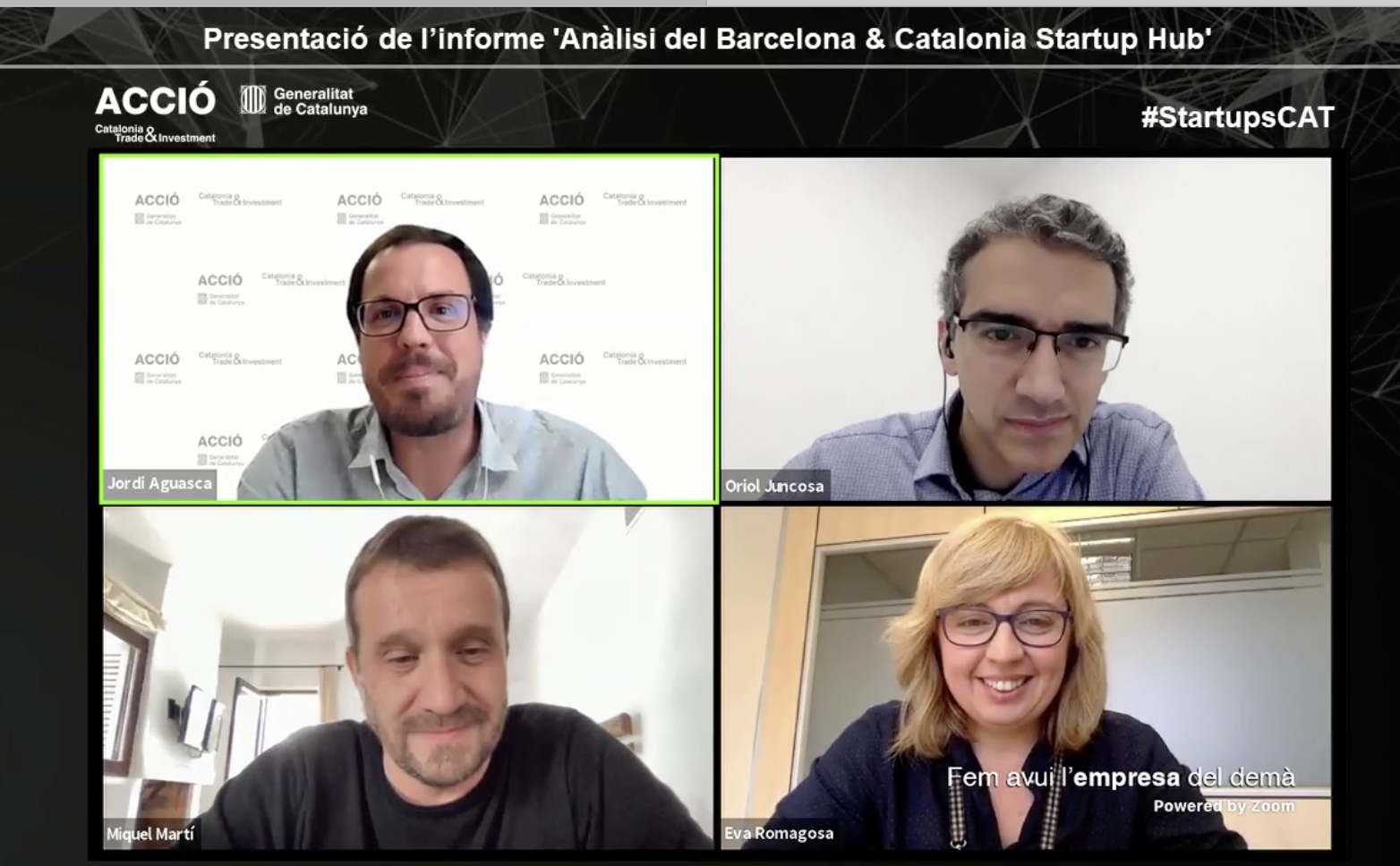 Analysis of the Barcelona & Catalonia Startup Hub 2020
With more than 1,700 startups, the Barcelona ecosystem is consolidating its position as the first European hub in southern Europe; innovative, multicultural and attractive to investors.
"We have a well-positioned and robust ecosystem and a large volume of multinationals. We can make an important leap forward in the coming years", said Joan Romero, CEO of ACCIÓ, in a session analysing the state and prospects of the ecosystem in which Jordi Aguasca (director of the Transformation and Technological Disruption Unit of ACCIÓ), Oriol Juncosa (co-founder of Encomenda VC), Eva Romagosa (co-founder and CMO of BusUp) and Miquel Martí (CEO of Barcelona Tech City) took part.
The Barcelona & Catalonia Startup Hub, the most comprehensive directory of startups present in our country, has already identified 1,708 startups, 13.5% more than in 2019. Its analysis of 2020 allows to draw the main characteristic features of the Catalan entrepreneurial ecosystem, where it highlights that more than 66% of the startups work with technologies linked to Industry 4.0: such as big data, cloud computing or artificial intelligence, among others.
According to these data, collected by ACCIÓ, it is worth highlighting the 57.4% increase in the number of startups during the period 2016-2020. All of them, to date, already employ more than 17,500 people. Once again, Barcelona and Catalonia's ability to attract international talent shines through. In fact, 20% of the founders and 26% of startup workers are foreigners.
At the same time, Catalan startups have experienced founders. Indeed, 45% had already created other companies in the past. In fact, Barcelona is the second city preferred by startup founders in Europe if they had to start a new project. All in all, the study shows that Barcelona has established itself as the main startup hub in Southern Europe and the fourth in the continent.
You can download and consult the study here.
The ecosystem faces future challenges
In the talk, Miquel Martí, CEO of Barcelona Tech City, looked at the challenges ten years ahead. "We have to understand what we want to be in 2030. It has to be a strategic commitment that does not depend on politics. Catalonia has to be technological. It has to be a commitment to talent, talent drags the rest. And a commitment to innovation. For deep tech as a differential element and for the transformation of traditional commerce and industry through technology", he added. Eva Romagosa, Co-founder and CMO of BusUp, considers that "talent does not grow as fast as the ecosystem. And the war for talent between large corporations and startups is being won by startups. Romagosa is committed to Barcelona as a test bed for shared mobility: "We have all the components. Very powerful companies have come out of here, we are an engine of innovation", he pointed out.
Oriol Juncosa, Co-Founder of Encomenda VC, calls for "global ambition from scratch. The average level of global ambition of entrepreneurs here is still relatively low compared to other European cities. The world is the battleground.
Startups as a benchmark in innovation and technology are a crucial element in attracting international talent and generating greater competitive capacity. We are growing, we have good data, but we need to double our efforts. The startup ecosystem is key to the future of our economy.