Noticias
Carlota Pi: Entrepreneurship often means moving forward with a groundbreaking project even though the market and its regulation may not be ready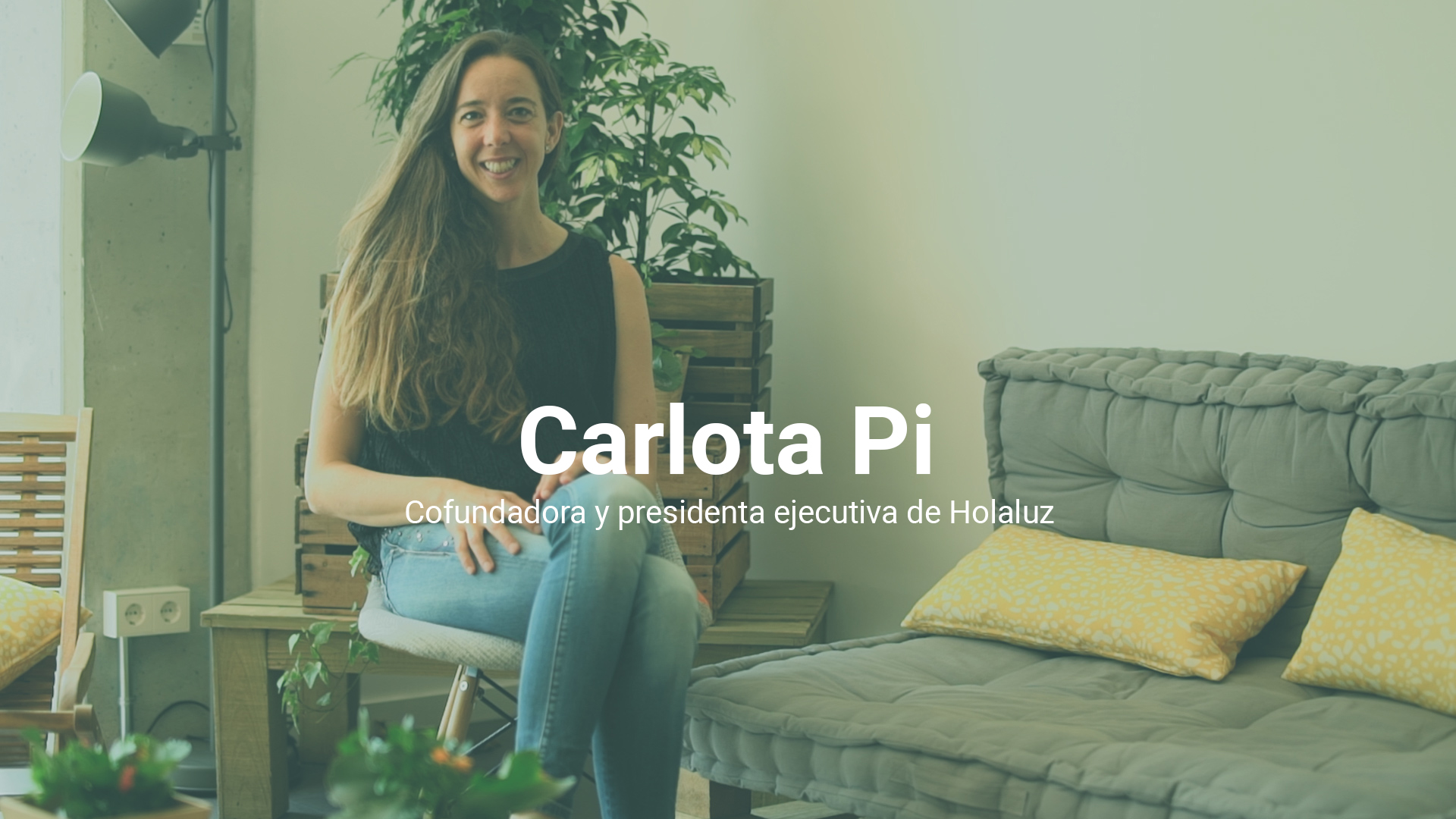 Carlota Pi is the co-founder and CEO of Holaluz, a startup aimed at connecting people with green energy. It purchases 100% renewable electricity from independent producers, of which there are more than 400, rents the cable to transmit the electricity and supplies more than 160,000 customers in all postal codes across Spain. In 2010, Carlota Pi, together with Oriol Vila and Ferran Nogué, created Holaluz with an idea considered disruptive for a market as traditional as energy. "We emerged with a clear purpose: to get the world moving thanks to renewable energy and to build a business model which enables people to develop 360⁰ and for which making money is a consequence of doing both things better than anyone else," explains the startup co-founder.
The mother of three daughters, Pi notes that entrepreneurship has made it easier for her to balance family and professional life, which is generally rather difficult in more traditional companies. "In entrepreneurship you can work on whatever you want, transforming a purpose and vision that you have into reality. And how you do it is decided by you," she comments.
Pi is a member of the board of directors of Barcelona Tech City and from her experience as an entrepreneur we can draw the following key points:
MONETISE FROM THE BEGINNING
As Carlota Pi comments, Holaluz's business model is fundamentally "very traditional, because ultimately it's about selling with a margin to paying customers". Less traditional is the company itself, its philosophy and disruptive proposal, which has led it to obtain customers and monetise from the beginning. "This concept is what has made us very strong in terms of independence from investors, in order to have sustainable growth and developments in line with what we have needed", explains the Holaluz co-founder.
DEVELOP 'IN HOUSE' TECHNOLOGY
It may seem like an uneconomical avenue for startups. Most opt for external developments or pre-designed products, but Pi says that creating their own technology has saved their company a lot of money. "Developing 'in house' was a decision we took from the beginning because we couldn't find applications, software or tools that we could use to solve the challenges we had," she explains, "so we decided to make a very firm commitment to technology and develop it ourselves." For Holaluz, this internal development has enabled them "to have what we are interested in, because we develop what we need, that is lean startup. If you need three functionalities we develop those three, we do not develop on a 'just in case' basis", besides the speed of development. "As a consequence of these two factors, there's the cost," explains Pi.
WORKING ON THE RELATIONSHIP BETWEEN THE FOUNDING PARTNERS AND THE TEAM
"90% of startups don't fail due to not having customers, technology or investment. They do it because the founding partners don't ultimately understand each other," points out Pi. For this reason, from the outset Holaluz has taken care of the relationship between the three founding partners, who continue to participate in coaching activities to this today, after seven years of shared work. "There is no pact of partners or clauses comparable to the power of continually working for a solid, stable, happy relationship upon which to build. For us, this was something very important from the beginning. We've been here for eight and a half years and we're great friends, we could practically say family," says the entrepreneur.
OBJECTIVE: TRACTION AT AN EVER-INCREASING PACE
In its eight and a half years' existence, Holaluz has achieved a portfolio of 160,000 customers. This figure is expected to reach 500,000 in the next four years and could expand to other countries. "We haven't determined where they will be. We think they will mainly be in Spain, and probably Portugal as well. But beyond the objective we've set, the most important thing for us is to gain traction at an ever-increasing pace.
THE REGULATORY CIRCUMSTANCES MUST NOT INFLUENCE A GOOD BUSINESS IDEA
Entrepreneurship often means moving forward with a groundbreaking project even though the market and its regulation may not be ready. Even so, "If you have a clear idea that you think will contribute and that will bring value to the people for whom you build that idea, you should, without a doubt, take a bet on it," comments Carlota Pi. As an example, she points to projects such as Airbnb, Google and Spotify, none of which were created in a favourable context. "The regulatory circumstances have to be irrelevant.  You have to be willing to push very hard, to continue, to follow it through," she stresses. Furthermore, she says, entrepreneurs must have their own idea and not rely on what the market has to offer them, or on the resources currently available.
THE NEXT REVOLUTION IS IN RENEWABLE ENERGIES
"Energy is the new Internet," proclaim some experts. Pi, who pursued the energy sector with a disruptive project such as Holaluz, fully agrees with that statement. "There is everything to be done, in consumption, in the exchange of energy, in electric mobility, it is the great revolution," she says. In Pi's opinion, it is also unlikely that the large companies currently dominating the sector will make an effort to innovate.  "Historically, they don't want to innovate in their own market, we've never seen that." So the road is free for entrepreneurs like Carlota Pi, with many projects ahead.
SHARE PHILOSOPHY WITH FELLOW TRAVELLERS
Embedded in Holaluz's philosophy, resources are geared towards being able to execute the company's plan. An investment that can come from various stakeholders such as venture capital, an IPO, crowdfunding or private equity. The only requirement for these fellow travellers is that they comply with three basic principles: "The first is that we are 'ultra-aligned' in that vision of the world in which we work, to achieve a 100% renewable world using a company model which enables people to develop 360 degrees and for which making money is a consequence of the first two things." The second thing is that we are very clear that the customer comes first: we don't make any business decisions with this year's income statement in mind. The third is that we can have fun, because for us to have fun is to do what we believe we have to do, not to do things that we are told to do," argues the co-founder of Holaluz.
CUSTOMER TRUST IS ACHIEVED BY FULFILLING PROMISES
Sometimes companies offer their customers things that they are simply not able to deliver on. 29% of Holaluz's customers arrive thanks to the recommendations of other users. This figure is interesting, as it makes it clear that customers are satisfied with the service. To secure that trust in the company they employ three basic tools: "keep promises, listen and apologise," explains Carlota Pi. When they talk about promises, one example is to lower the price whenever possible. As far as listening is concerned, Holaluz has an 'in house' Customer Service division, in which all the company's employees spend at least two hours per month, including the co-founders. And, last but not least, apologising is necessary because, sometimes, whilst working for excellence, mistakes can be made. "When you have a happy customer, you have fulfilled promises, you've listened to them and if you have ever made a mistake you said sorry. This person feels connected to you, is proud of their electric company and they talk about us," explains this entrepreneur.
BEING AN ENTREPRENEUR AS A WOMAN: THE RESPONSIBILITY OF CREATING A COMPANY ALIGNED TO THEIR OBJECTIVES
For Pi, the entrepreneurial path is always difficult, regardless of gender, but in the case of women there is an "additional responsibility", which has to do with building companies that are "aligned with our objectives". The co-founder of Holaluz was fired from her job when she became the mother of her first daughter, so in the founding purposes of the company an important feature is for people to be able to develop 360⁰. "It's difficult to come from a man because he hasn't lived through it, it's never happened to him and he hasn't found that need," she comments. But in the case of her partners, Pi is clear that this philosophy has been welcomed at all times, without problems.
"When you start you do what you want and you can create a company model as you want", she explains, which is difficult to achieve in traditional companies where nobody expects it and where "you have to give up half your life". Besides this, there is yet another advantage, on an economic level, and that is that funds are beginning to emerge that invest in companies led by women "because they have realised that they result in better returns.
A TENDENCY TO INVEST IN PROJECTS THAT HELP CHANGE THE WORLD
There are an increasing number of funds which specialise in "companies with purposes", as well as traditional funds that invest in them. As the co-founder of Holaluz explains, this is one way of eliminating risk. "They are looking for companies that are sustainable and will make money in the long term, and they have identified that companies with a purpose, which is also aligned with making the world a better place, are more sustainable and more profitable in the long term," says Carlota Pi. For her, it is good news that this is the reason, "because it means that it can be done in a sustained manner".