Noticias
Boxmotions wins 4YFN Awards, with B-wom and Brokoli among the finalists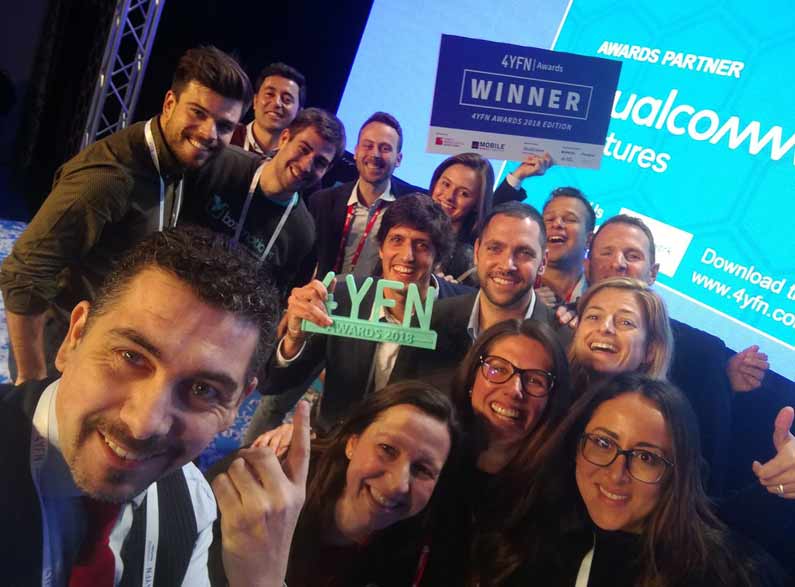 Boxmotions, a Barcelona Tech City startup, has been chosen as the winner of the 4YFN Awards 2018. The award, given by a jury of nine international investors, is presented to the most ground-breaking talent at the event. Boxmotions competed for two days with ten other finalists from four different countries that were selected from over 300 participants. The startups Bwom and Brokoli, also partners of Barcelona Tech City, were chosen among the finalists, along with Israel's Jelurida and Dutch Viisights.
The ten finalists pitched to the audience at the Banco Sabadell Stage and to the jury which was made up of Alex Baker (Relay Ventures), Vinoth Jayakumar (Draper Esprit), Jean-François Cochy (Cathay Innovation), Pauline Roux (ElaiaPartner) and Antoine Nussembaum (Felix Capital). The five finalist startups that were picked from this presentation repeated their pitches, and Boxmotions was chosen. This time, before a jury that included Keneth Ewan (Wefarm), Anna Vershebehiuk (General Atlantic), Itamar Novick (Recursive Ventures), Quinn Li (VP & Global Head), Antonio Giménez de Córdoba (Seaya Ventures) and Guy Horowith (Deutsche Telekom).
The award guarantees Boxmotions a place in the next edition of 4 Years From Now (4YFN) and a stay in a business residence in the centre of Silicon Valley, as well as the support for the platform's growth.
'The 4YFN Awards are the recognition of an entrepreneurial project with potential, with a team capable of carrying it out that has a profound understanding of the dynamics of the business and that knows how to present them to the jury, made up of members of VCs, in a clear and concise way', explains Pol Karaso, co-founder and managing director of Boxmotions. 'Both the awards and 4YFN in general are a great opportunity to show the world the richness of existing projects in our ecosystem and to increase the exposure of startups globally', says the entrepreneur.

For these companies, being recognised at these awards supports their work and their project idea.
'The award we won at the 4YFN Awards gives us more visibility at all levels: clients, investors, collaborators, and the press, and enables us to add more talent to the company', explains Pol Karaso, co-founder and managing director of Boxmotions.
The Barcelona-based startup, which has been in operation since 2016, is an intelligent storage and retrieval service that allows users to track their goods through a mobile application. In this way, the owner of the storage room does not have to physically move to the place in question, but Boxmotions is responsible for collecting and transporting the items that the user has ordered via the Internet. In addition, thanks to an on-line catalogue, the user has a virtual inventory of all the objects stored in the warehouse, making it easier to manage them.
B-wom is an e-health platform for women's intimate care. The mobile app acts as a personal coach offering personalised action plans based on the answers to a test that users must answer when they start using the application.
'This year, we were one of the five finalists at the 4YFN awards, out of 300 projects, which has given us added attraction and visibility. Undoubtedly, it was one of the most intense weeks of the year, and one of the most productive', says Helena Torras, co-founder of B-wom.
Brokoli is a free app that acts as a mobile insurance advisor. The application offers a 24-hour a day personal advisor using chat to ask questions, manage policies or request information. In addition, it is possible to take out policies without the usual paperwork through the app itself and even detect duplicate policies.
'Being one of the five finalist startups in 4YFN was a challenging and very motivating experience. It gave us a lot of visibility and thanks to this we have not only managed to establish strategic contacts with other companies and investment funds, but we have also been able to demonstrate that our product is powerful and that we are at the right moment to make it grow', says Sandra Zárate, co-founder and COO of Brokoli.
Contribution of 4YFN
4YFN has positioned itself as the reference event for entrepreneurs, startups, investors, public institutions and large corporations, supported by the Mobile World Congress ecosystem. In its fifth edition, the event has managed to gather a total of 20,359 attendees who demonstrate its success and the degree of specialisation and maturity it has acquired in this time.
'At this year's 2018 4YFN , we have established contact with a multitude of international investors and potential partners, and these contacts will surely help us to continue with the growth of Boxmotions in the future', assures the co-founder of Boxmotions.
During the three days of 4YFN, the Montjuïc Fira de Barcelona exhibition centre hosted more than 600 startups from 45 different countries, 600 investors and 12 international delegations, as well as 275 renowned speakers who shared their experience and knowledge with the attendees.
'As a startup, 4YFN is a more interesting event for us to be at than MWC. It is not excessively large, and we come across companies, investors and the press. Over the years, I've noticed a change, now people who come to 4YFN have a real business interest, they are looking for real opportunities for collaboration or investment, while, at first, perhaps there was an interest motivated more by curiosity', says the co-founder of B-wom. 'I can certainly say that the meetings we have had these days could be the beginning of great opportunities that we have to work on'.
4YFN Awards 2018 is a startup competition, focused on accelerating business development and investing in new technologies.
'4YFN this year stood out for the large number of startups and the high standard of talks and panel discussions that took place at most of the venues. Without a doubt it is still an opportunity to do a lot of networking, to discover innovations in different sectors and above all to demonstrate the continuous growth of entrepreneurship both nationally and internationally', says the co-founder & COO of Brokoli.