Noticias
Ana Maiques: As an entrepreneur, never lose sight of why you started a company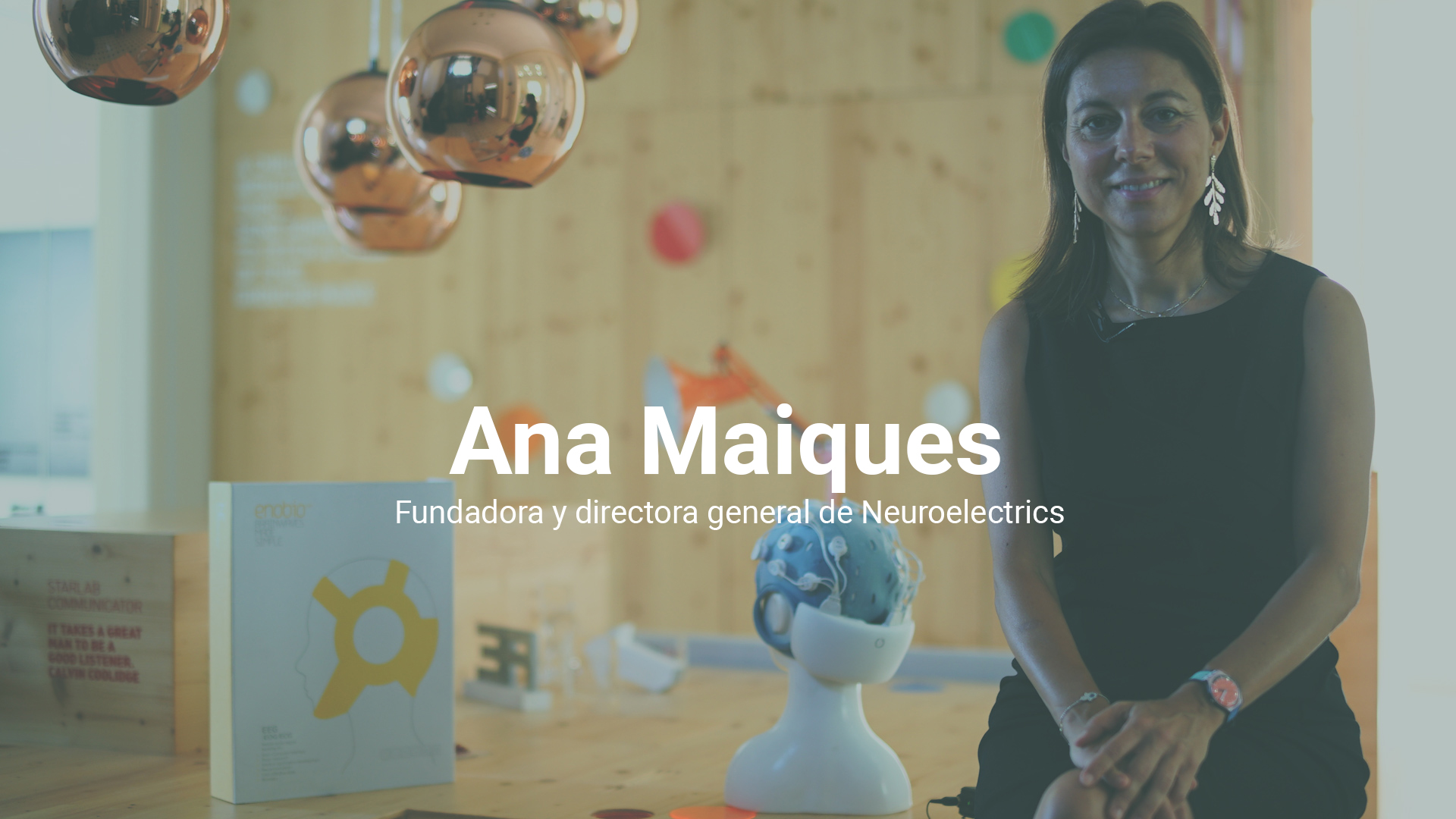 Ana Maiques is founder and CEO of Neuroelectrics, a company she works at together with her partner Giulio Ruffini. Neuroelectrics, which develops new technologies in the field of brain stimulation and neuroscience, first started out in 2000 with Starlab and the Belgian company where they both worked and which was about to disappear. That was the key moment when the co-founders of Neuroelectrics made the decision to seize the moment and take over the company, buying it from the Belgian government. "We were not born entrepreneurs but, at a given time in our lives, we took and chose the riskiest course", explains Maiques. Neuroelectrics was founded in 2011 as a way to market all the research being carried out at Starlab, "a spin-off focussing on medical technology was the way with most potential to succeed.
A mother of four, she says that the "work-life balance is always a challenge, but that it also takes two" and although she hasn't noted any discrimination for being a woman, she believes that "there is still a long way to go" to achieve equality.
As an ambassador for Barcelona Tech City, Maiques exports the Barcelona brand to the world, as well as the talent and ability to create the global companies that the city currently has. We have picked out some key points from her experience:
  NOT LOSING SIGHT OF WHY YOU STARTED YOUR COMPANY
When Maiques and Ruffini arrived at Neuroelectrics more than 15 years ago the goal was clear: "how to go from research to making an impact". That was how Starstim emerged, a cap capable of reading brain activity, diagnosing diseases and injecting small electric currents into the brain that can help cure diseases. "I think that the most important thing to learn is to never lose sight of why you started a company, and secondly that it takes longer than you initially thought to achieve your vision", recalls Maiques.
BEING AMBITIOUS, THINKING GLOBAL
"I believe that companies that are founded in an exceptional environment like Barcelona must have a global, worldwide culture", reflects the co-founder of Neuroelectrics, who recalled that there are patients all over the world so that "if you do something of value you have to have the mentality of a global company and make an impact in many places in the world".
ADAPTING TO EACH PHASE AND ACHIEVING A SCALABLE PRODUCT
Transferring a product to the market, especially when it involves the field of science is always difficult and involves different phases, from having the idea to launching the prototype. But there is a "hard, difficult" road from that first test to achieving a scalable product and "we underestimate the effort involved in that technology transfer". To make Neuroelectrics a business it has been necessary "to reinvent yourself in each phase because each one requires different skills and knowledge of the market and your company".
BEING VERY STRICT WITH PRODUCT QUALITY
"The design, especially in complex, value-added products with software and hardware, is always very difficult and that's why I recommend being very strict with product quality, because if you don't have a product that works very well you don't have a business", suggests Maiques.
In the case of Neurolectrics, "we were brave and marketed a product" and very soon they received feedback that helped them to continue developing their product. "What I recommend is to have something that works very well, even if it is the simplest version, and to test it on the market to improve it according to what the market wants", she says.
ADDING INDUSTRY-FOCUSSED PROFILES TO THE UNIVERSITY AND VICE VERSA
As Maiques explained, schools such as the MIT encourage entrepreneurship among their teaching staff, something which makes them be more in touch with the world of business and startups, and thereby aiding technology transfer from the university to the business world. "The people who handle technology transfer should be the people who have had industrial experience because sometimes schools only have academic profiles. I think we have to create more mixed teams, both in companies and in the academic world, we have to build more bridges", she says.
INCREASING RESEARCH FUNDING IN SPAIN
Neurolectrics receives public funding, especially from the European Commission, something that is essential to continue their work. Funding that is still in short supply in Spain. "In Spain there is very little investment in R&D and we attach little importance to it. We don't realize the impact on future generations and the importance of a more generous research policy, and I believe this is because that we are more short-term as a culture and we don't think much about the long term", she says.
Very different from the situation the company found when it moved to Boston. "The fact that Boston is now a successful life sciences centre in America is the result of a sustainable policy of investment in life sciences over the last 30 years. Because these policies must be maintained over time to bear fruit and in Spain "we don't have a sufficiently stable policy so that investment in R&D can grow and be maintained over time".
ATTRACTING MORE INTERNATIONAL CAPITAL
The challenge for Barcelona and Europe in general is to create more and more global companies and to do this it is necessary to attract international capital. "We have improved a lot in Europe compared to the past and I see a trend that is already creating very interesting, ever larger rounds here, with international partners", says Maiques, although she feels "there is still a long way to go to achieve the large quantities handled in the United States", meaning it is necessary to "continue working to attract more capital and to make companies more scalable from Barcelona" without having to go to Silicon Valley or Boston.
MORE INVESTMENT SOURCES, MORE CHOICE
Neuroelectrics has chosen an organic financing model, based on public funding and subsidies first, and then on product sales. The company is currently searching for investors, "strategic partners", because financial investment is important for companies to scale. "The more money and more capital sources there are, the better it is for companies because they can decide", says the co-founder of Neuroelectrics, something that is not easy today in Spain. "I believe that entrepreneurs need to be given financing alternatives in order to grow whenever they need to. I don't think that entrepreneurs in this country have many alternatives", she explains.
BARCELONA, A GOOD PLACE TO FIND TALENT
For Maiques, Barcelona is a good source of talent, and "not only local talent, there are many Europeans and many foreigners who like living in Barcelona and that is something in its favour", and also "there are many people who have left and who want to return to Barcelona, and if you give them the right conditions they will return. I think that Barcelona is a very good place to find talent" she says. This is why "it is important for companies to have an international projection". "If you can work in a global company that has its headquarters in Barcelona, one with projection and a long history, this, combined with living in the city, is perfect", she explains.
BONUS TRACK

ENTREPRENEURSHIP IN AN INDUSTRY WITH RESTRICTIONS AND REGULATIONS
As Ana Maiques points out, entrepreneurship in the field of biotechnology, as in the case of Neuroelectrics, is not an easy path to take, "because if you have an idea for an app or a website that you believe will help people in any dimension, well you develop and launch it, but you can't do this in the medical industry, because there are regulatory bodies. In the case of Europe, this is the responsibility of the health authorities, while in the United States it is the FDA, an agency that they have been able to get to know better since they moved to Boston. The purpose of these bodies is to decide whether the innovations developed are good and can be marketed.
It is, therefore, a highly regulated industry where manufacturing processes have to be carried out in specific ways and backed up with "complex and costly" clinical studies before they can be sold. "I think it's frustrating for an entrepreneur because you can't go any faster than the regulation allows and you have to go through all those regulatory processes that require bureaucratic effort, and almost anti-entrepreneurial processes and organization. But on the other hand these are the rules of the game when you decide to enter the medical field and they are there to protect the patient", explains the co-founder of Neuroelectrics. The end of this long process leads to a demonstration of the product's excellence, when it is ready for the market and endorsed by third parties.