Noticias
Airbnb applies engineering to generate trust for successful platforms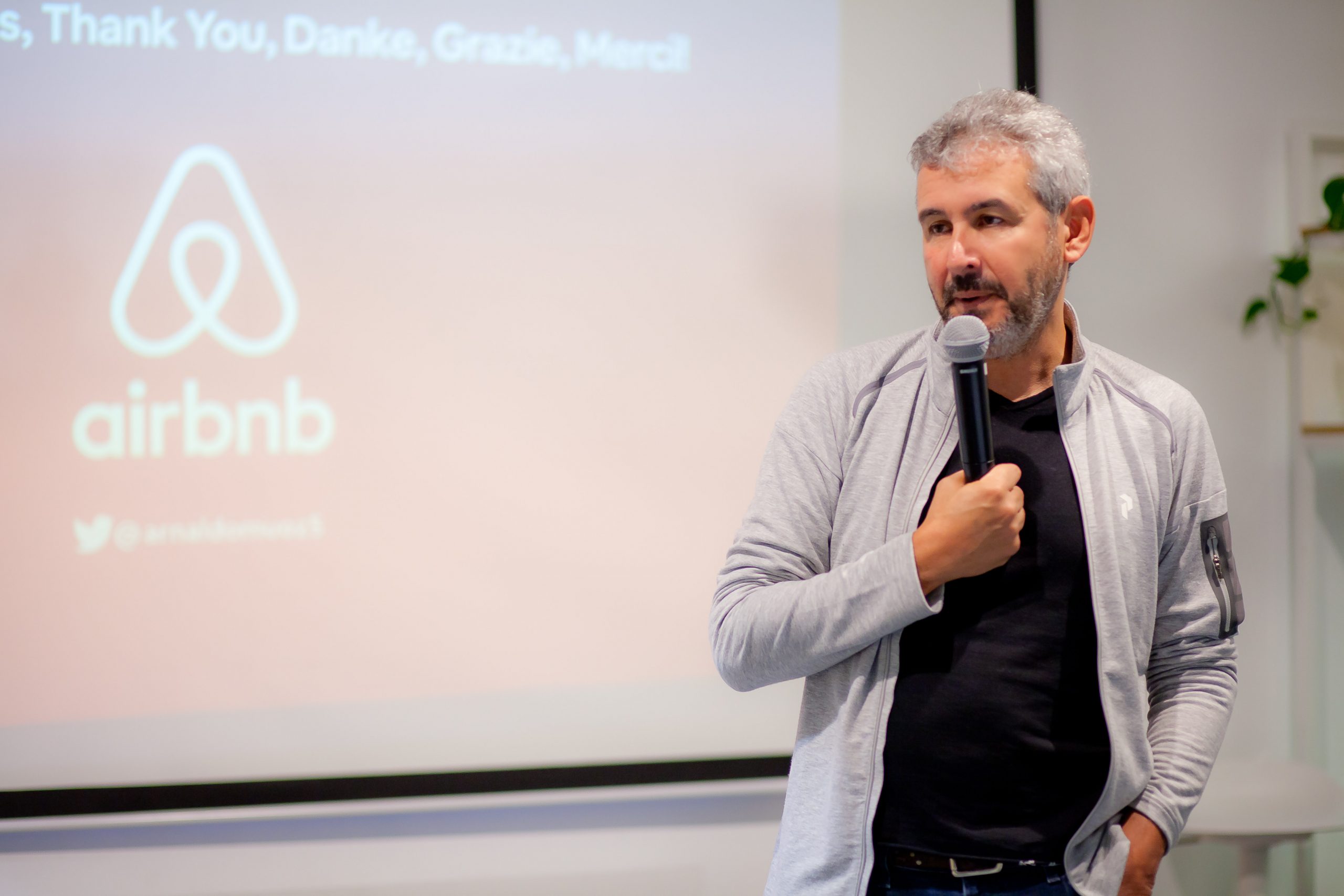 In October, Arnau Muñoz, Airbnb's general manager for Spain and Portugal, participated in our BBL to share with the ecosystem some aspects of the trajectory of a company that has just celebrated its 10th anniversary. Since April 2015, Arnau Muñoz has combined this responsibility with leadership of the company's global innovation operations.
Undoubtedly one of the most innovative startups in terms of its business model, Airbnb emerged offering an inflatable mattress and breakfast in the home of its founders. With significant exponential growth, today the company has a presence in 191 countries and a community of more than 400 million users worldwide. In Spain, more than 20 million people have stayed with an Airbnb host since 2008. Its headquarters are located in Barcelona, a city that, from the outset, was positioned not only as a tourist centre but also as a centre for attracting talent. This has recently been reinforced with the opening of a customer service centre in which more than 800 people will be working by the end of the year.
During his speech, Muñoz reviewed Airbnb's activity in Barcelona, drawing attention to the positive impact the platform is having on the city. He also highlighted the intention to continue investing in it, both on a business level and with respect to local stakeholders.  Despite fantastic progress, including an agreement with local authorities, Airbnb still faces challenges and opportunities in the city, such as deepening the trust of the City Council and legitimising Homesharing in Catalonia.
Arnau Muñoz, Airbnb's general manager for Spain and Portugal, also highlighted these messages:
GLOBAL SOCIAL TRENDS THAT CONTINUE TO BE ACTIVE (AND INSPIRING)
One of the keys to Airbnb's success is that the founders understood three global trends that continue to be active:
Changes in habits: the millennial generation are taking control
Appearance of the platforms: they have made it possible to transform intermediation
Our climate is changing: travellers follow guidelines on sustainable travel
Furthermore, there has been an increase in international travel. Tourism is growing exponentially and travellers are seeking different ways to travel: experiencing destinations as a local is one of the main trends.
"If we look back to 2008, when the three founders were launching Airbnb, a key event took place that acted as a catalyst for these trends: the Lehman Brothers crisis called into question confidence in the banks and states, and from there we saw the emergence of an economy among private individuals."
USERS AT THE HEART OF INNOVATION
Since the inception of Airbnb, the differential element has been its ability to solve user problems. That's the driving force behind all the innovation created by the platform.
For Airbnb, the key to any innovation project is engineering.  "For it to move forward it has to be presented in terms of the user because if presented in terms of efficiency, the return on investment,… or something unrelated to the user, Airbnb is not allocated resources for engineering. Without a user problem to solve, there are no engineers."
It was done this way in the case of Experiences, the other business division of the multinational company: it focuses first and foremost on solving a problem for the user (namely, the need to receive help to be able to experience the destination as a local person).

SECURITY AND EASE OF USE
Homesharing is not new, it has existed for a long time. But Airbnb creates a layer of technology that facilitates the process and creates security for both the host and the guest.
It also creates a specific division, Airbnb for Work, which makes it easier for large corporations to use the service when their employees travel.
EXPONENTIAL GROWTH AND NORMALISATION
We are a company that has experienced exponential growth and this has generated externalities and frictions with the government authorities. From our point of view, any phenomenon of innovation, as it becomes adopted by more and more of the population, is normalised in every sense.
Muñoz compared it with the resistance movement to the gas lighting that took place in 1920 in the City of London before momentum grew for the electrification of lighting. "The fact that 400 million users are using our services facilitates normalisation."

TRUST AMONG PRIVATE INDIVIDUALS
"For us, the key to scalability was to invest heavily in the trust element. In Sillicon Valley, engineering is the oil that feeds the system, and 25% of those engineers work in the area of trust." And this element is not only about active resolution of incidents but also about anticipating and generating trust mechanisms. For example, the system by which the host validates the user, and vice versa. "Engineering is applied to generate trust. Trust is fundamental to the success of peer-to-peer platforms, or platforms between private individuals. And as you become a mainstream brand, you have to spend more time building trust."
LIQUID ORGANISATION
"We are a liquid organisation and that enables everyone who works for the company to solve user problems," explained Arnau Muñoz. The problem is analysed from the user's navigation patterns, or if a community of hosts has problems engaging in their activity. Once the problem is analysed, action is taken in an interrelational fashion and it is measured in terms of metrics. And as soon as a solution is found, the team breaks up.
DIVERSIFYING BUSINESS
Being a liquid organisation has enabled us to feed that hypergrowth. In turn, this has enabled us to move from the world of accommodation to that of travel, following the mission defined by our founder a couple of years ago. And, as part of that mission, the launch of Experiences that is enjoying exponential growth is framed.

AIRBNB IN BARCELONA
It has been a reality for ten years and, in 2012, the organisation decided to establish its hub for Spain and Portugal in Barcelona, with an office of 30 employees.
There are more than 800 employees in a call centre through a partner called BMP. It is one of the main such centres in Europea and it serves hosts in nine languages. There are more than 11,000 hosts in the city. And guests who come have an impact on the city (according to one consultant, to the tune of one billion euros in 2016), derived from their consumption during their stay.
SUPPORTING THE ENTREPRENEURIAL ECOSYSTEM
Airbnb is not only about accommodation or experiences. The company is also making inroads into the restaurant business in order to offer another differential experience. "In fact, we are one of few multinationals that in recent years has invested in local startups in Barcelona. For Experiences to grow, a few years ago the company acquired Trip4Real, a startup founded in Barcelona by Glòria Molins. Now through Resi, a company part-owned by Airbnb, they have invested in ClubKviar. "We're trying to make the global footprint of Airbnb felt at a local level as well. With this in mind, we tried to be close to Barcelona's entrepreneurial ecosystem, becoming members and partners of Barcelona Tech City in the origins of the Association. We're also betting on women's entrepreneurship becoming much more active." The Airbnb executive for Spain and Portugal explained how they facilitate contact between Spanish entrepreneurs and decision-makers in San Francisco, providing knowledge and opening investment opportunities.

IDENTIFYING EXTERNALITIES
Externalities or friction points generated by the Airbnb model, especially with government authorities. At this point, Arnau Muñoz highlights how the business model of the multinational company is based on the economy between private individuals, and those individuals are already priced in a very transparent way. The income they receive is by transfer and that is a guarantee of traceability.
"We have respect for government authorities and we also ask that the authorities understand the particularities of our business models. From there, we have to find avenues of understanding". He also pointed out that the company has already done this with more than 400 government authorities around the world. Consequently, being able to anticipate externalities and work a few years ahead is essential. In France, for example, Airbnb automatically collects the tourist tax in the 23,000 cities in which it operates, facilitating a procedure that users had to follow.
It is highlighted that Andalusia has been the first region to publish a law recognising the right of individuals to share their home. This is a regional regulation along the same lines as that of cities such as Lisbon or Porto, and it also enables a new revenue stream for governments. Agreements in this regard have also enabled Airbnb to start collecting tourist tax in the French cities in which it operates. Payment is mandatory for all transactions performed on the technology platform.
THE CHALLENGE: RULE CHANGE
The main essence of Airbnb is 'founders driven', and it is the founders themselves who are very active, who established the company vision, which in this case is user-focused. One of the main challenges the company faces is to encourage a change in regulatory policy that enables private individuals to accommodate other individuals, beyond a decree that is more than 20 years old and authorises tourist apartments only, permitting such individuals to act as hotels. Whether in Paris, London or Lisbon, private individuals can offer accommodation to other individuals. Muñoz pointed out that Andalusia has already published new regulations in this regard, understanding that it is a model that represents a revenue stream for government authorities, as well as identifying a demand from many of its users.