Noticias
4YFN23 DAY 1: We meet again at 4YFN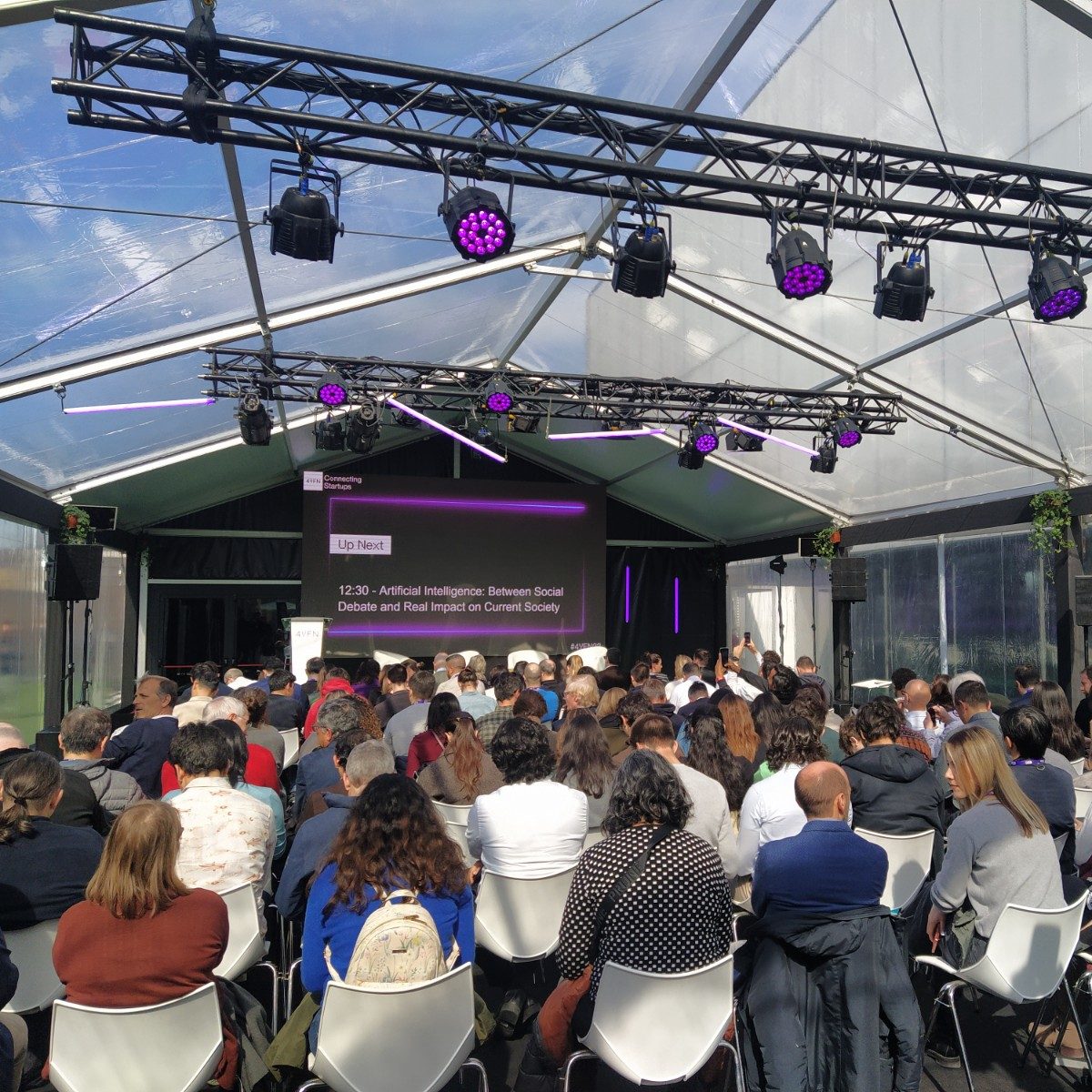 4 Years From Now (4YFN) – Mobile World Congress (MWC) is back with all the energy and drive of the technological and entrepreneurial world. Gone are the masks and long-distance greetings of previous years; Tech Barcelonas' stand, in Hall 8.1 of the Fira de Barcelona, where 16 startups are present, has once again become a great meeting place for the Barcelona ecosystem.
Here is a summary of everything that happened on the first day of 4YFN
Artificial Intelligence: between social debate and real impact in today's society
"The debate organised by Tech Barcelona on the real impact of artificial intelligence in the midst of so much expectation accumulated a queue at the entrance that almost doubled the capacity of the space it hosted", is how Paula Clemente, journalist at El Periódico, describes what she experienced at the Ágora Stage. We can only thank Carla Zaldúa, CEO and co-founder of AcceXible; Josep M. Ganyet, CEO of Mortensen; Alex Martí, CEO and co-founder of Mitiga Solutions; and Adrià Quintana, CEO and co-founder of Factic, for explaining how they apply AI to positively impact society.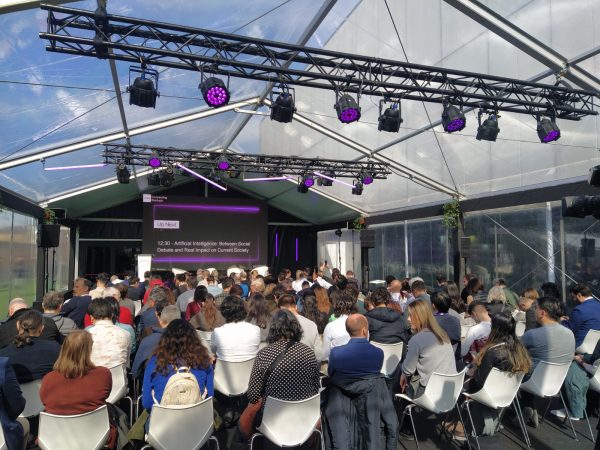 On the occasion of the debate, journalists Samanta Villar and Carlos Santos, from RNE's 'A media mañana' programme, wanted to take the pulse of this edition of the MWC by interviewing Miquel Martí and Josep M. Ganyet on the topic that is on everyone's lips: AI. We have been seeing its impact for decades, but now it has burst into our daily lives with force. "And like all revolutions, it can generate fear", explains Miquel Martí. Josep M. Ganyet, for his part, reassures us: "these systems have high capacities, but they are not intelligent. They have no will, no objective or agency, just a syntactic vision of the world".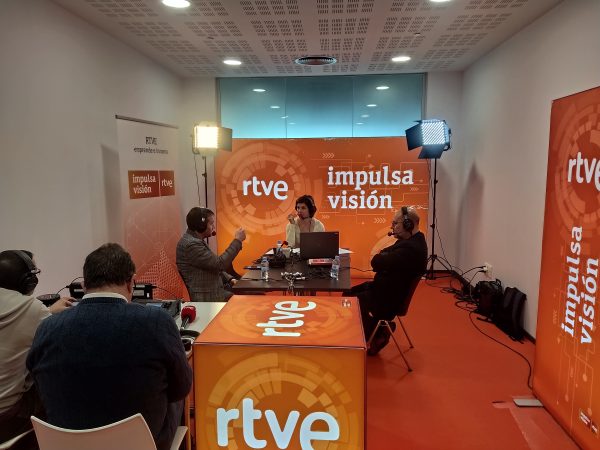 From full remote to full flexibility: how tech companies are shaping the future of work
From Tech Barcelona we took the Future of Work Working Group to the DayOne Stage. Moderated by Paula Serra, BI & Project Manager at Tech Barcelona, and with the participation of Selena Sabiote, Senior Manager in Technology at Hays Technology; Guillem Vila, Technology Centres Director at Ocado Technology; Eusebi Llensa, CEO of Outvise; and Diego Calvo, Workplace Experience Lead at Adevinta Spain. We will soon share the conclusions of the working group in the next TB Insights.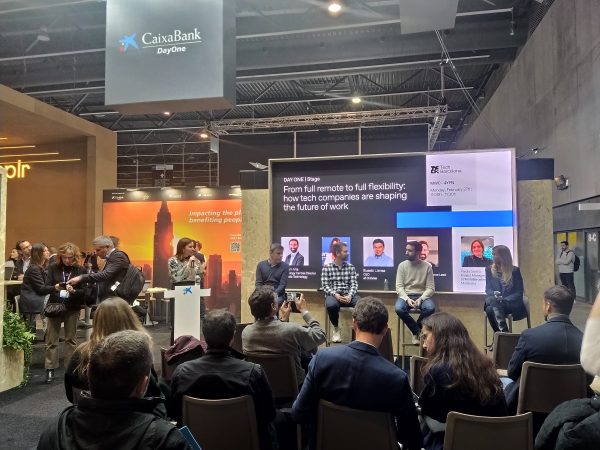 Mobile World Congress, molt més que un congrés de telefonia
Mar Galtés, Corporate Development Director of Tech Barcelona, and Albert Cuesta, a journalist specialising in technology, analysed the impact of the MWC on Els Matins de TV3.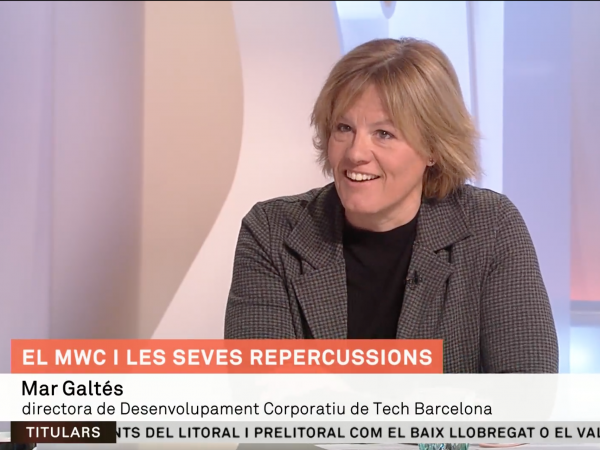 Tech Barcelona Pitching Session 1
Time to get to know the 16 projects that accompany us at our stand.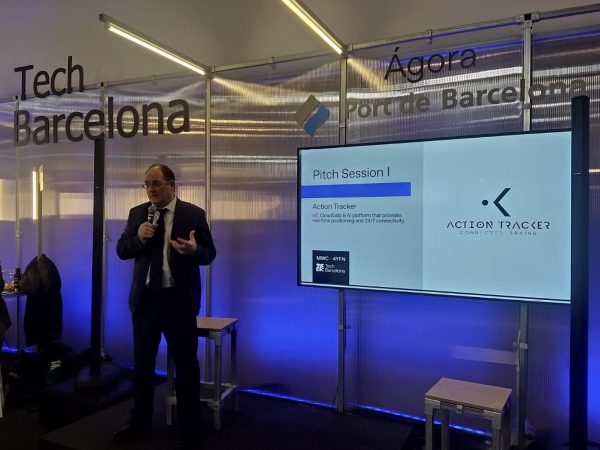 Using Deeptech to create the next wave of disruptive companies
Farside Ventures and its sustainability vertical Green Ventures presented success stories from the fintech and climatetech sectors.
5G Private Network at Port de Barcelona
The first Port of Barcelona content session, led by its CIO David Serral, dealt with 5G capacity and its integration into the port's daily operations.
See you tomorrow!