21 març 2023
TechUp Nights
Noticias
Recap: Tech Up Nights Vol. 6
21 març 2023
TechUp Nights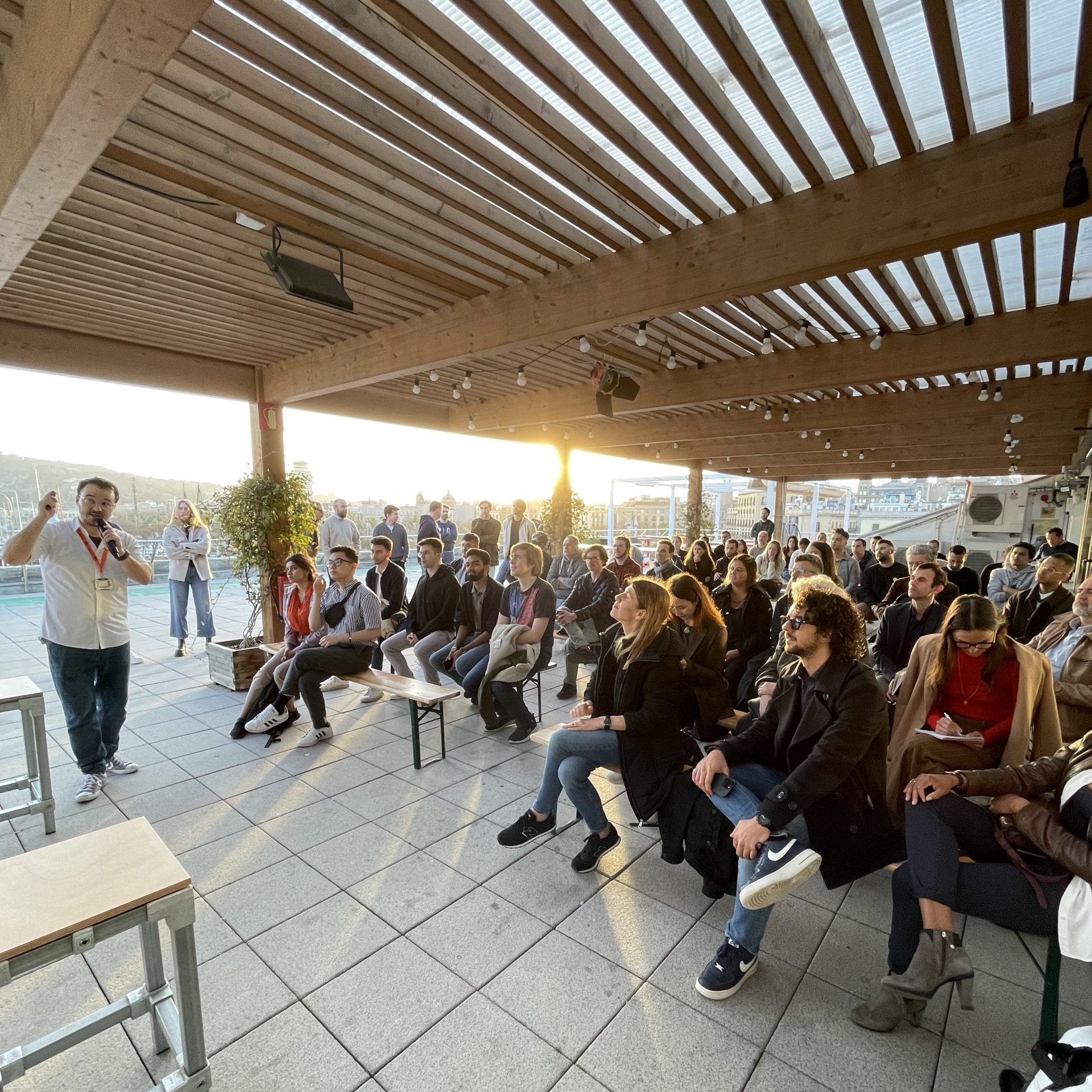 The 6th edition of Tech Up Nights was a roaring success! It was an evening filled with fascinating conversations, insightful talks, and lots of networking opportunities. As the sun set, it painted our happy faces with a beautiful array of colors, while we listened attentively to the speakers from Ocado, Nestlé, and Vottun.
On Wednesday, March 15th, we were transported to a world of innovation and inspiration. The event was a true reflection of the dynamic tech industry that we all love. The speakers shared their experiences, insights, and perspectives on various tech-related topics. It was a learning opportunity that we could not afford to miss!
We also had a chance to capture some amazing moments at our photocall. The pictures are a testament to the fun we had and the connections we made.
Johnny Willer, Senior Software Engineer at Ocado Technology
In this presentation, Johnny shared his insights on transforming a "big ball of mud" monolith into a modular monolith, using ideas and principles from hexagonal architecture, also known as ports and adapters.
The presentation highlighted a real-life case study within the Ocado Technology Payments team, where this decomposition took place in the payments domain.
Johnny outlined the advantages of decomposing a monolith, which include faster development, reduced coupling between classes and modules, easier testing, simplified infrastructure replacement, and a smoother transition to microservices, if needed.
Throughout the presentation, Johnny emphasised the importance of applying hexagonal architecture concepts to separate concerns and define clear boundaries between components. He demonstrated how these principles were instrumental in achieving a successful transformation in the Ocado Technology Payments system.
To help the audience better understand hexagonal architecture principles, Johnny introduced an analogy involving two characters, Ana and Jordi. This narrative served to simplify the concepts and make them more relatable, enabling attendees to grasp the potential benefits and applications of the hexagonal architecture approach.
By the end of the presentation, attendees gained valuable knowledge on how to transition from a monolith to a modular monolith using hexagonal architecture and understood the advantages of such a transformation in the context of the payments domain.
Humbert Costas – Cybersoc Analytics Senior Specialist & Manuel García – Strategic Product Portfolio Architect at Nestlé
The Nestlé session titled "The Influence of AI in Your Security Operations" was conducted by Humbert Costas – Cybersoc Analytics Senior Specialist and Manuel García – Strategic Product Portfolio Architect. These experts shared their insights on how AI is transforming security operations and the benefits it offers in terms of threat detection and response.
Alex López – CTO & Martí Ras –  NFT Director
Alex Lopez (CTO) and Martí Ras represented Vottun at Tech Up Nights 6. They had the opportunity to explain what Vottun does, from a more technical point of view, showing how any developer or company can adopt Blockchain technology without any knowledge about how to develop.
It was a gratifying experience for them to attend a networking event where the focus is on the technical area and they were able to go into more detail about their technology, in a very close and informal atmosphere.
Now, the only question left is, will we see you at Tech Up Night Vol. 7? We can't wait to meet you and continue the discussion on how technology is shaping our world. Don't miss out on the next big event!