Noticias
Más de 110 asistentes en el primer Meetup del año de Barcelona Tech City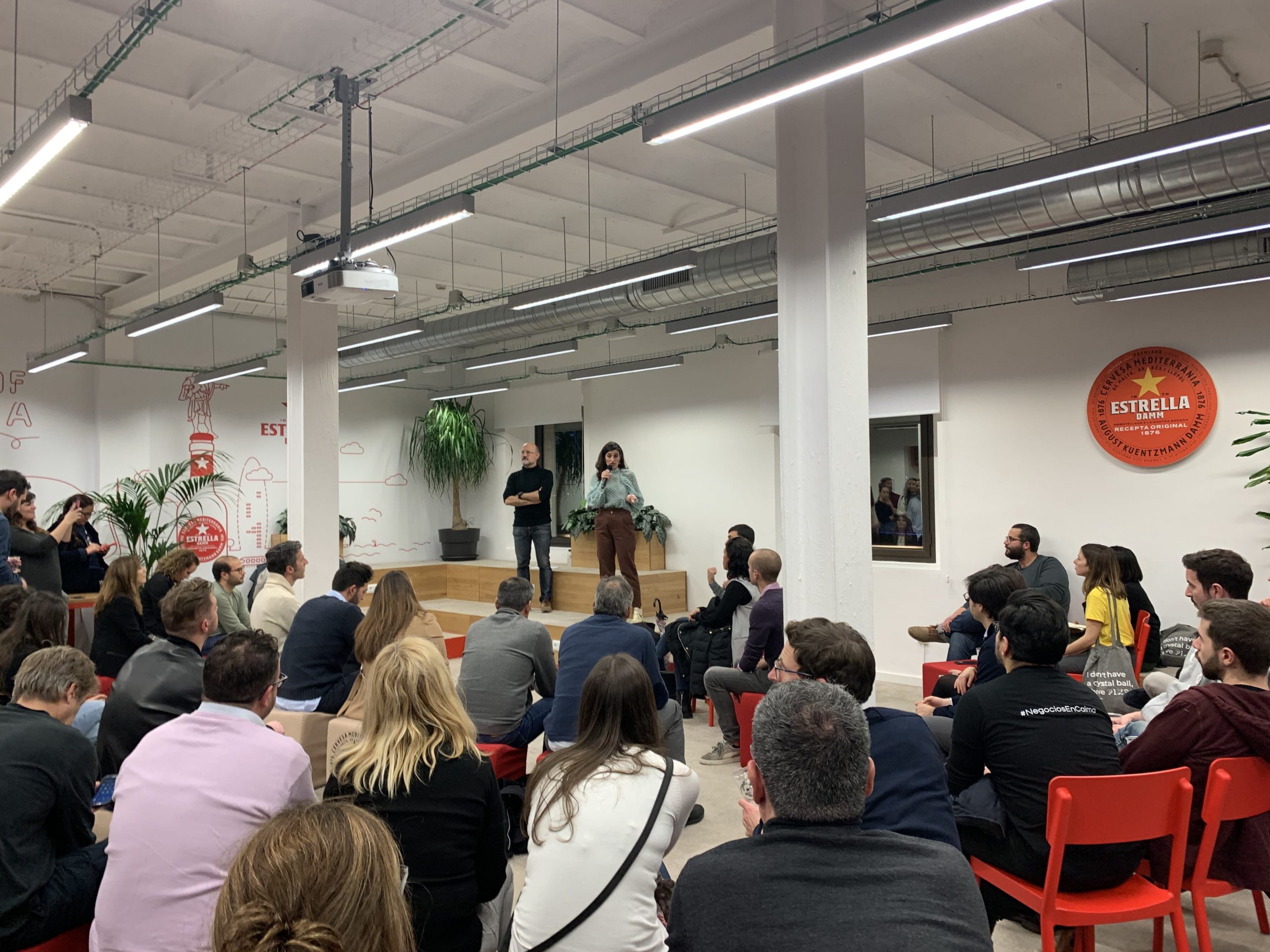 En Barcelona Tech City celebramos el primer Meetup del año con el objetivo de fortalecer la relación entre startups y compañías del ecosistema, como una forma de impulsar el sector digital y tecnológico y las compañías que forman parte de él.
En un ambiente ameno y relajado en el espacio Estrella Damm del Pier01, los co-workers, CEOs, fundadores y profesionales de startups y otras compañías conocieron más detalles sobre los proyectos que desarrollan sus compañeros del sector. La actividad empezó con una presentación del equipo de Barcelona Tech City y, a continuación, los participantes de la actividad pudieron presentarse y dar a conocer sus proyectos a los demás asistentes.
Celebrados con gran éxito de asistencia, los afterworks organizados por Barcelona Tech City trimestralmente, ofrecen a los miembros del ecosistema la oportunidad de interactuar e intercambiar temas de interés. Además de startups y emprendedores, contamos con la presencia de numerosos partners de la Asociación: Acció, Actua-Invest in Andorra, Damm, ESADE, Fira de Barcelona, KPMG, Mobile World Capital, Novartis y Quantion.
En este Meetup contamos con la presencia de: Abinsula, Acció, Actúa – Invest in Andorra, Advanced Music, Agility for all, Airplane Solutions, ALTRAN, Apium Hub, Atmira, Atriom, Basetis, Becrit, Brandtrack, Build38, Business Accelerator, Caixabank, CatalogPlayer, Catevering, Centec Ventures, ChartOk, Citring, Closer2event, Design+Business Intersection, Devtime, Digicode, Education LTD, Digital Smart Group, ENSO Spaces, ESADE, ESADE MBA Program, ESADE MBA Student, Everywoah, Fira de Barcelona, Fivent, Fuego Camina Conmigo, Futura VR Studio, Generalitat de Catalunya, Gesiuris Asset Management, Global M, Global Experiences, Glovo, goHub, Grupo HS3, Grupo Planeta, Haufe Group, Hola-Blockchain.com, Horizon Talent, HP Inc, Huertos in the Sky, iBreve, Intelectium, Inveready Technology Investment Group, itteria, Jelliby, JOHOC Invest, Joppy, Juárez Veciana SLP, Kernel Analytics, KMPG Advisory, Lexcrea S.L.P, Mascoteros.com, mentor-vr, Methinks software, Micuento.com, Mobile World Capital,  Montreal Associates, Mox, Muster Ventures, Nash Billimoria, Nemuru, Novartis, Nuclio Research, OneRagtime, Osborne Clarke, Outvise, Party Play, Paymefy, Pixel Research Lab, Platanomelón, Possumus Iberica Software Factory, Punttime, Quantion, RedKey.app, Rickshaw, Schneider Electric, SDLI, Singular Cover, Smart Fincas, splacing Marketplace S.L., Surmile, Talentfy, the predictive Company, Tiendeo, Tinderlink, Typs, Walik, We3s.studio Distributions studio, Welcome to the jungle, Wemuse, Wiztartup, ZeroGrey, Zeus Smart Visual data.
Para los que no pudisteis asistir o estáis esperando repetir la experiencia, en breve daremos a conocer la fecha del próximo Meetup. ¡Os esperamos!